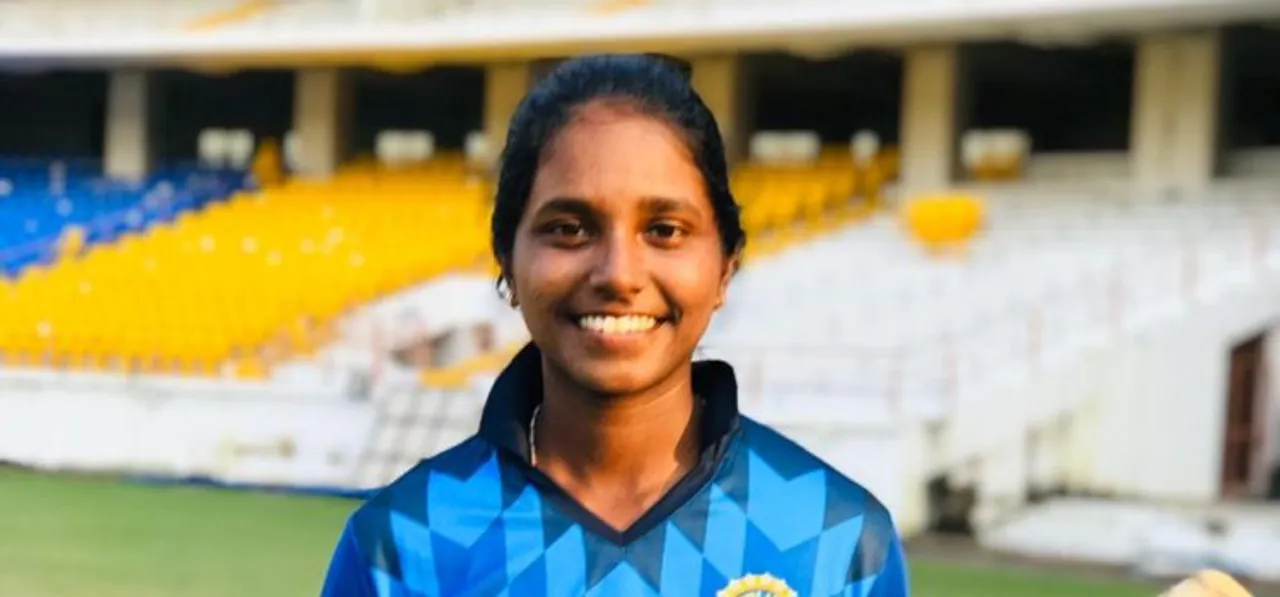 Disha Kasat's unbeaten 76 overshadowed Shafali Verma's belligerent 47 as Vidarbha registered a six-wicket win over Haryana on Day 8 of the Women's Senior T20 Trophy 2019-20 on Monday (October 21).
Verma smashed six boundaries and two sixes in her 27-ball knock to take her side to a total of 134 for 3. However, Kasat and Bharti Fulmali (39) combined for a 74-run second wicket stand to lay the foundation for Vidarbha's victory in Nagpur.
In Rajkot, despite Anuja Patil's 55 not out, Maharashtra went down to Bengal, thanks to contributions from their middle-order. Mandira Mahapatra (31) and veteran Rumeli Dar (27) combined to hand Bengal a thrilling four-wicket win off the penultimate ball.
Meanwhile, Mona Meshram made the most of her opportunity in the absence of Railways' regular stars. Batting first, Railways posted 142 for 4 thanks to Meshram's 69 and a handy knock by Sneh Rana (24). In reply, Railways' discipline with the ball saw them restrict Rajasthan to 54 for 6 to win the match by 88 runs.
Madhusmita Behera returned with four wickets and conceded just nine runs in her four overs as she and Rasanara Parwin, who picked up two wickets, ran through Jammu and Kashmir's line-up to restrict the latter at 48 for the loss of eight wickets in 17 overs. In reply, Madhuri Mehta (21*) and Sarita Meher (11*) chased down the target inside 10 overs.
In another Group E encounter, Goa's Sanjula Naik and Rupali Chavan picked two wickets each before Shreya Parab carried her scintillating form with an unbeaten 45 to hand their side a nine wicket win over Mizoram.
A day after
registering her century, Kerala's opener Jincy George smashed a match-winning 59 not out out before Sajana S picked up two wickets to beat Chhattisgarh by 35 runs in Cuttack.
Tamil Nadu handed a four-wicket defeat to Saurashtra. Ramyashri Prasad, TN's left-arm spinner, first picked up three-wicket haul to restrict Saurashtra under 100 runs. In reply, Hemalatha Dayalan (39) and Niranjana Nagarajan (23) combined to take Tamil Nadu home with one over to spare.
All the Group A matches in Guntur were washed out. 
Brief scores:Group A (Guntur)Assam
versus
Madhya Pradesh
- No result
Andhra
versus
Gujarat
 - No result
Bihar
versus
Jharkhand
 - No result
Group B (Nagpur)Haryana
134/3 in 20 overs (Shafali Verma 47, Sonia Khatri 27; Minal Bodkhe 1-17) lost to
Vidarbha
135/4 in 19.4 overs (Disha Kasat 76*, Bharti Fulmali 39; Parmila Kumari 2-25) by six wickets.
Jammu & Kashmir
48/8 in 17 overs (Rubia Sheikh 12; Madhusmita Behera 4-9) lost to
Odisha
49/1 in 9.4 overs (Madhuri Mehta 21*; Nadia Mohammed 1-9) by nine wickets.
Railways
142/4 in 20 overs (Mona Meshram 69, Sneh Rana 24; Arpita Choudhary 2-24) beat
Rajasthan
54/6 in 20 overs (Anita Choudhary 13; Preeti Bose 2-5, Kavita Patil 1-10) by 88 runs.
Group D (Cuttack)Punjab
47/2 in 6 overs (Zaman Akhter 29*; Parul Saini 1-11) beat
Chandigarh
30/3 in 6 overs (Amanjot Kaur 17*; Sunita Singh 1-5) by 17 runs.
Kerala
106/6 in 20 overs (Jincy George 59*, Sajana S 17; Pransu Priya 3-25) beat
Chhattisgarh
71/6 in 20 overs (Yashi Pandey 42*; Keerthy James 3-14, Sajana S 2-18) by 35 runs.
Himachal
versus
Manipur
- No result
Uttarakhand
versus
Uttar Pradesh
 - No result
Group E (Rajkot)Maharashtra
107/4 in 20 overs (Anuja Patil 55*; Gayatri Mal 2-20) lost to
Bengal
108/6 in 19.5 overs (Mandira Mahapatra 31, Rumeli Dhar 27; A Patil 1-17) by four wickets.
Arunachal Pradesh
41/8 in 20 overs (Mandeep Kaur 2-4, Sonia Lohiya 1-5) lost to
Delhi
42/1 in 6 overs (Ayushi Soni 16*, Neha Bhargava 13) by nine wickets.
Mizoram
79/5 in 20 overs (Apurwa Bhardwaj 24; Sanjula Naik 2-7, Rupali Chavan 2-10) lost to
Goa
80/1 in 11.4 overs (Shreya Parab 45*; Ruchita Buley 1-15) by nine wickets.
Saurashtra
97/6 in 20 overs (Neha Chavda 28, Pooja Nimavat 28; Ramyashri Prasad 3-22) lost to
Tamil Nadu
99/6 in 19 overs (Hemalatha Dayalan 39, Niranjana Nagarajan 23; Reena Dabhi 3-19) by four wickets.