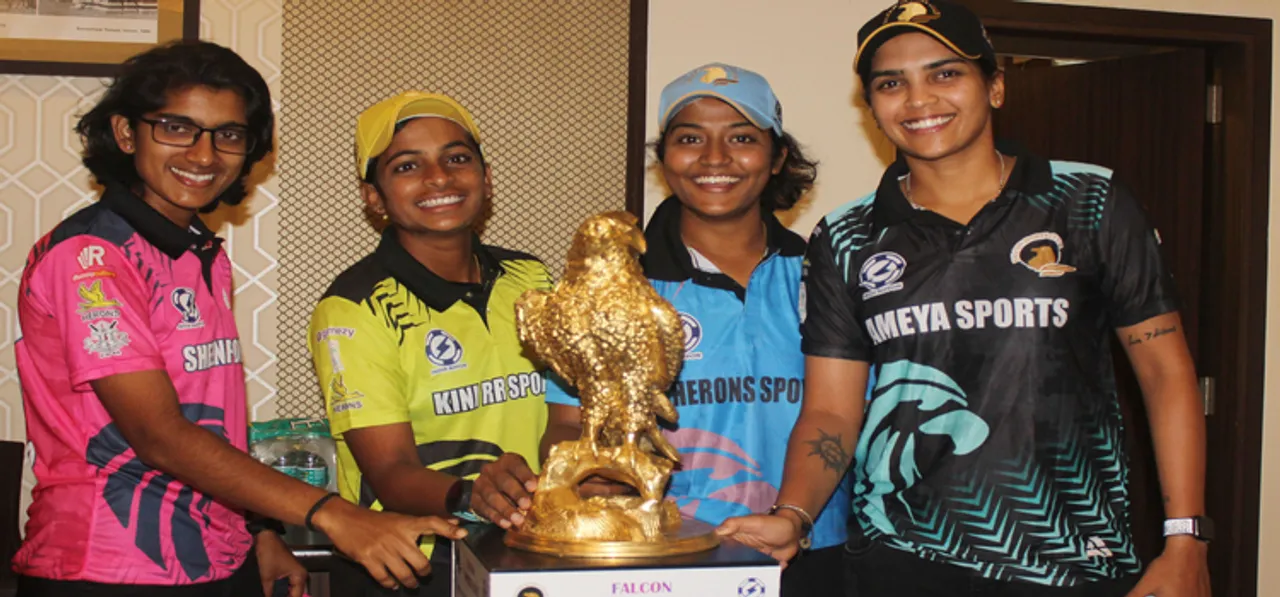 As many as thirteen Indian internationals including the likes of Veda Krishnamurthy, Jemimah Rodrigues, Radha Yadav, Deepti Sharma, and Rajeshwari Gayakwad return to the cricket field in The India Nippon Cup - an Inter-Academy T20 Tournament commemorating the golden jubilee celebration of Falcons Sports Club, Bangalore. The tournament is scheduled to happen between January 4-12 at the Samprasiddhi Sports Estadio, Bangalore.
The other Indian internationals who are participating in the
tournament
are Punam Raut, Mona Meshram, Anuja Patil, Niranjana Nagarajan, MD Thirushkamini, Nuzhat Parveen, Arundathi Reddy, and Vanitha V R. The players are grouped into four teams namely Falcon Herons Team,
Falcon Sheen Sports, Falcon KiNi RR and Falcon Ameya Sports.
ALSO READ: WCZ Cricket Cuisine Issue-2 : When will India play next?
While Krishnamurthy will be leading Ameya Sports, Prathyusha Challuru, Divya Gnanananda, and Rakshitha Krishnappa are the captains of KiNi RR Sports, Heron Sports, Sheen Sports respectively.
Speaking at the launch of the tournament, former India captain Shantha Rangaswamy said, "Women's cricket, per se, has been idle because of the pandemic since February. We thought, let this (tournament) be the forerunner for the season, which hopefully should start towards the end of February 2021."
Ms Rangaswamy said that the Karnataka State Cricket Association Secretary, Treasurer, Former India men's captain Mohammad Azharuddin, and India ODI captain Mithali Raj would be attending the final day of the tournament.
ALSO READ: 2021 – Taking lessons and hope from 2020
The four teams will be playing round-robin twice, and the top two teams qualify for the final on January 12, 2021, along with the third-place play-off. It is mandatory for all four teams to play at least one under-19 player. The teams that take three wickets or score 42 runs or more in the powerplay will be awarded a bonus point.
Ameya Sports will be taking on Heron Sports in the first match of the tournament on Monday (January 4). All matches will be streamed live on the Y Sports and Women's CricZone YouTube Channels.
Squads:Ameya Sports:
Veda Krishnamurthy (C), Netravathi, MD Thirushkamini, Mona Meshram, Prerana Rajesh, Shreyanka Patil, Anuja Patil, Sahana Pawar, Nikki Prasad, Pranavi Chandra, Akansha Kohli, Dhanya Gowda, Reema Fareed, Pooja Kumari, Nithyashree Kemparaj, Uma Kashvi, Shrilakshmi, Prakruthi, Nagma Unnisa. Coach - Reema Malhotra
Heron Sports:
Divya Gnanananda(C), Sanjana Batni, Shuba Satish, Akshaya S, Aditi Rajesh, Minnu Mani, Ayushi Soni, Anagha Murali, Asha Joy, Pushpa Kiresur, Monica Patel, Vandana Mahajan, Pooja Dhananjay, Sanjana Raj, Rakshitha Nayaka, Pooja D R, Anjali Raman, Harshitha Shekar. Coach- Mansur Ali Khan
KiNi RR Sports:
Prathyusha Challuru(C), Nuzrat Parween, Vanitha V R, Punam Raut, Roshini Kiran, Mithila Vinod, Debasmitha Dutta, Radha Yadav, Chandu V Ram, Shishira Gowda, Rameshwari Gayakwad, Sowmya Verma, Shloka Kishore Babu, Pragna Kishore Babu, Tejaswani B G, Architha U Bhandary, Disha Mohan. Coach- Vinay
Sheen Sports:
Rakshitha Krishnappa(C), Prathyoosha Kumar, Jemimah Rodrigues, Vrinda Dinesh, Krishika Reddy, Deepti Sharma, Simren Henry, Rajeshwari Gayakwad, Niranjana Nagarajan, Padmaja E, Chandasi Krishnamurthy, Savi Surendra, Ananya Subash, Sneha Jagadish, Saloni, Nirmitha, Anushree, Jahnavi. Coach-Mihiraj Wasantha Jayasekaira