Self-doubt is a familiar companion for professional athletes. After a disappointing match or tournament though, there is usually another game around the corner, another opportunity to show what you can do.
Tammy Beaumont had six months without cricket to ponder her position in the England team after
heartache in the T20 World Cup
. The campaign had seen her adrift from her regular opener's berth until the final game when she bagged a second-ball duck.
Just a few weeks ago, concerned she wasn't hitting the ball well in practice, she wondered if she could find herself out of the side.
The answer: "I had a bit of a word with myself," she says.
It worked. In her preferred spot opening the batting alongside Danielle Wyatt on Monday (September 21) night in the
first T20I against West Indies
in Derby, she scored a perfectly paced 62 to get England off to a flyer in the powerplay and set up victory.
After a wild slash to the second legitimate ball she faced, she was beaten by a ball that nipped back prodigiously just missing the top of the stumps. The next delivery was back of a length and she flayed it through midwicket for four. She didn't look back, hitting a further nine boundaries and scoring at a strike rate of 126. The timing, placement and strokeplay were all signs that Beaumont is back close to her best.
ALSO READ: Beaumont, bowlers win it for England; Deandra Dottin's knock in vain
The prospect of raising her bat to acknowledge the applause of her teammates seemed a distant prospect back in midsummer when the England team returned to training inside a biosecure bubble.
"That was a very long, long, long way away, about four months ago when I got back to cricket and got bowled by an underarm in my first session," she smiles ruefully. "It was amazing to be back out there and to kick us off at the top of the order. Getting a chance back up there is just really good."
"I was quite nervous going into tonight. I'd done quite well in the last couple of inter-team games, but it's very different when it's against a real opposition and international cricket. So, yeah, lot of nerves, but once I got off the mark, I was happy because back in January I got 0 against this lot!"
Playing Beaumont in the finisher role in the T20 World Cup ultimately backfired. She was restored to the opening role for England's final must-win group game against the West Indies in Sydney but had faced just 10 balls in the whole tournament with no time to play herself into form.
She admits the enforced break afterwards was tough, but ultimately forced her to reflect on her motivations and rediscover her love of the game.
"Having three months off fully from cricket reminded me of the reason I started playing and the little girl that was just desperate to get out in the garden and play."
ALSO READ: Fran Wilson: I'm a lot clearer about my game, less worried about my failure
"So, I think it was a good time to have a little mental break for me and really start loving cricket again."
A
half-century in the Rachael Heyhoe Flint Trophy
showed promising glimpses of a return to form, but Beaumont also took a lot of confidence from the intra-squad games in the biosecure bubble in Loughborough.
"As soon as we got the
schedule, we saw we were going to be playing a lot of games against each other. For me, you have to take that as your chance."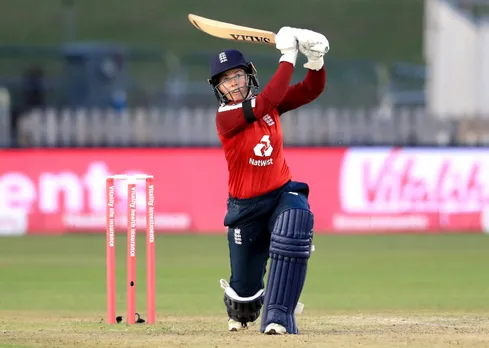 Tammy Beaumont plays a expansive shot. © Getty Images

"A couple of weeks ago, I was a little bit stressed thinking, you know, I'm not hitting them that well. I could end up out of the team here because we've just got such a talented batting line-up. Everyone wants a go at the top or in the top five. It's not unthinkable that I would have been a doubt."

"But I kind of had a bit of a word with myself and said, you know, you've still got a hand in it, you still got four or five games, just do your best and just enjoy it and really embrace it."

Monday was the 31st time Beaumont has opened the batting in T20Is, and she has been given a clear role by England head coach Lisa Keightley.

"Lisa asked us to try and go harder at the top of the order. It's something where we haven't really nailed in the last couple of years in terms of how many runs we get off the powerplay. So, I've really had to take that on and look at how I can go harder at the top and how we as a team can go harder at the top."

"Danni Wyatt has been brilliant there for a number of years, but it's a case of doing the right thing for the team."

ALSO READ: Conjuring up dots in powerplay is the root of West Indies' batting problem believes Merissa Aguilleira

England were strong in all departments in their opening match despite seven months on the sidelines. Beaumont says the team have been put through a rigorous training regime in the bubble.

"We've really been put through our paces in the last four months since coming back in June."

"I thought the fielding was exceptional. Michael Bates doesn't go easy on us at all. So, it's no surprise that that's the kind of standard we're setting for ourselves."

"We've obviously had a little bit longer to get ready. And I think that kind of rust has all worn off and everyone's ready and raring to go. And even the girls that didn't get a game, they're looking in great form."

Beaumont paid tribute to veteran fast bowler Katherine Brunt who conceded just eight runs off her four overs. The form shown by Barnsley-born Brunt came as no surprise to Beaumont.

"Having been on the opposite team to her in all of the inter-team games, I was in no doubt that she was bowling very well. It's great that someone – she's going to hate me for saying this – but at her age, is still leading the attack absolutely brilliantly, continuing to want to get better."

"She's just an absolute Yorkshire Terrier in everything she does. I've hated playing against her in these inter-team games. So, it's great for her to terrorise the opposition instead!" she laughs.

https://open.spotify.com/episode/2pz6HwvHkcG5mhH3QnMab0?si=Vw5cxiO_RROFMonxsbB5yA