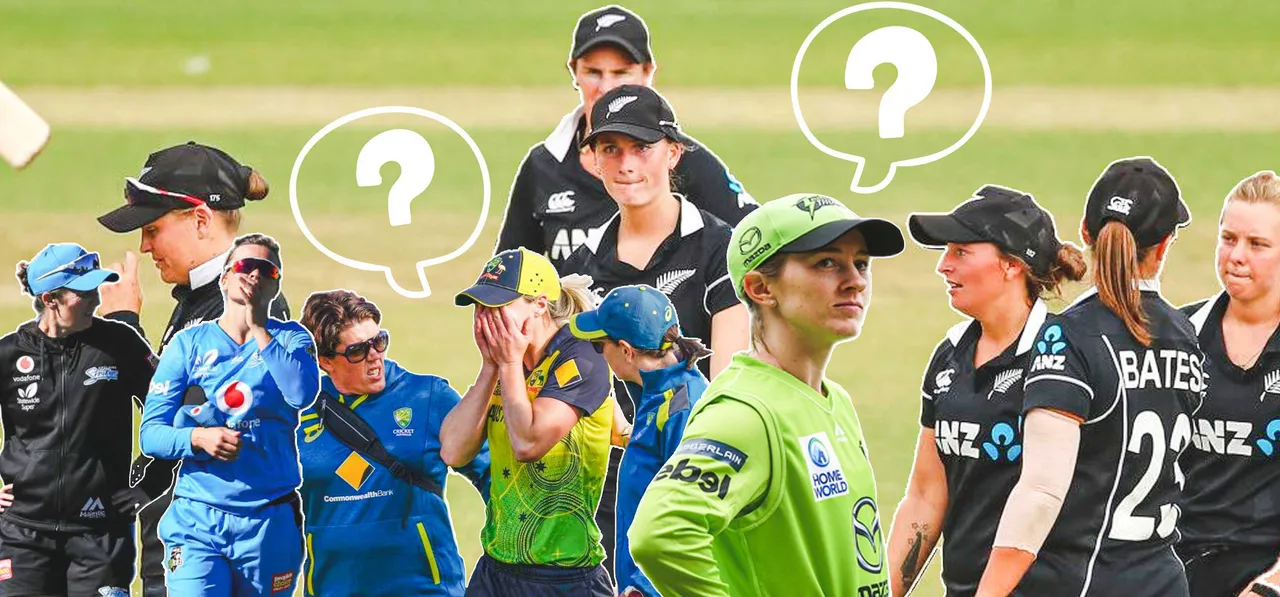 "If a wicket falls in a bio-bubble and no spectator is around to see it, did the wicket really fall?" -
ancient proverb.
86,174 people showed up to watch the
Women's T20 World Cup final
between Australia and India at the MCG in March 2020. It surprised the cricketing world so much that crowds haven't been allowed to attend cricket matches since then, granted the global COVID-19 pandemic may have something to do with it. But it's still an advantage for women cricketers as they are used to playing in empty stadiums, while their male counterparts struggled in the absence of crowds - authorities even had to play fake crowd noises to put them to sleep!
By the year-end, crowds have started to return to cricket grounds - depending, of course, on the nature of global pandemic in particular countries. Now, if only cricketers from some countries can also return to cricket grounds!
Let's take a look at a few events and non-events from the year 2020 as everyone looks forward to a new year where they could receive that press release of yet another cancelled series in their mailbox.
Death of ODIs feat. nice guys, New Zealand
Global pandemic and focus on T20 World Cup meant only six ODIs were played in total with New Zealand taking on South Africa at home before the global event and then travelling to Australia ahead of the Women's Big Bash League (WBBL) to play another set of three ODIs. Being the nice people they are, New Zealand promptly
lost all six of them
to keep their opponents happy.
Last time England didn't play a single ODI in a calendar year was in 1994 and for India, it was in 2001. Jemimah Rodrigues was only three months old then. However, that doesn't necessarily mean another three-month-old Rodrigues is taking her baby steps somewhere in India of 2020. Even if there is one, we will have to wait till someone finds a cure for the pandemic that allows women cricketers to also return to the game in India.
New Zealand, one of the first countries to control the pandemic, figured out as early as in March 2019 that since there is a pandemic scheduled for a year later there is no point in scheduling any cricket matches for the year 2019. Eventually, the South Africa series and the
T20 World Cup first-round exit
happened. It's always difficult to figure out whether it's genuine incompetence or them taking "nice guys finish last" so seriously results in these first-round exits at the global events.
It's not that New Zealand don't try to shed their nice guys tag, but somehow, it's stuck with them. From not scheduling enough matches for their women,
paying women players
peanuts in their domestic competition, and the continuous selection of a men's player who can't be named, while running the women's game, they have done it all to get to hang out with the bad guys of world's cricket. But unfortunately for them, they are still stuck in the corner of the party with a lemonade in hand.
Year of unimaginative injuries
2019 saw players finding interesting ways to miss matches with
avocado attacks
and feline incidents ruling them unfit to partake in competitive cricket. Despite being in the bio-bubble for most of the year, the players in action couldn't find interesting reasons to miss matches. Grace Harris showing up with a black eye she got from the golf simulator in the WBBL Village came closest to being added to the list. But that was more of Grace Harris being Grace Harris.



'The Shiner'@189Grace with the hilarious story of how she ended up with a black eye inside the WBBL bubble.


Sounds like the simulator robbed her of a fairway. I know that feeling well. #WBBL06 pic.twitter.com/vxKp3eplnq

— Lachlan McKirdy (@LMcKirdy7) October 25, 2020
The year saw big injuries happen to two of its superstars -
Ellyse Perry
and
Suzie Bates
- but they were so serious that the injuries were deemed unfit for this purpose.
Talking of missing matches, WBBL05 saw Emily Smith's faux pas on Instagram handing her a ban and Phoebe Litchfield missing matches for class ten exams. But this year, even schooling happened inside the bubble and a bunch of kids graduated or finished exams during the WBBL. Once you are inside the Village, even school and exams are no longer a valid excuse to give cricket matches a miss.
Selection gaffe or the future of it
Sydney Sixers
inadvertently selected Hayley Silver-Holmes
for the match against Melbourne Renegades on November 21 when she was already replaced in the 15-member squad by Alisha Bates. It's a genuine mistake that can happen to anyone considering how unremarkable her surname is, but the gaffe came to light only in the second innings and she was promptly removed from having any further say in the match or her selection.
This is where we think this can be a new tactical masterstroke that can be adapted at various levels. For instance, Dombivli Dragons should simply name Alyssa Healy in their eleven and when found out can use this Silver-Holmes example. "Was that wrong? I have to pardon my ignorance on this matter, are you saying Healy isn't good enough to play for the Dragons?" could be an argument Dragons' selectors can make. Maybe we should leave this debate to people with PhDs to figure out whether this can be the invention that the game waited for so long.
Underrated Rachael Haynes and the inimitable Meg Lanning
Rachael Haynes led Sydney Thunder to their
second title in the WBBL
with a win over Lanning's Melbourne Stars prompting experts to name her the new undisputed underrated player. This is perfectly understandable considering she plays for this little-known team named Australia and captained them from time-to-time in the absence of Lanning.
Familiar player in familiar colours? © Getty Images
What's more interesting is that Haynes also has a calm head on her shoulders which meant while the other captains were trying to prevent their wild heads from running away, she could concentrate on her game and lead the side to a title triumph. Unfortunately, there was no such luck for Lanning, whose wild head showed up at the most inopportune moment for her, sat on her shoulders, and asked her to bat first in the all-important final of WBBL06 despite all the success they had batting second. Maybe we can put this also down to the influence of Haynes' calm head.
Chamari Atapattu, Velocity and Germany
From those who can do no wrong for Australia to someone who can do no wrong against Australia, Chamari Atapattu showed up for the Women's T20 Challenge in UAE and immediately mistaken Velocity's attack for Australia's despite none of them being present in the vicinity. On the other hand, Velocity players spent days in quarantine and bio-bubble only to play two back-to-back matches, get
bowled out for 47
, all in the space of twelve hours. Which prompted us to wonder if there can be a physics pun using the team's name.
Velocity's 47 all-out also meant naysayers from all the 36 corners of the internet started talking about the standard of women's cricket and how collapses only happen in women's cricket as men's cricket is played with bowling machines these days. Considering all the arguments we think it's time for administrators to provide better pitches and all other facilities for women's cricket so that an incident like this won't happen again. Nah, we are just kidding, just scrap women's cricket already!
Germany and Austria
figured out that the best time to play women's cricket is when no one else is playing and the world will take notice of it. Germany made a bunch of records, players generally had fun and Austria skipper ran in to bowl with her shades on. But considering one of the basic laws in cricket is that it shouldn't be played for fun, we should make sure the custodians of the game won't consider these records or the fun they had when they write history books in the future.
Until Perry, winner of all
the ICC decade awards
, finds a cure for COVID-19 the new normal will be people saying this is the new normal. As for Perry, she will continue to be picked for the Australia side even if she doesn't find a cure as she adds a lot of value as a player in other aspects. Maybe it's time lesser-known cricketers gave a shot at finding a cure for the global pandemic so that they can get back to the game they love and have fun.
https://open.spotify.com/episode/1nuYQNNgJ1GM6FyDdzQoCC