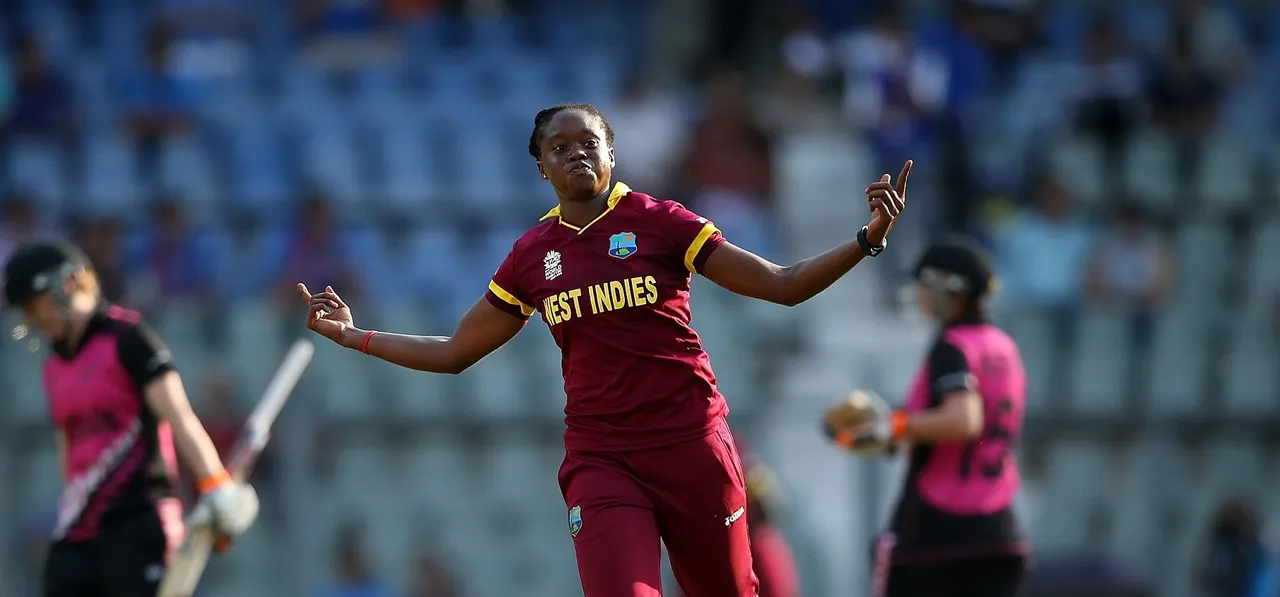 Shaquana Quintyne made her international debut for West Indies back in 2011, aged 15. She is the youngest to play a T20I for them and second-youngest to make her ODI debut. She was a prodigious talent, who could bowl off-spin as well as leg-spin and could bat, too. But an unfortunate injury in 2017, which was wrongly diagnosed at the start, has left her in the lurch.
Women's CricZone had reported
about the allrounder's plight last year. However, almost a year on, Cricket West Indies (CWI) is yet to compensate her or fund her knee treatment.
Quintyne's right knee has no cartilage left and she has to take injections to be able to walk and manage the pain. Her knee has to be in a brace, which she has been unable to replace now for three years, due to lack of funds.
"I bought that brace for 1500 USD three years ago," Quintyne told this portal.
"It's worn down right now and I'm crying out for it to be replaced. The straps of the brace are worn out and the other parts have gotten weak, too. So I'm having to use tapes to hold it together. I can only function by heavily strapping my knee with a brace."
"I also have to take Synvisc injection, which costs 600 USD. The effect of one injection lasts for about four to six months. So I have to take at least two per year."
ALSO READ: Barbados Cricket Association or Cricket West Indies: Who is responsible for Shaquana Quintyne?
Shaquana Quintyne's right knee is strapped. © Special Arrangement
Quintyne has played 85 internationals in her brief career, the last of which was in 2016. She has a four-fer in ODIs and a five-wicket haul in T20Is and also played the 2013 Women's World Cup and the T20 World Cups in 2012, 2014 and 2016. However, she was injured in the lead-up to the Women's World Cup in 2017 and that's when everything went downhill.
"Medical assistance or talks have gone on between CWI and my attorney and CWI has accepted liability for the incident," she says before adding, "No compensation talks have commenced as yet between my attorney and CWI."
At the time of the injury, Quintyne was a centrally contracted player. As a result, her home board, the Barbados Cricket Association, didn't see the need to get involved. However, Quintyne, now 25, continues to await assistance from CWI to undergo a knee replacement.
Quintyne is now a personal trainer certified by National Academy of Sports Medicine. She aims to urge everybody to exercise and stay fit, realising the importance of a strong body from her experiences.
"I recognize in life we take a lot (of things) for granted. I myself did so. But the satisfaction that I got from seeing others while in rehab for over four years led me to get into this field," said Quintyne, who tries to help combine hard-work and fun in equal measure through her programme.
ALSO READ: So near, yet so far – the World Cup dream of Karishma Ramharack
"I know how exercise made me feel and I want to urge everyone to just start a simple routine."
Quintyne also did a personal training master course of 600 hours in 2020, which included study about injuries, anatomy and kinesiology, the study of body movements. That, in her words, "was a great start, to be honest, than getting certified".
While Quintyne is adamant that she will get her knee replaced and get back to playing the sport she loves, she's constantly working on her upper body in order to stay in shape and build strength. But sporting activities can only resume if her knee gets better. But do you think anybody in Cricket West Indies is listening?