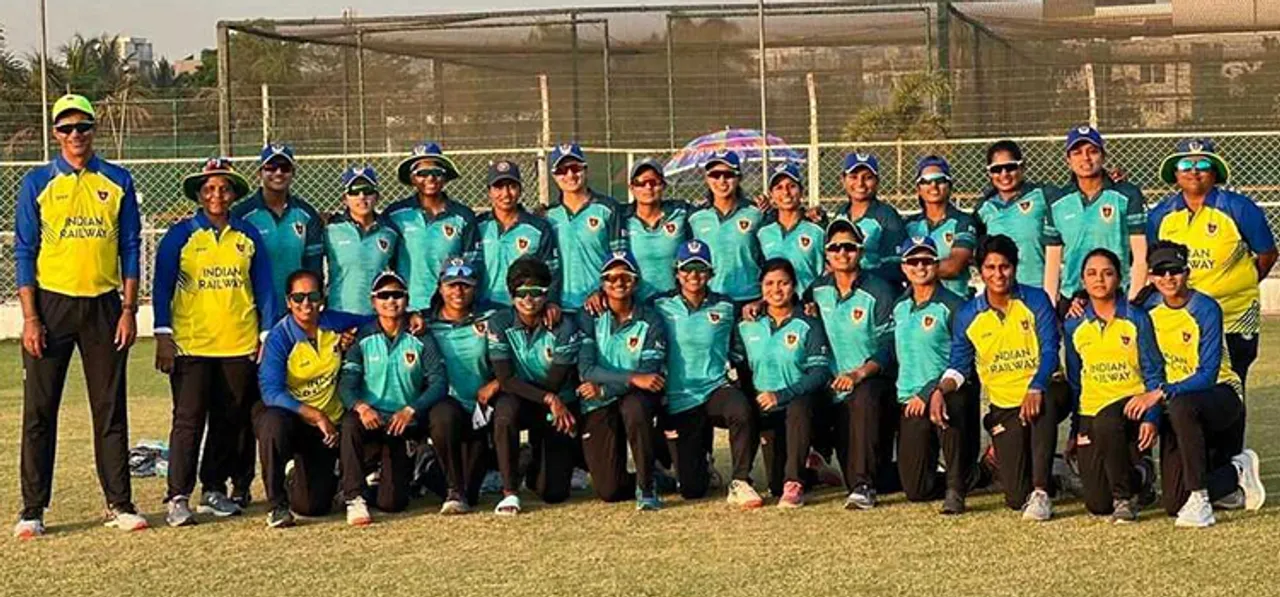 The last time Indian Railways failed to make the final of any domestic tournament was the 2018-19 season of the Senior T20 League. Back then, Shafali Verma was yet to make her debut for India, Jhulan Goswami was 32 wickets away from becoming the first woman to take 250 wickets in ODIs, and none of us truly knew the importance of face masks. Since that loss, this dominant team has won the T20 Trophy in the 2019-20 season and bagged their 13th title at the Senior One Day trophy in 2021 without losing a single match.
Allrounder Swagatika Rath, who started playing for Railways in 2016, believes this success is a result of quality players and not taking any team lightly in the tournament. "If you look at it, we haven't lost a match in the last three years. I think part of it is because we do not take any team lightly," Rath told Women's CricZone.
"We want to continue with the reputation we have for the team. Many Indian international players are participating in the tournament after a long time. It will be exciting to see how everyone goes. The pool is really hard and unpredictable this year. All the teams are looking good and have quality players on their side."
Also Read: Meghana Sabbineni: Indian Railways' North Star  
Her prediction came true as this year's competition saw Nagaland's Kiran Navgire score 400+ runs in just six matches, Haryana's Shafali Verma taking the leadership responsibility to take her team to the next round, and even Goa's Shika Pandey take her T20 game to the next level. Amidst the rise and rise of the quality of cricket in this year's competition, Railways has yet again stood tall by winning all five of their league stage matches. Along with Odisha from the Elite group and Nagaland from the Plate group, they are the only undefeated teams in the tournament. 
The 27-year-old got the opportunity to open the batting in Railways' season opener against Himachal Pradesh. She made most of that promotion by smashing a half-century. Before the tournament, she was not sure how much opportunity she will get to perform. "I love playing in T20s. But, I am aware that I might not get the opportunity to play every single match. We have 20 members in our squad and all of them are top-notch players. It's really hard to pick the playing XI from that group because every player is equally talented," she said. 
And talent was on display throughout the series as different players stood up for the team during the league stage. S Meghana and Rath put a mammoth partnership of 103 runs against Himachal Pradesh, while Rajeshwari Gayakwad took four wickets in the same match.
Nuzhat Parween scored a patient half-century against Karnataka.
Dayalan Hemalatha and captain Sneh Rana rescued them after an early wobble against Delhi and Preeti Bose took four wickets against the same opposition. 
Railways managed to churn out these consistent performances even as one of their most experienced players, India's ODI and Test captain Mithali Raj, played just one match. Under the new leadership of allrounder Sneh Rana, Railways are in the hunt for their 10th title at the T20 trophy and Rath was all praise of her new captain. "She is a tough cookie. She is very hardworking and positive when it comes to her cricket. Whatever the situation may be, she is ready to fight for the team," she said.  
Also Read: The artistry of Purvaja Verlekar
If this was the beginning of a new era for the most dominant team in the domestic setup, it should come as no surprise, given how the game has evolved in the past few years. The right-handed batter has seen the development of women's T20 at the domestic level from up close. She started playing when 100-120 runs in a T20 game was enough to secure the win but the times have changed since then. 
"Cricket has improved over the last few years and we are all better for it. When I started playing 9-10 years ago, we used to take our time to settle in," Rath remembered. "Even if the matches were low-scoring, we used to win them. Now, especially in the one-dayers, we have to aim for 250+ runs. And these days that score is chaseable as well. Back then 180-200 was enough, but now we need more runs. If we look at T20s, 100-120 was enough a few years ago. But now we have to aim for 180+ runs."
Playing her 10th season in the domestic circuit, Rath hopes the improving quality of cricket at the domestic level translates into the international level for India. "T20 is a quick game and you cannot wait and watch for your chance to come. As a player, you have to go out and create your chances. You have to change gears quickly to make most of the opportunity at hand," she added. 
"If we look at the way Australia and England play their T20 cricket, they don't give us any time to rethink our plans, that's how fast their cricket is. We have to incorporate that fast pace in our game starting from the domestic level. So, when we face these sides on the international level, it will be easy for us."
The crop of new players with their fearless brand of cricket is on the rise in India. With the Under 19 World Cup and T20 World Cup 2023 on the horizon, these matches are vital for India's domestic players to make their case for the big stage. One can only hope that this ever-evolving domestic structure makes them battle-ready for major challenges ahead.