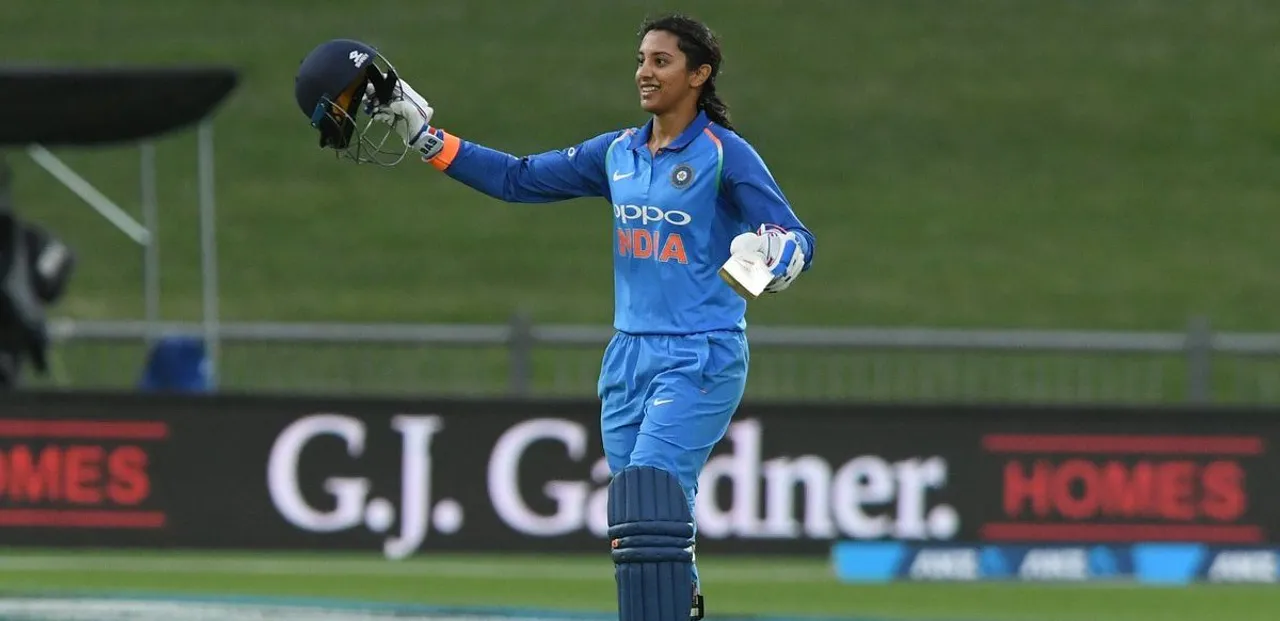 In 2016, I watched as Smriti Mandhana tore into Sri Lanka's bowling attack at the M Chinnaswamy Stadium in Bangalore. It was a practice match ahead of the World T20, and Mandhana was coming off a successful tour of Australia, where she had scored her first international century. She was batting at No.3 in that game, and had come in at the fall of Mithali Raj's wicket. The Indian captain had been nowhere near her fluent best— she was stuck, and couldn't find the gaps, scoring a laboured 23. That her dismissal brought India's latest batting sensation to the crease, seemed almost symbolic. In stark contrast to her captain, Mandhana went on to smash four fours and a six on her way to an unbeaten 28-ball 43, to add to her unconquered 73 against Ireland in the first warm-up match.
Seated in the press box, as I watched proceedings unfold, I allowed myself, for the first time, to wonder whether, after 15 years of carrying the burden of India's batting on her shoulders, Mithali had finally found a worthy successor. Was the baton being passed?
A few days before the tournament, I had interviewed Mandhana. She spoke extensively about her experiences in Australia and how much she was looking forward to the World Cup. When asked whom she enjoyed batting with the most, "Mithali di", came the immediate reply. After all, only a few weeks ago the pair had shared a 149-run stand in the second ODI in Hobart and followed it up with a 58-run association at the same venue. During the first of those two stands, Mithali had played second fiddle to the left-hander, guiding her on the way to a hundred.
"Batting with her really takes the pressure off you at the other end," Mandhana, then only 19, had said. "The opposition is so focused on her, that I can quietly go about my business at the other end… She has so much time and makes it all look so easy. There's a lot to learn when you are batting with someone like her."
For someone so young, Mandhana showed a great sense of grace and poise – acknowledging the small, yet very impactful, contributions of those around her. She was a bespectacled youth who seemed eager to learn, improve and become the best cricketer she could be. Her aim was simple even back then – win matches for India.
While 2016 may have been a tad too early for Mandhana to have taken over the reins of the batting unit, India's tour of New Zealand in 2019 seemed like the perfect stage. New Zealand was where Mithali, in the 2000 Cricinfo World Cup, first showed glimpses of her ability with the bat; it therefore seemed only apt that New Zealand was where it finally happened.
In the second ODI in Mount Maunganui, India found themselves in a spot of bother at 15 for 2, chasing 162 when Mithali joined Mandhana in the middle. Another wicket and New Zealand may have really believed that they could pull off an unlikely win, but it was not to be. Mithali held down the fort, as Mandhana continued her dominant form, smashing an unbeaten 90. Their 151-run union gave India a historic series win. It was the pair's highest partnership together, and seemed to signal that the baton had finally been passed.
Great players are those who not only handle themselves well under pressure, but also elevate the game of those around them. At the start of Mandhana's career, Mithali seemed to have that effect on her. She had the ability to keep her calm and get the best out of her. While Mandhana was always organised and had a good temperament, Mithali taught her to stay focused and not get carried away – an issue the youngster struggled with initially. These were lessons that allowed her to grow as a batter and flourish later on.
Through the course of her career, Mandhana has batted with Mithali 58 times. In 22 ODI innings, they have 1154 runs at an average of 60.73, including five century, and five half-century partnerships. Their 36 T20I innings have yielded 962 runs at an average of 28.29, including two century and five half-century stands. Mithali is the only one with whom Mandhana has managed a hundred-run partnership in T20Is. They are India's most successful pair in that format, and the fifth most prolific combination in ODIs.
Fast forward to the present day, and Mandhana is quickly becoming a similarly influential player. On this tour of New Zealand, the left-hander was in ominous touch, extending her purple patch that began a little over 12 months ago on the tour of South Africa, and her form often rubbed off on her batting partners, particularly Jemimah Rodrigues.
Through the series whenever Mandhana batted with Rodrigues, the 18-year-old looked more solid and at ease than she was otherwise. The left-hander's presence at the other end, seemed to take the pressure off the youngster. She didn't need to be over-calculative or think ahead, she could simply react to what the bowlers were dishing up – the brain work was left to the T20I vice-captain. It almost seemed to echo what Mandhana had said about Mithali three years ago – with all the focus on Mandhana, Rodrigues was somewhat allowed to slip under the radar until she settled down.
In New Zealand, the pair accumulated 412 runs in six innings, across formats. They absolutely dominated the bowlers, refusing to curb their attacking instincts at any point. If Mithali was the calming effect on a young, somewhat over-attacking Mandhana, the left-hander almost served as the instigator to Rodrigues – refusing to let her retreat into a shell. Attack was the way to go.
Since her debut in 2013, Mandhana's ability with the bat was never in doubt. Therefore, her consequent rise to become one of the world's best batters is not surprising, but her growth as a leader over the last few years has certainly had heads turning. Although she has been captaining her state team (Maharashtra) for quite a few years now, it is the maturity that she displays when she speaks, and the way she reads the game that signal the 22-year-old could be ready for bigger things.
One example of this happened during the second ODI against New Zealand. Having secured the series with a comfortable eight-wicket win, Mandhana, when handed the player of the match award, stated— "This (award) belongs to the bowlers. They did very well to restrict New Zealand to 161 on such a good wicket. They deserve the credit."
By itself, there was nothing special about the statement, but Mandhana's constant acknowledgement of her teammates' contributions, however big or small, has only shed further light on her strengths as a leader – she can bring people together with the simplest of actions. 
Having played under her a few years ago – notably when captaincy was quite new to her – one thing that stood out to me was her ability to instil belief in her players. No matter how much older or younger, she spent time to talk to her teammates and make them feel comfortable. She had the ability to bring the team together and get them to pull towards a common goal.
Mandhana appears to be someone who is hungry for success, and is always aware of the team's interests. Personal success matters little if there is no 'W' in the team's corner – it is a belief with which she is influencing the younger group. She sets aims, not just for herself, but for the team as well. She wants her improvement to reflect in India's performances, otherwise it counts for little.
Through the last year, Mandhana's willingness to take responsibility and understand, that as the batter in form, she needs to try and see games through, also points to her leadership qualities. This, coupled with a massive hunger for runs points to good things for Indian cricket. She looks to be a worthy successor to Mithali in more ways than one.
Based on all that has happened over the last year, Mandhana seems like the perfect person to take Indian cricket forward in this period of uncertainty. She has shown that she is ready to take up the mantle as India's batting centrepiece, but whether the management believe it is time to thrust even bigger responsibilities to her is another question. For now, I believe that in Smriti Mandhana, India truly have someone who can take them to the next level, and if she finds the support, build a team that pulls for greater things together – much like the Mithali-led squad did in 2005.