"We actually took the name Tamzin and turned it around and changed it to Tazmin," Zeldine Brits tells
Women's CricZone.
"She's quite a feisty little girl; we used to call her Tasmanian Devil, like the cartoon programme that used to be on TV."
The Tasmanian Devil in Looney Tunes was described as a '
">vicious, ravenous brute with powerful jaws like a steel trap
'. Tazmin is by no means a devil; but her steely resolve and fierce determination make her an icon, as her mother reveals.
"She's quite a role model in the town she comes from in Klerksdorp. They always used to refer her as Klerksdorp's Golden Girl."
Tazmin won the gold medal in the 2007 World Youth Championships in Athletics for javelin throw and was all set to take part in the 2012 Summer Olympics. But a near-fatal accident months before the competition meant that all those dreams came to an abrupt halt. She was driving back from Potchefstroom when she lost control of the car and was flung out of it. It landed on her, breaking her pelvis and dislocating her hip. She was in the Intensive Care for about three weeks and in the hospital for two months before she could gradually start walking.
"I thought I wouldn't be able to walk again, I wouldn't be able to do sports again," Tazmin told this website in 2019. She had to undergo multiple surgeries, which involved inserting screws to get those joints in order and then the removal of the screws. But she managed to recover quicker than anticipated and returned to sports. However, a return to javelin was a step too far - her lower body unable to take the stress of the intensive hip and foot movements involved in the sport.
"She felt she had to not let the people down and prove to them she can make a comeback to javelin. She attempted it but it wasn't going as expected," Zeldine recalls. "Francois van der Merwe, the then North West coach, approached her and helped her get back to playing cricket."
Tazmin's fighting qualities are evident every time she takes the field. Having narrowly missed the cut for the T20 World Cup 2020, she took it in her stride, worked hard and was the leading run-scorer in the Provincial T20 competition and the second-leading run-scorer in the 50-over competition in 2019-20 and was adjudged the
'Provincial Cricketer of the Year' in 2020
.
ALSO READ: Marizanne Kapp and others
The 30-year-old was then recalled to the South African side for the series against Pakistan and she's had an impact in every game she's played since.
In the third ODI
, she was given her maiden cap and came in at no.5, after the Proteas lost back-to-back wickets of Laura Wolvaardt and Lara Goodall, and soon after that skipper Sune Luus departed as well.
A regular opening batter within the domestic circuit, Tazmin found it a bit tough on a slowish track. She scored only four, perishing in an attempt to up the ante. But she was a live-wire in the field, preventing the Pakistan batters from getting easy runs, manning the region from mid-wicket to square leg and also taking a catch to dismiss Omaima Sohail.
Come the T20Is, it was familiar territory for the right-hander, who opened the batting in both the matches. Chasing just 125 to win the first match, Tazmin saw Lizelle Lee depart early but then added a patient 69 with Marizanne Kapp for the second wicket. Her ability to stay calm, take control of the chase and finish it stood out in the game as she
remained unbeaten on 52 to take South Africa home
.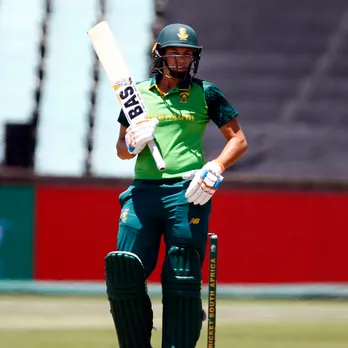 Tazmin Brits increasingly looked at ease on a slowish Kingsmead surface against Pakistan. © Cricket South Africa
But
the second game
showed why she's valued highly, despite being more of an accumulator than a basher. Pakistan asked the hosts to bat first and fed them with spin at the start. Despite their sloppiness in the field, Pakistan managed to keep a hold over proceedings, having South Africa two down for 43 at the ten-over mark, with both Lee and Kapp dismissed.
Tazmin did enjoy a couple of early reprieves but had done enough to get a measure of the surface. She is a natural back-foot player and the nature of the surface meant that she seemed to have more time to play her shots, especially when the ball was a touch short. And so, she employed the sweep, the kneeled pull and back-foot punches to good effect. That is not to say she didn't use her feet well, often slinking down the track to Nashra Sandhu, Anam Amin and even the seamer Aiman Anwer to hit over their head.
ALSO READ: Not a series review: Of Ismailing assassins and mixed Baig of tricks
In the 12th over of the innings, she showed that she'd gotten a measure of the track as well as the Pakistan bowlers. Aliya Riaz was using her changes of pace to good effect, but was undone by Brits – first, a full ball was sliced over cover for a four and on the very next ball, another slower full ball was duly swept through backward square leg for another four. She was 36 off 39 balls at that point.
Thereafter, she stepped on the accelerator. The shot to bring up her third T20I fifty is worth a description. Amin doesn't really toss the ball up and her short stature makes it a tad tough for batters to get underneath the ball. But Tazmin got down on one knee after shuffling across and belted it over deep mid-wicket for half a dozen. Audacity at its best!
Eventually, Tazmin missed a slow off-cutter from Anwer to be trapped LBW in the final over but she had done her bit. She managed to score 30 runs off her last 19 deliveries to end with 66 off 58 balls. The Proteas managed to score 40 in their last four overs and a total over 130 seemed more than par on Sunday (January 31).
Tazmin is gutsy; Tazmin has an unwavering drive and dedication to whatever she does; qualities that have passed down from her mother. "We're both people that will start something and finish it. Both are hard on ourselves," says Zeldine. That steely resolve was on display through the first two T20Is, with Brits playing a huge role in South Africa's T20I series win.