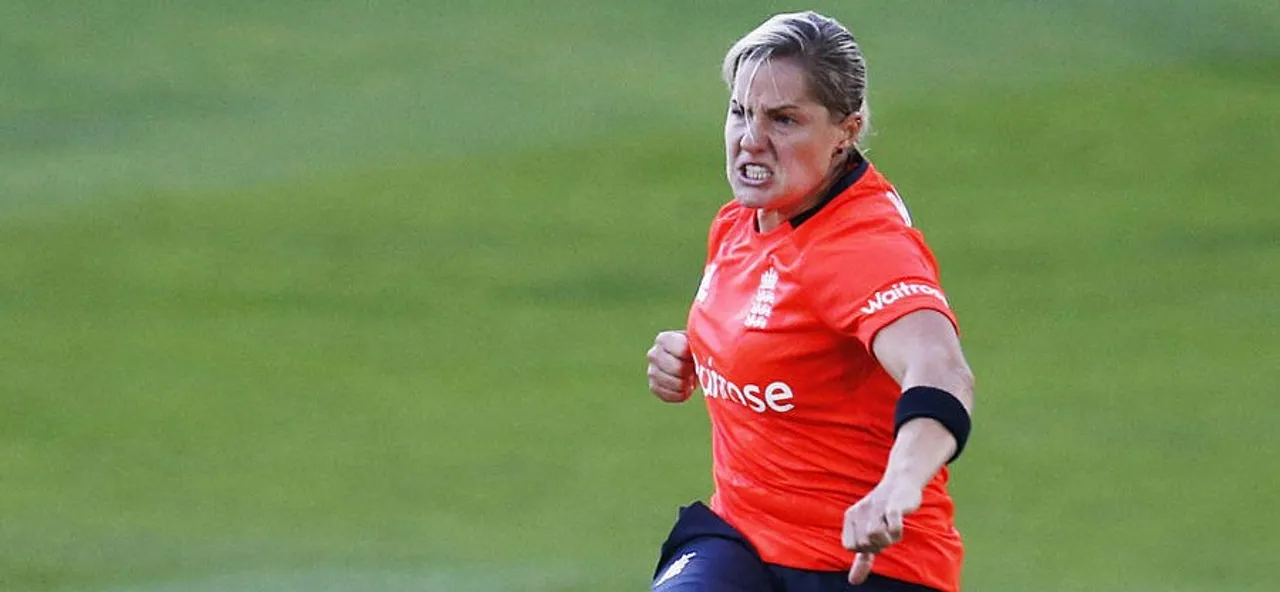 Cricket likes a great nickname. At least, the men's game seems besotted by it. One wonders if impact players who are no longer active are still revered by some, for instance, Kevin Pietersen lovingly addressed as KP, why isn't Katherine Brunt addressed as KB?
It should ideally inform the curious fan that this is not something frumpy. K stands for the superman-equivalent of Kryptonite power. B is beyond boys.
Kryptonite power beyond boys: that's Katherine Brunt for you, white-ball smasher, stump-crusher, constant deliverer of maiden overs, often pleasantly self-deprecating but always passionate. Her passion for the sport is super and her abilities to contribute to England indicative of her all-round powers.
In some ways, it makes perfect sense that Katherine Brunt has been playing the sport for 13 years. After all, she scalps crucial wickets, chases the ball in the outfield and smashes whopping blows with the zeal of a 13-year-old.
When Katherine Brunt debuted, Harmanpreet wasn't a household name, a day-night Test for women wasn't even conceived as an idea, the West Indies Women seemed miles from winning a World T20 and, Charlotte Edwards was the biggest name in English cricket.
To a rank outsider, it may seem Katherine Brunt is a Jurassic presence in the sport described by everyone as the 'Gentleman's game.'
However, if you gaze past the right-arm medium pacer's record, you'd understand the aforementioned definition is rather truncated. Cricket is a gentleman's game being taken to new heights by the women.
Among them, an elite of the sport is Barnsley's Katherine Brunt. In her maiden ODI against South Africa, back in 2005, she bowled 7 overs and conceded just 14 runs and also took a wicket.
Katherine Brunt in Tests. ©Sky Sports
An implicit construct of her game- as evidenced right at the start- would be the economy rate. Akin to history, where there are Marxist historians and Conservative historians, there are conservative bowlers in the sport. This doesn't mean they are unwilling to experiment. It simply means they are unwilling to give away runs.
You don't clobber Katherine Brunt for runs; you somehow manage to collect them. In over 13 years playing of non-stop, globetrotting, spine-bending international competitive cricket, Katherine 'Kryptonite-powered' Brunt has managed to keep her bowling average under 24 and the economy at 3.4.
If this alone isn't staggering, then what is?
These aren't just great stats? These are worthy of comparisons with exasperating situations, akin to a customs officer raiding an unruly passenger, confiscating all the dangling, sparkling belongings. You arrived at the airport all loaded with gold and you've been left empty. Make that the runs conceded column in Ms Brunt's game.
In cricketing lexicon, it would mean the bowling equivalent of seeping out all energy from a Brian Lara or an AB de Villiers. Take away their runs. Eschew the flair and remove the flamboyance. Convert them into runs saved by the bowler.
Few in the game are able to challenge the batswomen, contain freedom of the bat, and overpower a talent with clever pace as Katherine Brunt.
To a sport that's blossoming every single day; an England shattering records, a Bangladesh winning its first major tournament just days ago, an India standing at an intersection of flair and experience, an Australia pumped by Lanning's return, a New Zealand powered by a teenage sensation, the presence of someone like Katherine Brunt is pivotal to the changing narrative of the game.
It lends great balance to a sport that can often seem invariably in the command of only the young guns. It reinstates an unsaid rule of sorts. For a competitor who doesn't need theatrics like hair-colour, feisty tattoos, or an inflatable ego, Katherine Brunt's purpose on the cricket field seems that experience will always matter over flair and talent.
Wondering how?
Here's sufficient proof.
When England won the maiden world cup in 1973, Katherine Brunt wasn't born.
When they repeated the glory, two decades after, in 1993, Brunt was 8 and bowling quick in the nets.
By the time they won a third-crown in 2009- in Australia- Brunt was 24 and member of a victorious side.
Regardless of where you are at this moment in time, you can imagine the pretty face exuding that characteristic warm smile when probed about that special 'winning feeling.'
Katherine Brunt, the powerhouse of England Cricket. ©Getty Images
Back in 2009, Brunt didn't simply stand on the podium as a potential English talent. Through her nearly unscorable bowling spells, she proved she was in the hunt for being great.
Take a look at these stats. Let them sink in. From 44 overs that she bowled collectively, claiming 6 wickets, she only gave away 129 runs. If you further broke down the stat, you realized her penchant was in containing the flow of runs.
For someone who opened the attack for England, shining the white ball with her sweat, a metaphorical expression of her thirst to better, she bowled a remarkable 10 maiden overs.
One wonders in describing the career of this modern-day great- why isn't enough emphasis laid on her mega contribution back then?
While the 2017 World Cup may not have been her brightest, 5 wickets coming at an average of 50, Katherine 'burnt' those who tried to take a dig with her astute and determined spells, seemingly putting a lid on the scoring rate.
There was no Shrubsole then. Wyatt hadn't arrived. Sciver didn't play. Brunt already had played in on the minds of everyone- be it Mithali or Meg Lanning, Suzie Bates or Sana Mir.
Having said that, no ode to this iconic career can be rendered complete without mentioning that none of the 197 wickets- including 136 in ODIs and 61 from T20s- would've happened had Brunt not had battled back against her bullies.
Criticized for being overweight, at 17, she nearly gave up the sport. Thankfully, a sabbatical was only going to pave way ahead to a massive comeback. One that's cushioned Her Majesty's glorious Women's team with a talent that's a sorcerer with the ball and a dasher with the bat.
Let alone her combined 236 wickets (including 39 in Tests) for a second. Can you mention Katherine Brunt sans that fiery, dogged unbeaten 72, a knock that buried South Africa several feet under a no-holds-barred onslaught in June 2018?
After Ismail, Kapp and Ayabonga sent shivers down England's spine, the local-favorites teetering at 39-4, Wyatt soon departing within minutes to send the team 64-5, in walked Number 7- Katherine Brunt.
Soon, the Proteas' bowling would turn gloomy at the back of Brunt's belligerent striking. This is an inning that should be remembered for the right-hander changing gears like an F1 driver in midst of a fascinating Grand Prix.
From 5 off 28, she'd move to 9 off 29, to 18 off 48 and then, to 45 off 81 deliveries. At this time, England were 148-8. Then, with Laura Marsh bowled off a slower ball would leave Brunt to take the opposition by the scruff of its neck- scoring freely being the only way to get out of the mess.
She lifted Kapp over mid-on for a four to bring up her fifty off 86 balls. Next up- would be brilliantly executed paddle sweeps and scoops, served fresher than what Baskin Robbins' most delightful dessert can provide.
From 69 off 96, she'd move to an unbeaten 72 off 98, her strike rate in the upper echelons of 70. Her contribution would be a lioness' share of England's aggregate.
Often when Brunt is in the middle the contest is larger than the outcome. It's embedded in the present, a moment that can be sparkling for England and uplifting for the spectator given the passion and candour the 33-year-old puts.
May that remains always.