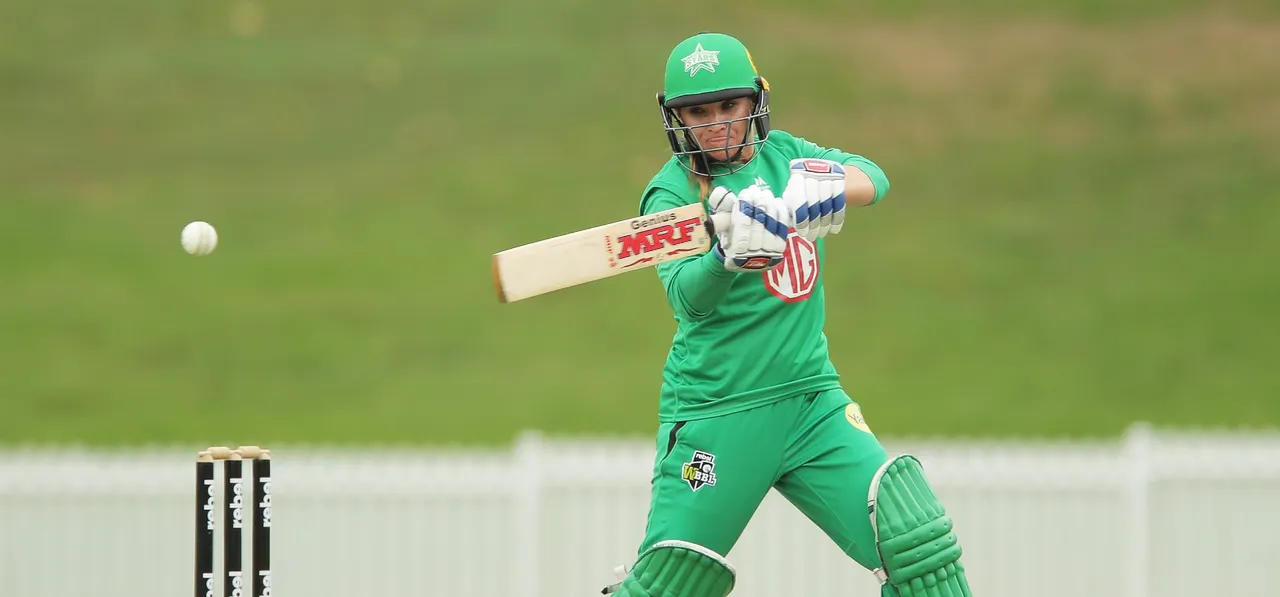 Mignon du Preez is full of energy. When it's her turn to bat, she comes bounding to the crease - a couple of hops, a skip, and she eagerly trots to the middle, swiftly taking her guard before settling into her stance. A quick adjustment of her helmet, a glance around the field, a double tap of her bat behind her toe, and she is set to go. It all seems frantic; almost like it's happening in fast forward.
As she faces up to the bowler, you can see du Preez's bat flapping behind her in the direction of first slip. It's not a rhythmical or precise bat flap like Kane Williamson; it appears closer to Steve Smith - rapid, like the wings of a hummingbird. Crouched in her stance, hands moving frantically, front foot twitching ever so slightly, there seems to be too much movement. Yet, when the ball is released, she is as still as can be. It's a contradiction. It's typical Mignon du Preez.
When du Preez is batting, everything happens in the blink of an eye. As she makes her way to her mark with short, sharp steps, it's like watching a video at double speed. As she hits the ball, her fast hands accelerating through the delivery at the speed of light, it's like Bruce Lee wielding his trusty nunchakus. And when she charges down the pitch in search of a run (or usually two), you can picture a hare bounding across the turf - head down and motor.
In a Melbourne Stars line-up that boasts of the likes of Meg Lanning, Elyse Villani, Natalie Sciver and the exciting Annabel Sutherland, it would have been easy for du Preez to be overshadowed. Despite her recent improvement as a T20 player, she is probably one of the most under-rated batters in the format. She is not one to grab the headlines. Yet, at the end of the group stage of WBBL06, the right-hander finds herself seventh on the list of run-getters (second for Melbourne Stars) with 375 runs in 11 innings.
ALSO READ: The 'no talks-only fit bumps' Knight-Haynes partnership, a teenager and a 20-year-old
While this is still not her best year in the WBBL (she scored 404 runs in 2019), du Preez's runs this season have come at a higher strike rate than before. Where she was previously striking around the 110-mark - that number rising to 120 last year - her runs in WBBL06 have come at a strike rate of 125.83 - fifth best for anyone with over 200 runs.
What has defined du Preez's season has been her ability to get out of the blocks quickly and then kick on. In nine out of 11 innings, she managed to find a boundary in her first five deliveries; twice off the first ball. Additionally, she has only played a total of 94 dot balls (out of 298) through the tournament, which means she has scored off close to 70% off the deliveries she has faced. She's remained busy at the crease, consistently taking the pressure off her partner.
This approach has allowed the Stars to capitalise on the brilliant starts Lanning and Villani have often got them off to. In a tournament that has regularly seen the middle orders of various teams topple after a promising start, the South African has provided her side with plenty of stability at No.3; a fact underlined by the six half-century stands she has been involved in for the second wicket this season.
The right-hander's influence on Stars' success this season can be highlighted by her impact on 'Meg the Mighty'. Arguably the greatest batter in the women's game, Lanning is in many ways the polar opposite of du Preez. For starters, her movements are measured and very precise. There is efficiency in everything she does - no extra energy to be spent. Yet, this season, whenever she has batted with du Preez, it is almost as if she has been forced to move in super speed.
The pair have batted together seven times this season, accumulating 381 runs at an average of 54.42, including a best of 99 against Perth Scorchers. While Lanning has been the central figure of each partnership, du Preez has appeared to be the guiding force, taking charge early and driving the chat in the middle. When the pair have come together between overs, a normally un-rushed Lanning has been seen vigorously nodding her head - almost at breakneck speed - and enthusiastically glove punching du Preez as she chatters away.
ALSO READ: All hail Meg the Mighty!
Du Preez's innovation and movement around the crease have typified her approach to T20 cricket over the last couple of years. However, this WBBL, she has showcased a different side to her game by getting herself into different positions in order to maximise her reach and power, thus allowing her to access the boundary more freely, resulting in 46 fours and six sixes.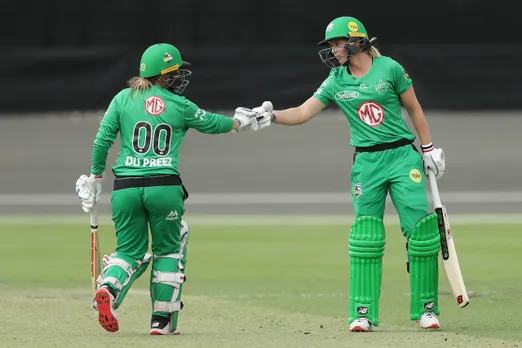 Meg Lanning and Mignon du Preez have been prolific at the top of the order for Melbourne Stars. © Getty Images
Previously known to step across her stumps and use the bottom hand to drag the ball through the leg side, targeting the region between long on and square leg, the 31-year-old has now begun to stay slightly leg-side of the ball. This change in position not only allows her to open up a different part of the field, but also gives her the opportunity to free her arms and hit through the ball, rather than across her body, more cleanly. The full extension of 'levers' and her superb hand speed means she is able to generate a lot more power and get a lot more distance in her shots.
***
I remember the du Preez of 2016, just before she had given up the captaincy - at the Women's T20 World Cup in India - she looked like a fish out of water. In that tournament, she was rooted to the crease, unable to move forward or back; her feet seemed like iron.
Four years later, she has transformed herself into a superb exponent of the shortest format - innovative, busy, and powerful. She's exchanged the iron of 2016 for dancing shoes. Now, when she is not moving up and down the wicket, she backs away or moves across the stumps, attempting to score in different areas. It's almost like she's walking on hot coals - those feet never stay still. Yet, crouched in her low stance, eyes fixed on the orb moving toward her, she is as still as a lioness, waiting to pounce on her prey.
I know it sounds like a paradox, but it is typical Mignon du Preez.