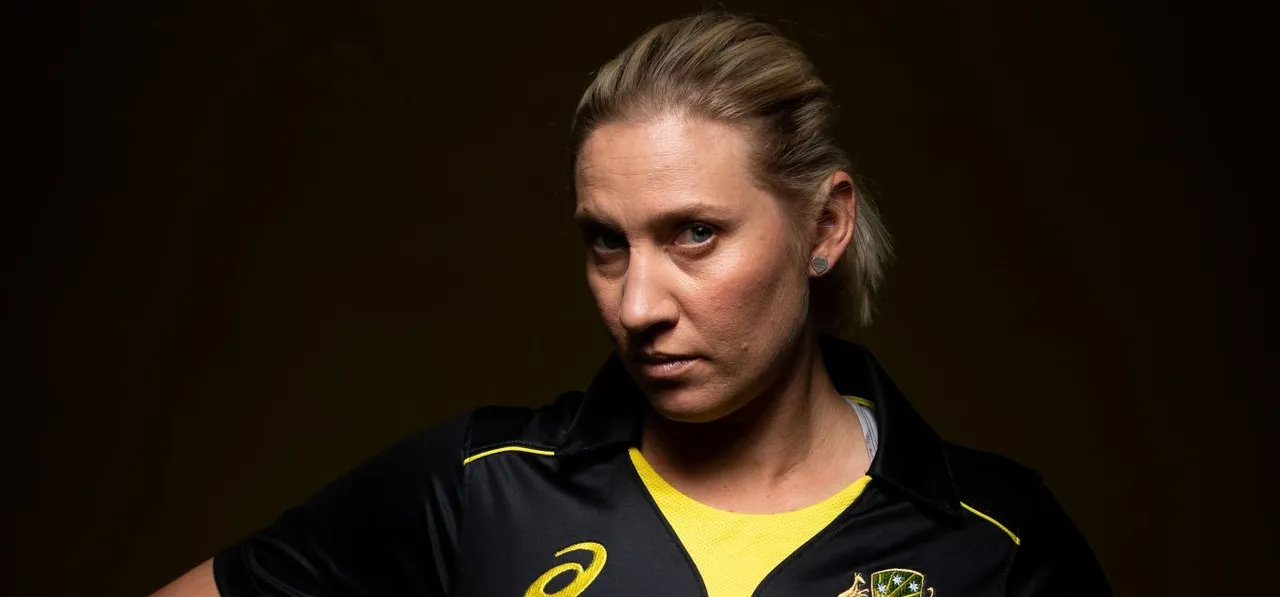 One of the things about loving cricket and writing and following the sport from close quarters is the absence of it makes you
rewind
to old clips and matches. Some
Twitter handles
provide the regular dose of these clips while on other occasions, there is YouTube.
When you search for Delissa Kimmince on YouTube, there is an old video that says '
" rel="noopener noreferrer">Delissa the Destroyer
', which has come clips of the right-arm seamer dismissing batters as well as smoking 'em big. She cleans one batter up by bowling an unplayable ball – full ball around middle and leg, which the batter looks to play towards mid-on, only for the ball to curve away and disturb the wood-work. Delightful sight for a 'fast' bowler.
Fast bowler – that's how Kimmince burst onto the scene back in 2008. However, after a hiatus from the sport back in 2009, she returned as an allrounder – someone who could crank it up with the ball as well as send the ball into orbit with the bat. She was truly 'Delissa the Destroyer'. What brought about that transformation, though?
"A little white lie," she exclaims with a grin in a chat with
Women's CricZone
.
"I was obviously coming through the ranks and I was only ever seen as a bowler and when I took time off in 2011, I was over in the UK and I told them I used to open the batting and bowling back here in Australia. They believed me and they allowed me to open the batting and bowling. I scored a few runs and I think that made me believe I could actually do it."
"When I came back to Australia, I said to my club coach I want to open the batting now. I think everyone sort of laughed at me. But it worked for me and I started to get belief in it. We won the 2013-14 T20 competition here in Australia when I was opening the batting and I was player of the match in that game."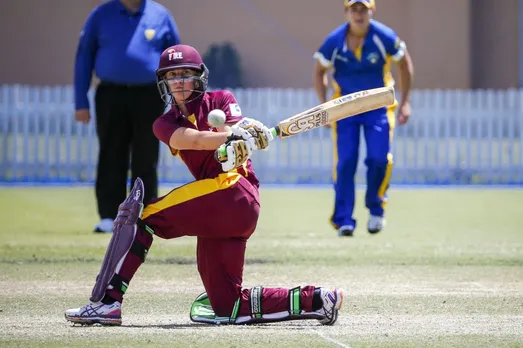 Delissa Kimmince in action for Queensland. © Getty Images
Kimmince scored an unbeaten 78 in the final of the Australian Women's T20 Cup, which Queensland won in 2013-14. She piled up 443 runs in 14 games through the competition, most for her team and third-most overall. That asserted Kimmince's ability with the bat, though she didn't get much batting time for Australia.
However, last year in the
first ODI of the multi-format Ashes
, the allrounder played a match-winning knock, which she recalls as one of her fondest memories with the bat.
"We were chasing a very low total like 170-180 (178) and we'd lost a few wickets and I remember it was Georgia Wareham and I (who) were out there batting. Katherine Brunt was bowling at us and you could imagine she was spraying us, and all the above," she laughs.
"Just to get over the line… I was so nervous and so was Wolfy, obviously it was one of her first games as well. Just the relief on our faces when we walked off. I think I had faced 40 or 50 deliveries for maybe only 10 runs (she scored 14 off 29)... Just to get through that tough period and having a world-class bowler going hard at us but to get through that and get that win in the first game of the Ashes was always so important."
ALSO READ: 
Ruthless & competitive: Meg Lanning's Australia
Kimmince admits that these two years have been the
best of her career
. Her success as well as her teams' – Brisbane Heat, Queensland and Australia – doing well reflects that. With 22 wickets in the season, she had helped Heat win their
first Women's Big Bash League (WBBL) title
in 2018-19, ending Sydney Sixers' reign, and they went on to
defend their crown earlier this year
.
"It's nice to be a part of winning teams but the important factor for me is the enjoyment factor. Having belief in what I do and understanding my roles has made it a lot easier for me to go out there and perform when I'm needed to."
The seam-bowling allrounder was also a part of Australia's
T20 World Cup winning squad in 2018
(not to forget 2020) and played her part in Queensland finishing runners-up in the Women's National Cricket League (WNCL) in 2018-19. In 2019-20 they finished third.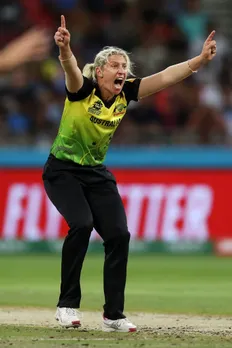 "I always find that the first six balls are "hello, I'm here!" © ICC
"I've obviously had injuries that have kept me out, I have had performances that have kept me out. You could put it down to a number of things. Now it is more about me understanding my game better, my roles in the different teams I'm playing, which allows me to be clearer when I'm out there bowling," she says about not playing a lot of ODIs in her career so far – just 16 games in 12 years.
"When I was in the Australian side a few years ago, I was very inconsistent and I found myself running drinks more than I was playing games. I've been in similar situations now where I have been on the bench. But I just try and take every game – whether I'm playing or not – in the same way and I think that helps. Obviously when you're out training, you try and get as much as you can along with the coaches to improve your game."
She played just three more ODIs out of Australia's eight since the first Ashes ODI but featured in 13 of the 20 T20Is Australia played from July 2019. She's picked up eight wickets in those, including three in four games – Jemimah Rodrigues in the
first match
, Mignon du Preez in the
semi-final
and Veda Krishnamurthy in the
final
– of the
T20 World Cup
.
"When you're not playing all the games, you are in and out of the side, you start to question what do you have to do, where do you have to get better, are you really playing that bad," she reflects.
"That really does start to creep in and every time you go out there. If you perform badly in that game, you think, 'Aww, I'm not getting another game, I'm on the bench, running drinks'."
"But I think in the last few years, I have embraced and tried to learn even from the games I'm not playing… Try and learn what other people are doing, try and get the best out of myself, whether I'm on the field or not. That's just allowed me to go out there and play with freedom, when I have had the opportunities."
"I'm just grateful to be back."
She's mindful when she says so, having made multiple comebacks for the national side. She's picked the current stint as her most enjoyable one and understandably so. Because not a long while back, she had said that "
I thought my time in the green and gold had been done
."
ALSO READ: 
We were laughing at how unbelievable it all was: Beth Mooney
The "white lie" that helped her 're-brand' herself meant that she stayed relevant in an ever-changing game and still has a lot to offer, despite her dodgy knee and a grave back injury. From a 'fast' bower, she has moulded herself into a 'smart' bowler.
"Over the years I have tried to develop as many change-ups as I can, so I'm not predictable. I'm obviously losing a bit of pace, getting a bit older so I'd better start to try and outsmart the batter in the best way you can."
Her knee injury is "an overused injury from over the years" which isn't getting any better or worse with age. Some days she really struggles to walk, while on others she pulls up decently. There have been times when she couldn't sleep because of the ache.
"It is very mentally challenging… Some days I just wanna cry…"
But the one thing with age is that there comes a maturity and a deeper understanding of oneself. Kimmince realised that it's not always about going full throttle; that she couldn't train the way most of the others did. She had to be smart with her methods, because even squatting was tough for her at times. Her training regime doesn't have a lot of running involved. She'd be happy to get one good running session a week and it'd be better if the knee doesn't flare up then. She swims more and does boxing and more cross-training.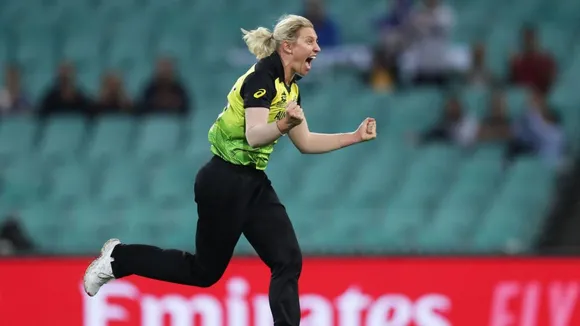 Delissa Kimmince on a celebratory run after picking up a wicket. © ICC
Admittedly these are things she doesn't enjoy much but "sometimes when you're in the position I'm in, you can't complain. It's just really being smart and having days when it's a bigger load day, really trying to push what I can and then really giving it a few days to recover and hope it doesn't hurt as much before we go again."
"Sometimes it feels like it's never getting any better, I'm going nowhere but when you trust the process and take an understanding that it's going to be there regardless," she accepts.
"I always find that the first six balls are "hello, I'm here!" But then I sort of get my head around the pain and I find getting into the contest more distracting, enough to forget about it. It is quite challenging and anyone who has had injuries knows that when you can't see an end line, they can get you down."
ALSO READ: Nothing is going to beat that night: Megan Schutt
Before witnessing this latest career high, Kimmince had started to look beyond cricket. While there are those who look towards broadcasting or coaching roles, the allrounder, who has 39 T20I wickets and 14 ODI wickets, wanted to, and still wishes to, become a firefighter.
"I have applied quite a few times and failed the testing and obviously with cricket it's hard," she states. "I would have to retire from cricket basically if I were to be a firefighter. After failing twice, I've decided that I will have another crack when I retire from cricket. I may never get in, but it's definitely something I always wanted to be. I have wanted to give back to the community in any way I can."
The reason for this is very intimate.
"I lost some mates in a car crash in 2008 and I don't know why, but ever since it's something I always wanted to do, to be a firefighter. I always just thought if I could help a family in some way, whether it's saving their loved ones or saving the things they love if they're in a house fire. I just wanted to help people."
https://open.spotify.com/episode/484PTeQYxjKUMnQdE9PXa6?si=6vPKjCiWSXuuE4fJB0my2g
Kimmince may have let her fiercely competitive nature get to her and affect her mentally at the start of her career and many times during it. But as she emerges on the other side of her thirties, the one thing she has realised is that the sport is meant to be enjoyed. She was never happy with what she did at the start. The negatives - however small - always outweighed the positives - however large. The bigger goals she set bogged her down and led her to take the breaks she did.
"When I was younger what did really bring me down was never really enjoying the little wins I had along the way," she laments.
"If I could just tell myself way back then to enjoy it, enjoy the challenges and learn from them as fast as you can and move on. Just go out there and enjoy the game for what it is because at the end of the day we all started the game because we enjoyed it. That's one thing I'm big on now is going out there and enjoying the moments I have."
12+ years, 41 T20Is, 16 ODIs… Alright numbers do paint a picture – a rosy one as well as a sorry one. In sport, we often use these numbers as a yardstick for success and failure. But whether that is fair is up for debate. In Kimmince's case, just over 50 wickets in an international career of over a decade may not entirely provide an accurate reading. But when you look at the crucial wickets she snares (cue du Preez in the semis) or the frenzied cameos with the bat that she played (
against England in the tri-series
), you know the player is more than just what numbers show.
And then there is 'Delissa the Destroyer' to remind you if you forget. Just in case.