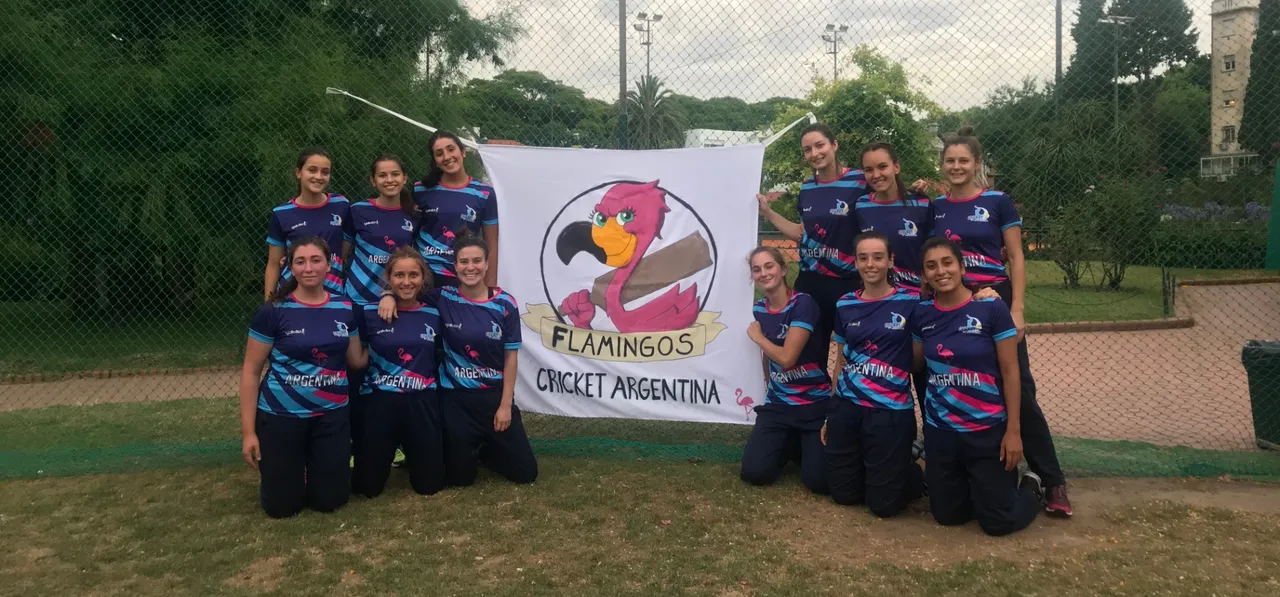 "I have seen a change in approach to batting, particularly with confidence trying out new shots, pushing running between the wickets and being a bit more experimental," observed Sian Kelly, head coach of Argentina women's cricket team, in a conversation with
Women's CricZone
.
For a country in South America which is primarily known for football greats Lionel Messi, Diego Armando Maradona and its men's hockey team's Olympic triumph in 2016 in Brazil, Kelly's comments come as a massive boost for the future of the sport which is still considered to be in its nascent stages despite having roots that date back to 200 years ago.
It is believed cricket was first played in Argentina during the British invasion of Río de la Plata in the 1800s when a group of prisoners played the first cricket match. The women's game, however, took a while longer to start up. It was only in the year 2000 that an Under-15 girls' team toured New Zealand. Thus began the 'history' of Argentinian women's cricket.
Twenty years down the line, Argentina has a women's first division competition, the national team participated in the America Women's Cricket Championship for the first time in 2007, and they were granted T20I status by the International Cricket Council in 2018. Women's cricket is certainly growing in the southern part of South America.
ALSO READ: Female cricket is growing, and we are helping each other out - Moretti Avery
"Cricket isn't a very well-known sport in Argentina, yet it has been around for a very long time," stated Kelly, who hails from Solihull in England. "People who play it often have links with British schools or sports clubs that were founded by British people and continued by Argentines. Clubs are full of old photographs and memorabilia that show the rich cricketing history in the country."
So what made Kelly fly down 7,000 miles from her family and offer her services to coach cricket in a country that knows very little about the sport?
"I was studying Spanish at the University of Oxford and in my third year I had to take a year out and complete a 'year abroad' - a year where we must go to a Spanish speaking country in order to learn more about the culture and to improve our Spanish listening and speaking skills," continued the 23-year-old.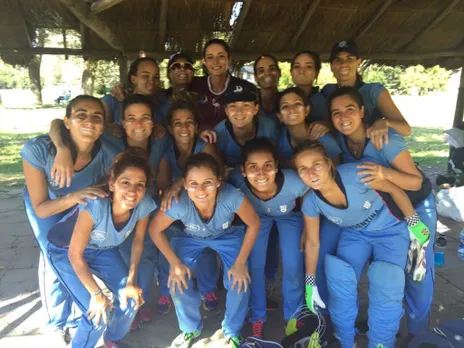 Head coach Sian Kelly (top row, 3rd from L) poses with her Argentina wards. © Sian Kelly
"I saw an advert looking for 'overseas coaches' for Cricket Argentina, and got in touch with Dan Sutton, who was in charge of coaching in Argentina. I had never been out of Europe before and had played cricket since I was nine-years-old, so this seemed like the perfect chance to push myself out of my comfort zone, yet whilst doing something I love and am fairly confident with," added Kelly, who used to be a wicket-keeper for Warwickshire in England.
ALSO READ: From quirky pastime to livelihood – Brazilian ladies pave the way
Predictably, things weren't easy for Kelly at the start. She had moved to a new continent altogether and took time to get used to the culture, language and the people - she was well out of her comfort zone.
"The main challenge I faced when I first arrived in Argentina was that I was only there for six months, and I was only there for a month before the South American Championship," she said.
"These are both very short periods of time to get to know your players and try to enforce some changes. However, the longer I have spent with the girls the more time we have been able to build a relationship whereby I get to know how they play, think, behave and they also get to understand more about where I am coming from as a coach too."
But Kelly, who happens to be the first female coach of Argentina, has done a great job in such a short space of time. While they didn't participate in the 2018 edition of the South American Cricket Championships, Argentina made their debut - in the tournament, and in T20Is - the following year, and finished runners-up to arch-rivals Brazil.
Although 'The Flamingos' as they are nicknamed, beat the likes of Peru, Mexico and Chile, the Veronica Vasquez-led side stumbled against Brazil in both their matches (the league encounter and the final). However, one big positive that emerged from the experience was the performance of allrounder Alison Stocks, who finished as joint-highest wicket-taker (8) in the tournament alongside Brazil's Nicole Monteiro and Samantha Hickman from Peru.
ALSO READ: Cricket resumes in Vanuatu as Langiatu, Vellani power Mele Bulls to Super League title
Unlike Brazil, where they have
central contracts
for women cricketers, things are different in Argentina. The players are not professionals and therefore not full-time cricketers. The women balance training with their normal jobs and studies such as medicine, architecture, performing arts, biomechanical engineering and more. On the ICC rankings, Argentina are currently 34
th
in the world compared to men who stand at 48.
Such has been the team's transformation over the last year that even men's allrounder Hernan Fennell said, "Despite the low quantity of young players in Argentina there is good quality." Fennell, who is also the head of the junior section at the Belgrano Cricket Club, believes that Argentina has the quality to compete with other minor cricketing nations such as the Netherlands.
Despite the low numbers, Argentina's domestic structure is quite streamlined. The board holds junior leagues as well as a women's league that comprises a few clubs and the schools that have cricket teams. The best performing girls from the junior leagues are invited to join the 'Mini Flamingos' who then play in the boys' Under-14 and Under-15 leagues. The best women are selected for the 'Flamingos'.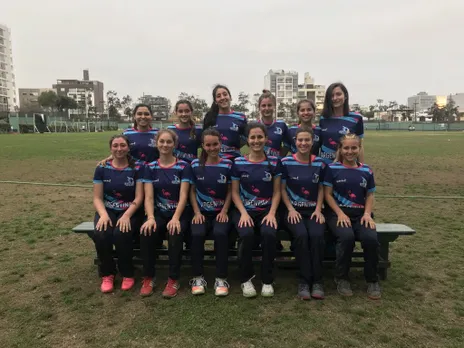 Argentina national team. © Sian Kelly
The Flamingos then compete in the men's second division league, and performances in that competition as well as friendly matches are used to select the team for national competitions such as the South American Championships. It must be noted that finding local female opposition for the 'Flamingos' is difficult in Argentina.
With limited talent and resources, it is no surprise that Argentina have focused a great deal on grassroots programs to spread awareness.
"Grassroots cricket makes up the majority of what we do really as coaches, as we try to get cricket into schools and clubs, starting at as young an age as possible," Kelly elaborates.
ALSO READ: Looking back at Thailand's T20 World Cup campaign
"Something we have found particularly useful are the 'Entry Level Programme' (ELP) and 'Mothers and Daughters Programme' (MAD) designed by the ICC."
"The ELP helps teachers and coaches deliver cricket classes for complete beginners, and the MAD is a scheme designed to get more women and their daughters involved with cricket. With both programmes we've had fantastic responses from all. They have been very enthusiastic and positive about cricket," she said.
However, infrastructure and funding is still a big problem in Argentina. Buenos Aires is the only place in the country with as many as 12 cricket grounds. With no quality stadium, the national team has to depend on these club grounds for matches and no indoor training facilities mean practicing during the monsoon and winter are very difficult during winter. An added issue is a lack of bowling machines.
In terms of funding, Cricket Argentina relies mostly on ICC revenues. But it appears the government has offered help as well in recent times. Aside from that, people from within the cricket community itself collaborate and try to chip in through sponsorships.
"We are currently on the way to expanding our facilities, with some help from the government, which will be great since it will give Cricket Argentina its own place to promote cricket, as opposed to going into clubs and schools, which has been the structure until now," said Kelly, who has been one of the pioneers in reviving women's cricket in Chile too.
"The roadmap for Argentina women's cricket is to keep growing the base of both girls and women players, which allows for increased and better competition and in turn, a better level which allows them to compete at a higher level in international competitions."
While it is certainly not going to be an easy journey for Argentine, with Kelly - who has been promoted to Women's Development Officer - in charge, things are moving in the right direction. "They play with their hearts on their sleeves and are really, really dedicated to the game," concluded Kelly.
What is clear from Kelly's words is that the spirit and the passion for the game in Argentina will see the team continue to improve. While they search for funding, recognition and a firmer footing within the country itself, they have something to aim for - a chance to play a world tournaments; and that is what they will keep working towards.