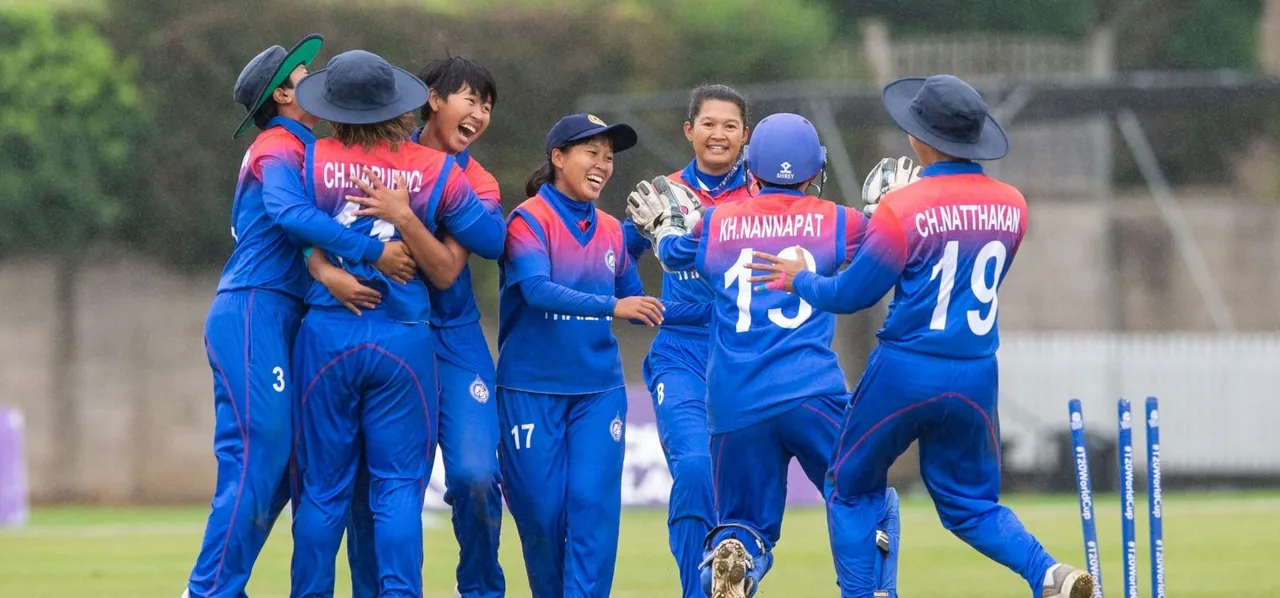 And then there were 11!
In a historic occurrence, the
ICC Women's T20 World Cup 2020
will finally see an 11th team join its ranks. Thailand or Papua New Guinea, who clash in the second semi final of the ICC Women's T20 World Cup Qualifier 2019 in Scotland, will join the likes of Australia, England, India, New Zealand and the rest as part of the mega event to be held in Australia next year. For the first time since the tournament became a 10-team event one of Bangladesh or Ireland will not make the cut.
While Thailand's performance was expected, PNG has turned out to be the surprise package of
Group A
.
The Asian champions came into the tournament with form on their side. They were fresh off a record-breaking streak of
17-straight wins in T20Is
— a streak that last between July 2018 to August 2019. They were the form side.
Grouped alongside
Ireland, Netherlands and Namibia, they were expected to finish in the top 4. Sornnarin Tippoch's team were the dark horses— the ones that many expected to overthrow Ireland on their way to Australia.
True to the script, Thailand have come out on top every time they have been tested. After breezing through their first match
against Netherlands
by 30 runs, they came up against an inspired Namibia who were desperate to bounce back from the thrashing they were handed by Ireland.
Having been reduced to 37 for 6 in 10.2 overs, Thailand were staring down the barrel. However, a resolute Tippoch played an important innings to get her team to a total of relative safety, before Chanida Sutthiruang continued her spectacular form with the ball, to snuff out the
Namibian challenge
.
Once they had qualified for the semi-finals, Thailand's final group game came against Ireland to determine which team would finish at the top of Group B. As expected, it was a tightly contested game, both teams fighting tooth and nail for the upper hand. However, once again, Thailand found a way to
scrape through
by the barest of margins. They have topped the group and are set to face an inspired PNG at Forthill in Dundee on Thursday (September 5).



The winning moment!@ThailandCricket claimed victory over Ireland by just two runs off the final ball. They are just one win away from qualifying for the #T20WorldCup in Australia!#T20WorldCup | #IREvTHA pic.twitter.com/ugCq5Zf0B5


— T20 World Cup (@T20WorldCup) September 4, 2019
While Thailand's bowling has been their dominant skill with Sutthiruang, Tippoch, Nattaya Boochatham and Suleeporn Laomi, the leg-spinner, contributing evenly so far, their batting has been a slight area of concern. The lack of runs at the top of the order from Nattakan Chantam, Naruemol Chaiwai and Boochatham, has exposed the middle order quite early.



Chanida Suttiruang is having a phenomenal #T20WorldCup Qualifier.


She's taken 10 wickets at an average of 3.20 so far. How good were her first two wickets against Ireland earlier today?! pic.twitter.com/MrqwQ1MyKl

— T20 World Cup (@T20WorldCup) September 3, 2019
Despite their slightly lackluster returns with the blade Thailand will be confident of their ability to finish in the top two. After all, they are still, well and truly, the form team and look set to book their flight to Australia.
In their way, stand PNG. This unfancied team, led by Kaia Arua, have captured the imagination of the world, downing the likes of Scotland, and pushing Bangladesh to the brink to book their place in the knockout stage of the tournament.
In the first game, it was Brenda Tau and Tanya Ruma whose calm heads helped PNG get over the line against Scotland. After that, Sibona Jimmy's allround heroics helped them
beat USA
.
While they watched the final stages of the league game between Bangladesh and Scotland played out on Tuesday (September 3), the PNG players were seen nervously jumping around. When the result of the match became imminent, the players were understandably cock-a-hoop. For the first time in three attempts they had made it to the top four.



This is how the PNG team found out they qualified for the semi-finals of the #T20WorldCup Qualifier.


Just before having to run off to catch the team bus! pic.twitter.com/FmRERHbGeW

— T20 World Cup (@T20WorldCup) September 3, 2019
Jimmy has been one of the standouts for the island nation, scoring her maiden T20I half-century against USA, and also picking up eight wickets through the tournament with her off-spin. Alongside Ravina Oa and Konio Oala, who have a combined tally of seven wickets, she has formed the nucleus of PNG's attack.
With the bat, Tau, Ruma and Jimmy have been their go-to players— displaying great temperament and real fire to bat through the innings on every occasion.
While PNG's story is certainly exceptional, in a knockout game, it would be hard to bet against Thailand. Although both teams are playing the biggest match of their lives, considering their experience, recent form, and the fact that they know how to play under pressure, Thailand start the game on Thursday as clear favourites.
If PNG are able to negate the swing of Sutthiruang and the guile of Laomi to post anything in excess of 100, they will certainly be in contention.
The clash in Dundee promises to be a high voltage one. Despite the rain and all the dampness around, both teams will be eager to take the field… No matter who comes out on top, history will be created.
Squads:Thailand:
Sornnarin Tippoch (c), Nattaya Boochatham, Naruemol Chaiwai, Nattakan Chantam, Onnicha Kamchomphu, Rosanen Kanoh, Nannapat Koncharoenkai, Suleeporn Laomi, Soraya Lateh, Wongpaka Liengprasert, Phannita Maya, Ratanaporn Padunglerd, Chanida Sutthiruang, Arriya Yenyuak.
Papua New Guinea:
Kaia Arua (c), Ravina Oa, Tanya Ruma, Natasha Ambo, Vicky Araa, Gari Buruka, Veru Frank, Narela Ila, Sibona Jimmy, Naonni Vare, Konio Oala, Brenda Tau, Isabel Toua, Mairi Tom. /codes_iframe