Change is inevitable. Change in sport even more so. Every few years we witness a 'changing of guard' as a new generation rolls in to replace the previous one. While some of us hold on to memories of past champions as if our life depended on it, others are happy to change with the times.
2019 saw the rise of a new challenger in the world of women's cricket. Where Associate and Affiliate competitions were normally dominated by the likes of Bangladesh, Ireland and Scotland, last year saw the emergence of Thailand – the latest spunky upstart, excited to take on the world. They topped an incredible year – that included a record-breaking 17-match winning streak – by qualifying for their first ever World Cup.
Led by Sornnarin Tippoch, Thailand have put together an experienced group of players who will take part in the ICC Women's T20 World Cup 2020. While not huge numbers, their team has a combined total of 357 caps to their credit with only two uncapped players – Phannita Maya and Suwanan Khiaoto who have both played for Thailand A.
"I'm confident of the group we have put together," Harshal Pathak, head coach of Thailand, told Women's CricZone ahead of the mega event. "There's a lot of skill in the group and at the end of the day it is all about how we execute on the big stage."
ALSO READ: Thailand squad for T20 World Cup 2020
The pair of Tippoch and Nattaya Boochatham, who have both been part of the Thailand setup since the very beginning (in 2007), form the backbone of the squad. Both off-spinning allrounders, they provide a sense of calm and direction to what can otherwise be a very excitable group of players.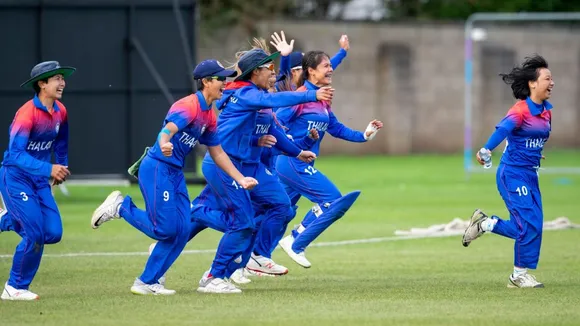 Thailand exult after beating PNG to qualify for the World Cup. © ICC
Like any Asian team, Thailand boast of a strong spin contingent with every base covered. They have a quartet of off-spinners – Tippoch, Boochatham, Wongpaka Liengprasert and Onnicha Kamchomphu – a leg spinner, Suleeporn Laomi, and a left-arm spinner, Soraya Lateh. Together, they have accounted for more than 72% of the wickets Thailand have taken at the international level.
They will be complemented well by the varied skills of Chanida Sutthiruang and Ratanaporn Padunglerd, the two seamers. While the former is Thailand's only frontline seamer – an exciting in-swing bowler who was named the 2019 ICC Women's Emerging Player of the Year – Padunglerd's cutters and skiddy deliveries will challenge the batters in different ways. Sutthiruang's incredible run in the qualifying tournament in 2019 – where she picked up 12 wickets and finished as the Player of the Tournament – was what helped Thailand seal their berth in the World Cup. Her ability to hoop the ball around corners will certainly come to the fore during Thailand's journey in Australia. The team will rely heavily on her to provide the early breakthroughs.
Where their bowling resources look well stocked and more or less balanced, like any developing team, it is Thailand's batting that could potentially be their weakness. With two strong opening batters and a steady No. 3 and 4, they are generally top heavy. The duo of Naruemol Chaiwai and Nattakan Chantham have formed a formidable partnership at the top of the order, finishing 2019 as the top two T20I run-scorers in the calendar year with 517 and 498 runs respectively. While Chantham is generally the more free-flowing and attacking batter, Chaiwai often plays second fiddle, batting for longer periods. The pair aside, Boochatham, Wongpaka Liengprasert, Sutthiruang and Nannapat Koncharoenkai – who doubles up as the wicket-keeper – are those around whom the batting will revolve.
ALSO READ: Sornnarin Tippoch's column for ICC
Through the course of their qualifying campaign in 2019, if one thing stood out about Thailand, it was the standard they set in the field and their ability to stay calm under pressure. Grouped alongside England, Pakistan, South Africa and West Indies, they will face their first real test at the international level in Australia. While little is expected of Tippoch's team, one thing is for sure – they not only come with great potential, but with also a fresh bout of energy and enthusiasm that could see them spring a surprise. If they do, it will be a nice change indeed!
Key Player: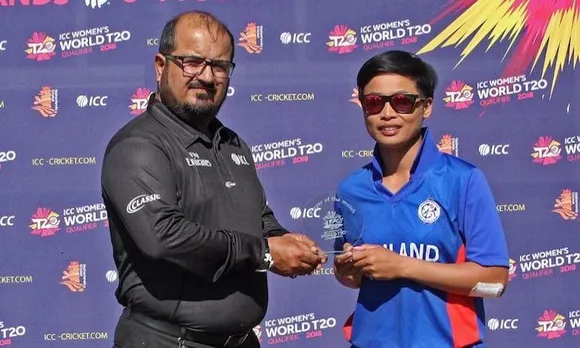 Nattaya Boochatham has been part of the Thailand set up since the very start. © ICC
Known to her teammates as 'Fon', Nattaya Boochatham is one of Thailand's most experienced players. Having been part of the set-up since the very start, Boochatham's allround abilities have played a major role in Thailand's recent dominance. Often handed the new ball, the senior off-spinner is used as the team's trump card. She bowls with great control, at a good pace and varies her trajectory intelligently – never allowing the batter to predict what is coming. In 2019, the off-spinner finished at the top of the T20I bowling charts taking 40 wickets at an average of 6.17.
Aside from her leading role with the ball, Boochatham is also an important cog in Thailand's batting wheel. Generally their designated no.3, the left-hander has often played the anchor role, keeping the innings together while the others try and bat more expansively around her. She brings a sense of calm to an otherwise hurried line-up. One of Boochatham's main attributes is her ability to play pace well. It will therefore be interesting to see whether she continues to bat at No.3, or is pushed up to open. Either way, her contributions with the bat will play a big part in Thailand's campaign.
ALSO WATCH: Women's CricZone's squad analysis: Thailand
One to Watch: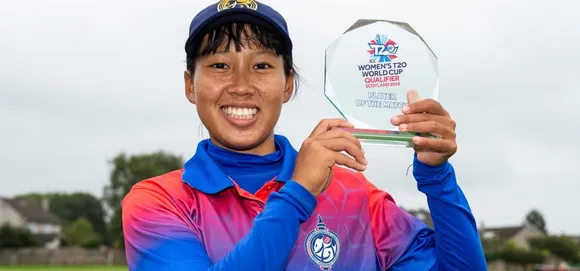 Suleeporn Laomi is Thailand's second-highest wicket taker in T20Is. © ICC
While Chanida Sutthiruang's name has been doing the rounds in recent times with regards to Thailand cricket, the performances of young Suleeporn Laomi have flown under the radar. At only 22, Laomi is already her country's second-highest wicket-taker with 43 wickets in 35 matches at an average of 9.20 and a best of 4 for 9.
Short in stature, the leg-spinner bowls at a rapid pace, often spearing the ball in to the stumps, not giving the batters enough time to come down the track. Laomi's biggest strength is her accuracy. Her ability to consistently hit a good length area and get the ball to skid off the surface – or sometimes even turn – makes her bowling very hard to score off. During the 2019 ICC Women's T20 World Cup Qualifiers in Scotland, it was Laomi who delivered the difficult overs in Thailand's nail-biting win over Ireland in their final group game. Her spell of 3 for 17 in Thailand's defense of 93 broke the back of their chase, handing Tippoch and co. a two-run victory.
Not only is Laomi a gun with the ball, but she is also incredible in the field. A jack in the box standing at point, she covers ground very quickly and has a rocket arm as well. Batters who wish to steal a single from backward of square on the off-side, do so at your own peril! (You were warned)!
Expectations:
Ranked no. 11 in the world in T20Is, not many – if any – expect Thailand to really challenge any of their opposition.
In their first world tournament it would be unfair to expect Thailand to very easily replicate their form on the big stage. After all, there are bound to be nerves around the group. Considering they will come up against teams who have been competing at the top level for several decades, they will be severely tested throughout. However, although the odds are stacked against them, Pathak has made it clear that Thailand will be aiming to cause an upset or two. Whether they actually manage to do so, will be dependent on the performances of their senior group of Tippoch, Boochatham, Chantham and Sutthiruang.
Squad: Sornnarin Tippoch (c), Nattaya Boochatham, Wongpaka Liengprasert, Naruemol Chaiwai, Nattakan Chantham, Ratanaporn Padunglerd, Suleeporn Laomi, Nannapat Khoncharoenkai, Onnicha Kamchomophu, Phannita Maya, Chanida Sutthiruang, Soraya Lateh, Rosenanee Kanoh, Thipatcha Puttawong, Suwanan Khiaoto.
Fixtures:
22 February: Thailand v West Indies, in Perth (WACA)
26 February: Thailand v England, in Canberra (Manuka Oval)
28 February: Thailand v South Africa, in Canberra (Manuka Oval)
3 March: Thailand v Pakistan, in Sydney (Sydney Showgrounds)