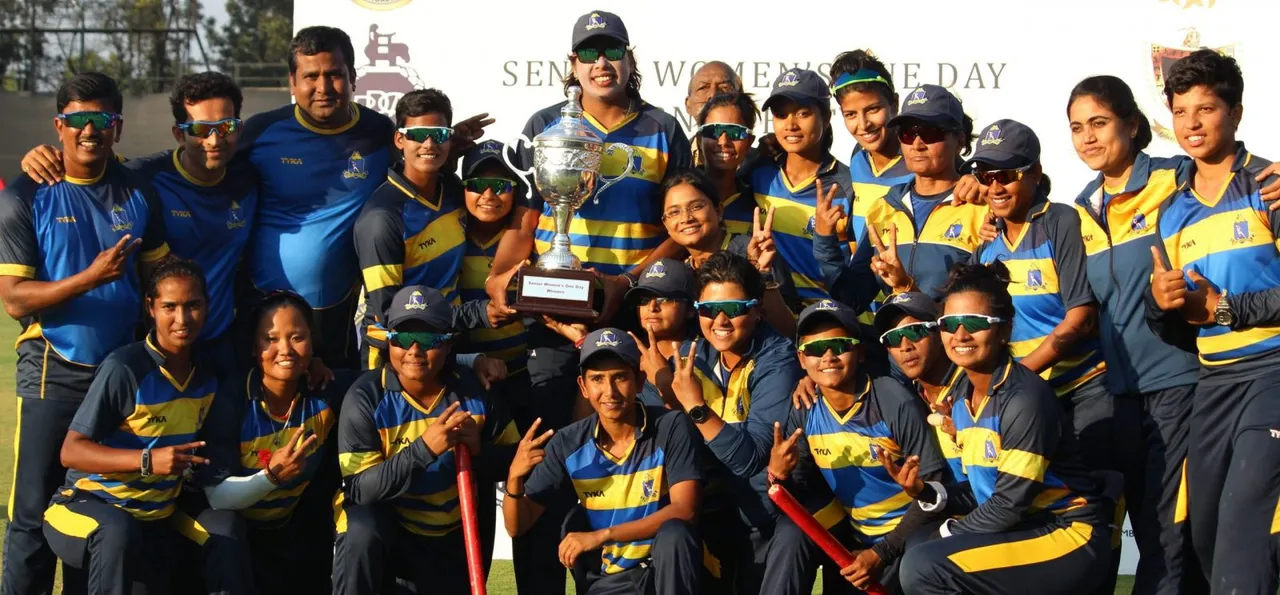 Teamwork in motion is an often used corporate jargon. Of course, everyone who works in any kind of atmosphere has to rely on a team, and when you play team sports the meaning of the phrase amplifies. Bengal and Andhra displayed every bit of it during the final of the inter-state 50-over competition at the Just Cricket Ground on the outskirts of Bangalore on Monday (December 31).
If there were jitters in both the camps, it was understandable considering Bengal and Andhra had never played in a senior final. The day demanded patience and perfect execution of skills. That the match swung like a pendulum before Bengal prevailed by ten runs indicated the importance of experience. They had three India cricketers in their ranks –
Jhulan Goswami
, the captain, Deepti Sharma, who would end as the tournament's highest run-getter and second-highest wicket-taker, and Shublakshmi Sharma, who last played for the country a few years back.
While they made a strong impression throughout the course of the match, the way N Anusha led Andhra was admirable. Just 19 years old, she was terrific on the field and then in the chase of 199. Andhra may have fallen short, but her stature grew by many folds.
Andhra had chased 195 against Himachal Pradesh in the semifinal at the same venue a couple of days earlier. So, the rationale to bowl first again and make use of the conditions was not a bad one. The opening bowling pair of K Jyothi and Anjali Sarvani repaid the captain's faith by pitching the ball in the right areas, containing the Bengal openers, who have been very watchful throughout the tournament, and conceding only 29 runs in the first powerplay.
Even as Andhra bowlers looked in control, Deepti Sharma and Paramita Roy looked like the perfect opening pair for Bengal.  On one end Deepti was watchful and other end Paramita tried to dominate the Andhra bolwers.
She looked unstoppable as she found the boundary at will whenever she attempted to. Once Paramita fell after putting on 57 for the first wicket, Prativa also showed positive intent. She stepped out and drove the ball with ease and launched the first six of the innings over mid on off CH Jhansi Lakshmi. But when it looked like another partnership building there was a very soft dismissal. Deepti, who tried to convert an off side delivery to the vacant mid on, only ended up giving a sitter back to the bowler, ending her stint on 34 from 63 deliveries. Wickets of Prativa and Tanushree Sarkar in quick succession put Andhra on top.
Two new batters at crease, Mandira Mahapatra and Neha Maji, tried rotating the strike for cheeky singles but the association unfortunately ended when Mandira's wrong call led to Maji's run out. Goswami walked in next and stiched a valuable 35 run partnership before she was caught short with the direct hit from Anjali from point. Two crucial run outs, vinidicating the value of teamwork once again in a close game.
After Goswami and then Aparna Mondal fell, it was Bengal's turn to bring teamwork to play once again. Mahapatra and Priyanka Pandey added 31 runs towards the end to take Bengal to 198 for 7.
Shubhlakshi provided Bengal early breakthrough, but the way Anusha and V Pushpa Latha mixed caution with aggression, executing their drives and pull shots with the base being strike rotation put Andhra in control.
Yet another twist in the tail came when Pushpa Latha hit Sarkar to deep midwicket after adding 68 runs.
Young at age but tall in stature, Anusha and Padmaja often took on the fielders in the deep to run two runs and then focussed on quick singles.
With an intent to be positive, the scoreboard kept ticking. Both looked to share the responsibility to take Andra close to a victory, but you can never keep the experience of Goswami and her canny captaincy skills out of the equation. She got back Shubhlakshmi and herself on during the batting power play only to concede 10 runs. It also resulted in a runout and Shublakshmi having G Chandra Lekha lbw.
At this juncture with both team looking to get close to victory, Goswami again entrusted her faith in the senior most bolwer, Deepti, to use her experience. She repaid, having Padmaja caught brilliantly by Prativa at mid off.
S Hima Bindu, the last recognised batter, gave it all she had with valuable 23 off 27 deliveries but ran herself out striking hard to jhulan at mid on who dislodged the stump. That got back the momentum back in Bengal's side.
Deepti provided the perfect end to the match as she immediately got Sarvani stumped and effected the next two run outs, allowing her teammates run towards each other for celebrating a momentus occasion in Bengal cricket.
As much as the day was about Bengal's victory and Goswami's drought of 12 years ending, spare a thought for Andhra. They came into the tournament without the likes of S Meghana,R Kalpana and Sneha Deepthi – all seniors now with Railways. Despite without them, Andhra showed their mettle, which can only be a good sign for Indian cricket.
Every moment of the match was a display of teamwork, and that is what made the year-ending fixture fascinating. Fans cannot wait for more such contests. Only if the match was on television.