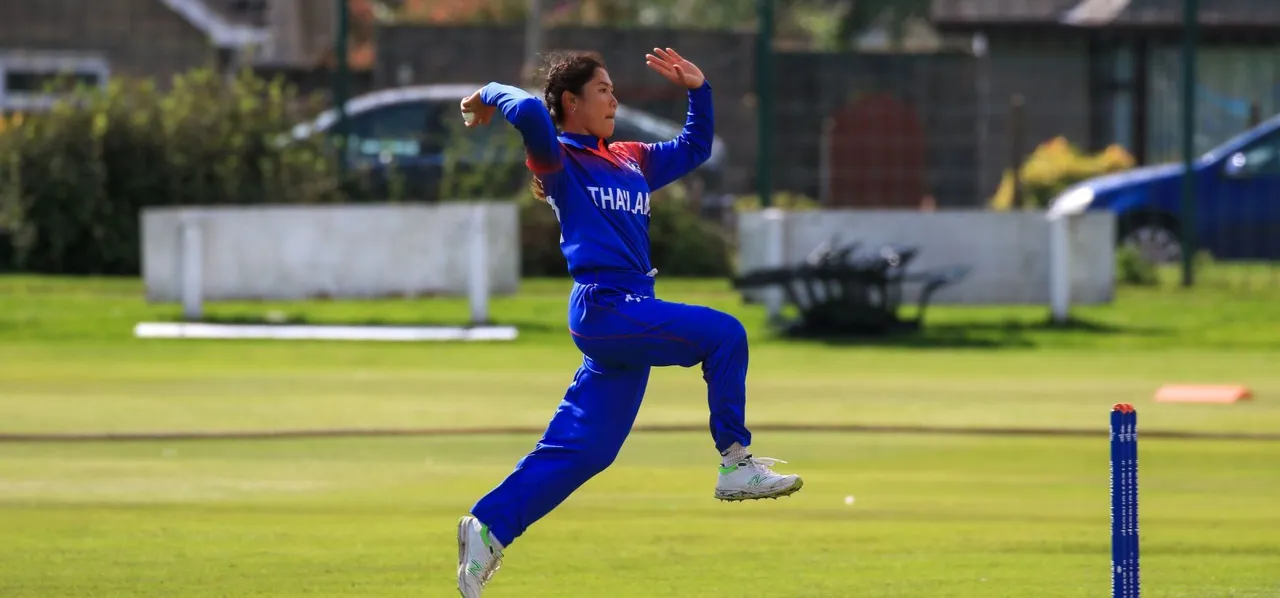 Rain was a permanent fixture through the course of the first day of the ICC Women's T20 World Cup Qualifier 2019 in Scotland. The opening match between Bangladesh and Papua New Guinea was completely washed out, while the fixtures involving Thailand, Netherlands, Scotland and United States of America were reduced to less than 10-overs each. Only Namibia and Ireland - after a slightly delayed start - saw a full game in Arbroath.
While the weather doesn't look particularly promising for day two either, one would hope that the rain can stay away for a few hours at least. Here are the fixtures lined up for Sunday (September 1): 
Namibia v Thailand in Dundee
Thailand and Namibia made contrasting starts to their campaigns in the tournament. While the former comes off a
resounding win against Netherlands
, the latter crashed to a
seven-wicket loss against Ireland
. Chanida Sutthiruang's booming in-swingers were too much for Netherlands to handle as she finished with incredible figures of 3 for 5 in a rain-shortened game, while Nattakan Chantam continued her terrific run with the bat cruising to an unbeaten 44.
Namibia, whose batting let them down against Ireland, will have their task cut out against a strong Thai attack. They will have to bat out of their skin to challenge the Asian champions.
There is no doubt that Sornnarin Tippoch's team will start this clash as favourites. Considering Thailand's recent form, one can expect another convincing victory. Namibia, on the other hand, will be very keen to put on an improved show in their maiden stint in the tournament.
Scotland v Papua New Guinea in Arbroath
As expected, it was the Bryce sisters who starred for the hosts in their
opening match against United States of America
. While Kathryn's blazing 29 not out and incisive spell of 2 for 6 sealed an easy win for Scotland, Sarah's terrific work with the gloves set the tone for the team in the field.
Papua New Guinea's first game of the tournament was washed out. Although they have not secured a point against Bangladesh— with the match set to be played on the reserve day (Monday, September 2)— they will go into their second big game without any scars. This encounter provides them with a wonderful opportunity to showcase their skill on the biggest stage. They will certainly be keen to take the field and challenge the hosts. 
Ireland v Netherlands in Dundee
Ireland shook off their recent indifferent form and cruised to a seven-wicket victory over Namibia. They will go into their second game against Netherlands with a great deal of confidence, and an aim to carry that winning momentum.
The last time these teams clashed, Ireland
smashed several records
on their way to an imposing total of 213 for 4. Following a deflating loss to Thailand on Saturday (August 31), Netherlands will be hoping to bounce back with a much improved performance. However, their record against Laura Delany's team inspires little confidence - six losses in seven matches.
Another easy Ireland win on the cards then? 
Bangladesh v United States of America in Arbroath
After their first match of the tournament was washed out, Bangladesh will be itching to take the field. On Sunday, they face a battered USA.
In a rain-affected game, Sindhu Sriharsha's team were handed a thrashing by Scotland, going down by 30 runs in a seven-over match. After showing much promise with the ball, USA's batters struggled to find their timing on a wet - and therefore slightly slow - pitch, swiping across the line - more in hope than expectation - only to lose their wickets.
While defending champions Bangladesh go into the game as runaway favourites, they will certainly be wary of the underdogs.