The countdown to the 2023 T20 World Cup (global) qualifier has begun. Scotland have already been crowned
European champions
, and now the world's attention shifts to the African continent. 11 teams – including three debutantes – are set to battle it out in the 2021 T20 World Cup Africa qualifier in Botswana starting on Thursday (September 9). All 29 matches of the 11-day tournament will be held at the Botswana Cricket Association's Ovals no. 1 and 2 in Gaborone.
The teams have been divided into two groups with the top two teams from each group progressing to the knock out stage. Group A consists of Botswana, Eswatini, Mozambique, Rwanda, Tanzania and Zimbabwe, while Group B includes Cameroon, Namibia, Nigeria, Sierra Leone and Uganda. The winner of the tournament will book a place in the global qualifier.
The tournament was originally meant to be held in October 2021, but was brought forward to avoid fixture congestion.
Women's CricZone
takes a closer look at the teams from Group B ahead of the tournament.
(Note: Latest results = latest match first)
Cameroon
ICC ranking:
N/A

Last played:
Yet to play international cricket

Latest results:
N/A
Team talk:
Cameroon couldn't have asked for a bigger stage to make their international debut!
Ahead of the team's departure to Botswana, Victory Agbor Nso, President of the Cameroon Cricket Federation said the team was well prepared for their first assignment having undergone intense training – mental, physical and technical – during their preparatory camp. The camp consisted of 25 players from which 14 were selected for the traveling squad. Head coach Nafack Tiokeng Carine said much of the focus during preparation was on technique and tactics.
Squad:
Ekani Michelle Ngono (c), Cynerah Dibande Mboe, Nseke Sissako Madeleine Laure, Kana Souna Elsa Garcia, Akago Atsagou Marie Elaine, Manidom Clemence Ingrid, Fangouo Tedjui Michel Sandrine, Enow Odile Agbor, Ngono Noah Jeanne Adrienne, Aboui Mbida Bernadette Manuella, Kenfack Nantia Daina Lauria, Douma Debora Maeva Francine, Etoga Bessala Marguerite, Tchouabo Mbieleu Abele Leslie
Namibia
ICC ranking:
23

Last played:
June 2021

Latest results:
L-W-W-W-W
Team talk:
Namibia had a successful run in the Kwibuka T20 tournament, finishing runner's up on their very first visit to Rwanda. Irene van Zyl's side bossed their way into the final before faltering against an
inspired Kenya
.
Although they took part in the previous edition of the global qualifier –
taking the place of a suspended Zimbabwe
at the eleventh hour – Namibia are well aware that they will have to be at the top of their game if they want to bag the African championship. Head coach Francois van der Merwe said he is happy with the squad's preparation for the tournament, but remains wary of the team's they will have to beat.
"We haven't beaten Zimbabwe before that I'm aware of, so I'd say they are the favourites, while Uganda and Tanzania are also ranked above us, but then again anything can happen in T20 cricket," van der Merwe said. "We also have a sport psychologist who has been working with the girls and preparing them to get mentally ready. If we play well anything can happen and we are certainly aiming to win the title."
Key player: Sune Wittmann
was the standout player of the Kwibuka T20 tournament earlier this year. Promoted to open the batting after allrounder Arrasta Diergaardt suffered a slight niggle, Wittmann grabbed her opportunity, blasting 167 runs in five innings at an average of 55.66 and an impressive strike rate of 133.60. Her total included an incredible knock of
93 not out against Botswana
– Namibia's highest individual score in T20Is. Wittmann's career total of 355 runs in 21 innings have come at a strike rate of close to 95 – the second highest of any Namibian batter with more than 50 T20I runs.
Her contributions at the top of the order, alongside teenager Adri van der Merwe will be crucial to helping Namibia make a mark on this tournament. They have a well-rounded bowling attack at their disposal, but it is their batting that has often disappointed. It is therefore important that the 26-year-old right-handed batter finds form quickly.
Squad:
Irene van Zyl (c), Arrasta Diergaardt, Kayleen Green, Mezeryl Gorases, Victoria Hamunyela, Yasmeen Khan (wk), Mekelaye Mwatile, Wilka Mwatile, Sylvia Shihepo, Namusha Shiomwenyo, Adri van der Merwe, Kaylee van Wyk, Edelle van Zyl, Sune Wittmann 
Nigeria
ICC ranking:
41

Last played:
June 2021

Latest results:
L-L-W-L-L
Team talk:
In their second T20 World Cup Africa qualifiers, Nigeria will be hoping to put in an improved performance and challenge for a spot in the top 2 in their group. They will, however, be without their captain Samantha Agazuma who is still recovering from a knee injury she sustained during the Kwibuka T20 tournament. Veteran Blessing Etim has been handed the reins in her place.
On the back of a fourth place finish in Rwanda, Nigeria had a few training camps with an extended squad of 20 players before the final 14-member team was announced. Taiwo Oriss, Secretary of the Nigeria Cricket Federation (NCF) said he is hopeful of the women's team replicating the success of the men's Under-19 team.
"The Under-19 male team, in 2019, secured the country's first ever World Cup ticket, and we are optimistic that the female team will replicate same feat in Bostwana. Meanwhile, the girls are in high spirit. They are excited about the opportunity and they are going with high hopes to make a difference," Oris said.
Key player:
Stand-in skipper
Blessing Etim
is Nigeria's most decorated player with 20 caps, 311 runs and 17 wickets to her credit – their highest run-getter and highest wicket-taker to date. Etim is also the only half-centurion from Nigeria and will no doubt be the backbone of their batting line-up. With the added responsibility of captaincy, it will be interesting to see how the 28-year-old manages herself on the field.
Squad:
Blessing Etim (c), Omonye Asika (vc), Agatha Obulor, Taiwo Abdulquadri, Rachael Samson, Kehinde Abdulquadri, Abigail Igbobie, Salome Sunday, Miracle Imimole, Chinyenum George, Mary Desmond, Esther Sandy, Efosa Joy, Lucky Piety 
Sierre Leone
ICC ranking:
36

Last played:
May 2019

Latest results:
L-L-L-L-W
Team talk:
Although they haven't taken the field for over 24 months, Sierra Leone are the third highest ranked team in their group behind Uganda (18) and Namibia (23). While they may not be title contenders, they could shake the apple cart within their group, if they manage to pull off an upset against one of the higher ranked teams.
Key player:
Nine matches, 241 runs, a highest of 84 not out and an average of just under 35. Top order batter
Ann Marie Kamara
is a hugely important player in Sierra Leone's line-up. The 27-year-old has had plenty of success in Botswana, having scored 199 runs at the tournament venues. Kamara's familiarity with the conditions will be useful to the rest of the line-up as well.
Squad:
Linda Bull (c), Adama Kamara, Aminata Kamara, Ann Marie Kamara, Zainab Kamara, Ramatu Kassim, Mabinty King, Isatu Koroma, Janet Kowa, Fatmata Parkinson, Fatu Pessima, Mabinty Sankoh, Mary Sheriff, Marie Turay 
Uganda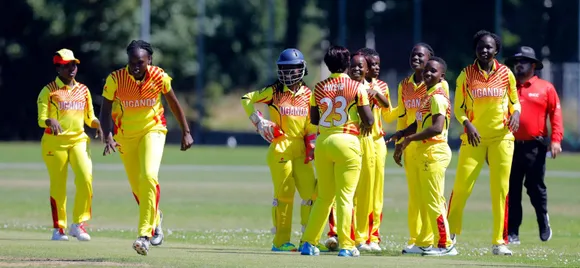 Uganda team in action ©ICC
ICC ranking:
18

Last played:
June 2019

Latest results:
W-W-L-W-W
Team speak:
When the tournament gets underway on Thursday, it would have been 809 days since Uganda last took the field in an international game. The side were meant to take part in the Kwibuka T20 tournament in Rwanda in June, but
had to pull out
at the last minute because because of a COVID-19 scare. The tournament was not only meant to serve as preparation for the team ahead of the regional qualifiers, but also a good way for the players to get used to the workings of their new
head coach Suraj Karavadra
.
The 2018 Africa champions will have their work cut out with the likes of Nigeria and Namibia having more game-time under their belts. However, Karavadra is excited by the 14-member squad selected, and believes they have the important bases covered.
"Looking at the style of cricket that is played in the African region, it's not about the pace bowlers, Karavadra said. "So we need make sure that we are selecting the slow bowlers, spinners and making sure that we've got batters who can power hit. If your fielding is very dynamic, agile, that will add an extra edge to the game."
Key player:
Aside from being captain, 25-year-old allrounder
Immaculate Nakisuuyi
is one of Uganda's most dynamic players. She has scored a total of 258 runs – second-most for Uganda – and also accounted for 18 wickets – the most for her team – with her off-spin. While Nakisuuyi does not yet have an international fifty to her name, she understands what is required to perform the role of an 'anchor', batting through the innings while her teammates play a more aggressive role.
Squads:
Rachel Ntono, Damalie Busingye, Alako Proscovia, Rita Musamali, Naomi Kayondo, Kewin Awino, Esther Ilukor, Stephanie Nampiina, Immaculate Nakisuuyi (c), Janet Mbabazi (vc), Evelyn Anyipo, Irene Alumo, Patricia Malemikia, Consy Aweko 
Group B fixtures:9 September: 
Namibia v Uganda; Nigeria v Sierra Leone
10 September: 
Cameroon v Uganda; Namibia v Nigeria
11 September: 
Cameroon v Sierra Leone; Nigeria v Uganda
13 September: 
Cameroon v Nigeria; Namibia v Sierra Leone
14 September: 
Cameroon v Namibia; Sierra Leone v Uganda