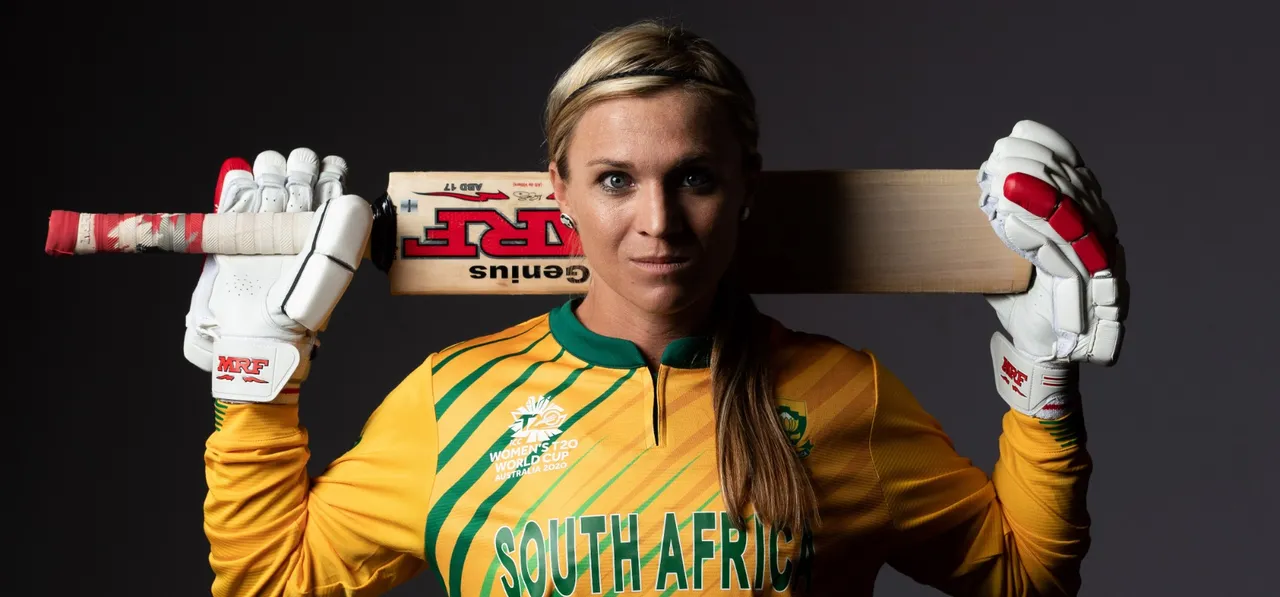 "If your dream doesn't scare you it's not big enough."

Mignon du Preez is the kind of player you should listen to keenly. For, she states things, which could be in the running for the 'top dialogue' honours. Or they could well inspire those she is speaking to. The gleam in her eyes, the freshness in her voice and the depth in her thoughts are all worth absorbing and inculcating.

"I like to be prepared," she says. "If I have to do something, I need to know well in advance so that I can do a bit of planning." It is this meticulous planning that has helped her score over five thousand international runs.

In an " rel="noopener noreferrer">earlier chat with Women's CricZone, du Preez had been called the 'Madonna of South African cricket'. It is where she spoke about leaving a legacy and changing cricket for the better. In the recently concluded T20 World Cup, du Preez became the first South African – across genders – to play one hundred T20 internationals. Legacy? Marked with indelible ink!

Confined to the boundaries of her home due to the pandemic, the former South African captain was kind to spare some time to talk about the T20 World Cup, her activities during the lockdown, her fielding and what makes her enjoy that aspect and much more. Excerpts:

How was the experience of playing in the T20 World Cup?

It was an awesome experience for me personally. The hype that the ICC and Cricket Australia created was really amazing. I have been involved in all the T20 World Cups so far but this was quite definitely by far the best one to be involved in. Everywhere in Australia, if you were walking down the streets, there were marketing banners about the T20 World Cup everywhere – on TV adverts as well. They have done so much to make it really special. Obviously on International Women's Day to have the World Cup final at the MCG with 86,000 (86,174) people and Katy Perry – that was the cherry on top. So, I definitely want to applaud Cricket Australia and the ICC for this wonderful tournament and it was awesome to be a part of it.

ALSO READ: Mignon du Preez reminisces her maiden Test century

You beat England for the first time in T20 World Cups in your first game. How did you prepare for the tournament this time around?

I think this time around heading to the World Cup, we discussed that we want to have the biggest focus on us. A lot of times (in) some of the previous World Cups, you place a lot of focus on the opposition and their players and what you are going to be up against. Obviously, it's a big part of the game you need to analyse the opposition, but we decided this time around that we are going to focus on us, while we play to our strengths and how we can counter the oppositions' weaknesses. The key was to stay in our game and when we execute our plans, we know we can beat any team in the world.

We've beaten England before on their home soil (June 2018) but in the World Cup we have never managed to get over the line. We had gotten close all the time. But that's just one of those things where we finally accomplished what we had set out to do and it just gave our whole World Cup campaign a lot of momentum.

Tell us about the feeling after the game.

It was just pure joy. I don't think there was a single person that didn't smile. There were tears of joy. It was extra special because I scored the winning runs and it was a special milestone for me to play a 100 T20Is for my country and then to be there at the end and actually get us over the line was really special.

In the moment we really enjoyed it and there were smiles all around. It was also a little bit of feeling of accomplishing something we've wanted to do for so long. Also (a) little bit of relief knowing that we actually got over the line. But then we also needed to realise that it was only the first game of the World Cup and a lot of hard work was to be done. So we couldn't get too caught up in the moment. We said let's enjoy it for what it is, but then on the next day we need to refocus on the next game and make sure that we continue to put in the performances.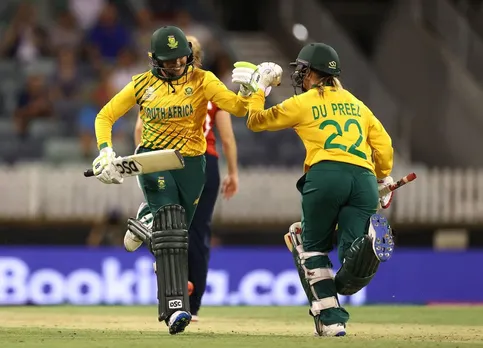 Sune Luus (L) and Mignon du Preez (R) celebrate the win over England. © ICC/ Twitter
How was South Africa making it to the semis in 2020 different from that in 2014?
I think now we are a much more professional outfit. In 2014, we just became professional, we just got our contracts. This time around we were fully professional. The way we trained leading up into the World Cup was the best preparation we have had going to a World Cup. During the competition, we ended top of the log and we qualified for the semis with a game to spare against the West Indies.
In 2014 it was a quarter-final knockout game against New Zealand. We left it a little bit too late, but rather late than never. So, it was pretty special to make it to the semis for the first time, but this time we were much better prepared.
That time we obviously wanted to reach the semis, but this time we actually wanted to go a step further. We actually wanted to get into the final and we really believed we can win a World Cup trophy. The belief this time around was lot higher than the last time.
Heading into the semis in 2014 that was the first time we played on television. I think that got a better of us a bit. Over the last few years now, women's cricket has been on the television so often that I think most of the girls are quite familiar with having the cameras around and we didn't get caught up in the moment.
South Africa had managed to whitewash New Zealand in the ODI series prior to the World Cup, but couldn't really win the T20Is. Did that dampen spirits ahead of the tournament or act as a confidence-booster?
In cricket momentum is really important and for us to have a really successful tournament against New Zealand (was important). We haven't really played as well against them in the past. We have won a game against them in South Africa but haven't really won a full series. So for us to whitewash them in their conditions and then obviously in the T20s the outcome might not have been a win. But we could take a lot of learnings from it and unfortunately during that series we didn't really capitalise on the opportunities. Sophie Devine single-handedly won that series for them. She gave us opportunities on the field, which we didn't take. So we knew that this is an area if we can step up and we can stop her early, then the pressure would be on the rest of her team. I think for us, it was the bigger picture and not just winning the T20s there, but understanding our combinations right and stuff and peak(ing) at the right time which was the World Cup.
ALSO READ: Nadine de Klerk's quest to be a superstarWhat was it like to lose Marizanne Kapp to an injury ahead of the semi-final?
It was a massive blow. Marizanne Kapp is one of the best allrounders in the world and I think it is really hard. More than being just a player, she is Dane's wife and being concerned about her health is obviously the most important thing. She's definitely got such a big presence in the middle; she also leads the bowling attack. We also know what a capable batter she is, she can also take the game away. It was also a big blow in this point of view. We also wanted to make sure that she is healthy.
We have seen how successful she was at the
Women's Big Bash League
(232 runs and 15 wickets in WBBL 05); the Aussies definitely hate batting against her. From their side, they were probably happy she was not going to bowl to them. She was one of the most successful bowlers in the WBBL bowling against the Aussies. I have also seen her play some phenomenal knocks under pressure in Australia. I think for her it was just devastating to see how badly she wanted to be on the field, but unfortunately her health didn't allow her on the day.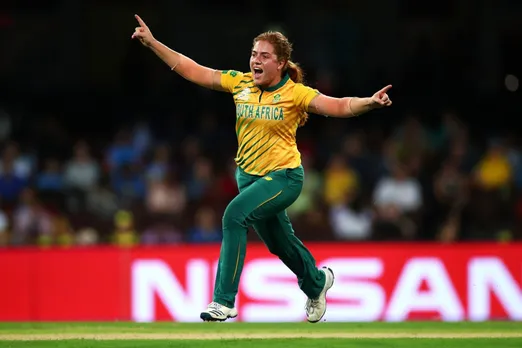 Nadine de Klerk on a roll after picking a wicket. © Getty Images
But it was good to see Nadine de Klerk step up in Kapp's absence, wasn't it?
Yes, we need to applaud her the way she stepped up in the game. Those were pretty big shoes to fill but she did a fantastic job. She's such a young exciting cricketer I can't wait to see what the future holds in her cricket career. But just stepping up in the semi-final, picking three wickets against a team like Australia… That's gutsy! That's just the type of person she is. She is really an exciting cricketer. She is also a good batter, we haven't really got to see much of her batting during the World Cup. There's going to be some exciting innings in the future.
Coming to the personal front, you haven't scored big consistently – only two half centuries across formats. Does it bother you in some way?
Any player would want to contribute and score big runs for their team. So it's definitely been frustrating for me, because I know I'm good enough to do it. I have got the skill-set, it's just about actually being more consistent and contributing more regularly and pushing on. I actually get into the 30s or 40s but don't really convert it into a big one. It's definitely something I would want to continue to work on and make sure I add extra value to the team.
We have seen – and have the backing of numbers, too – that you've worked on your 'power' game over the past year or so. It seems to be a conscious effort on that front. Tell us more.
As the women's game is evolving, it's one of the parts where I think you need to get on board or else you'll be left behind. For me it was something I focussed on. I'm quite a short player so I don't really have the long levers some of the batters have. For me it's just about working on actually extending through the ball. Sometimes my hands need to work together to get long lever to try and hit as straight as possible. Definitely (it is) an area I have spent some time on leading up to the World Cup.
ALSO READ: Mignon du Preez and her power gameClearly, you enjoy fielding and have gotten better at it like old wine. You have owned the backward point region and are always on the prowl. What's worked for you in that aspect, despite being on the other side of 30?
You just have to enjoy fielding. We might not be guaranteed to bat or bowl in a game but you definitely are going to field. A lot of times I think we take fielding for granted. In the nets we spend a lot of time batting or bowling but fielding's just as important, probably more because it's guaranteed you are going to field. We were quite fortunate that we had Kruger van Wyk, who played for New Zealand, was with us during our New Zealand tour. We spent a lot of time focussing on fielding and I definitely feel that made a difference. It's just about bringing that enjoyment factor into fielding, having fun while doing it and backing yourself. It's like having a moment of brilliance to challenge yourself, willing to put your body on the line and throw yourself at a ball or diving around – if you see it as fun, it's easier to do it.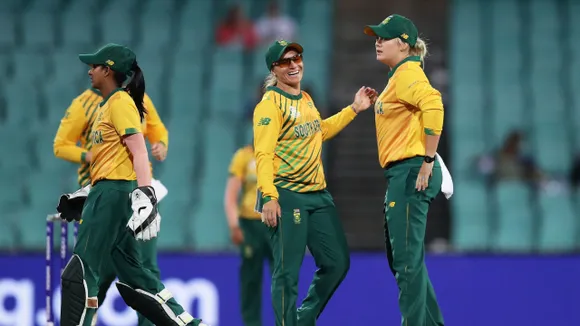 Mignon du Preez, despite being on the other side of 30, is a livewire on the field. © ICC
Now that there is a lockdown, what are you up to these days? How do you manage to keep your fitness levels up?
It's been a bit frustrating. When we got back (from the T20 World Cup) we heard that our series against Australia
got cancelled
. It would have the first time that we played Australia at home, and then soon after, all the training sessions got cancelled, we weren't allowed to go to the gym anymore. It's been a little bit challenging. Our trainer, Russell Clarke, sent us a few home-training and countering-the-corona training sessions that you really don't have to go to the gym and do it at home.
If you can find about 20 metres to do some shuttles and stuff. It's just a little short and sweet sessions, just to make sure that we stay active. Obviously, it's going to get a little more challenging now that we are getting into a lockdown, where we aren't allowed to actually even go outside and run. You are just supposed to stay indoors and at home. I have a few options to continue these programmes on some of the body-weight sessions we can do at home. Other than that, the wonderful thing these days is that you've got the internet, and on YouTube there are so many training sessions that you can follow. Some e-workouts – if I can call it that (laughs) – where I look at some suggestions online and try and follow.
What's the planning and preparation like for the Women's Cricket World Cup 2021?
With everything being on a hold, it's a bit challenging because we are not really sure. At the moment there's a 60-day ban on all cricket. We had a busy schedule (lined up)… I know we had to go to the West Indies in May-June, then in July was 'The Hundred' and then we would have had a tour to England and then also the WBBL hopefully. During December-January we'd got a few series at home leading into the World Cup.
With the lockdown, obviously everything is on hold. We'll have to see how it goes and whether we'll be able to play as much cricket as we want. Ideally, we were to have a busy season. I think the more you play against stronger oppositions the better you get. It's important for us to be nice and busy.
Let's revisit the high of the T20 World Cup before we end. How do you think has the tournament impacted women's cricket?
It has definitely put women's cricket on the map and has definitely created role models around the globe. I actually saw that the Australian coach said something about his son, when they were playing backyard cricket; his son did a hop skip and jump and he said it's Megan Schutt that ran in to bowl! That really showed a change in mindset. In the past, boys usually would imitate their favourite male cricketer but to see people actually imitating women's cricketers (is just wonderful).
Even for us the messages of support, the way we got welcomed back when we got home. It's just awesome to see women's cricket is just growing from strength to strength and I'm super excited to see what the future's going to hold. I think it's going to continue to grow bigger and better.
Tell us more about how the team was received back home, after the narrow loss in the semi-final.
A lot of people came to the airport and there was a big band. We got some flowers and there was a big media press conference set up. It was the most media I have seen at a home-coming and it was really special. Lots of fans came out for photos and got some memorabilia to sign. It was social because our families were there and to see the smiles (was a joy). The vice-president of Cricket South Africa (CSA) was also there. The CSA employees also came out and showed us their appreciation and (showed) that they're proud of us for the way we competed in the World Cup. We felt valued, it meant a lot to most of the girls.