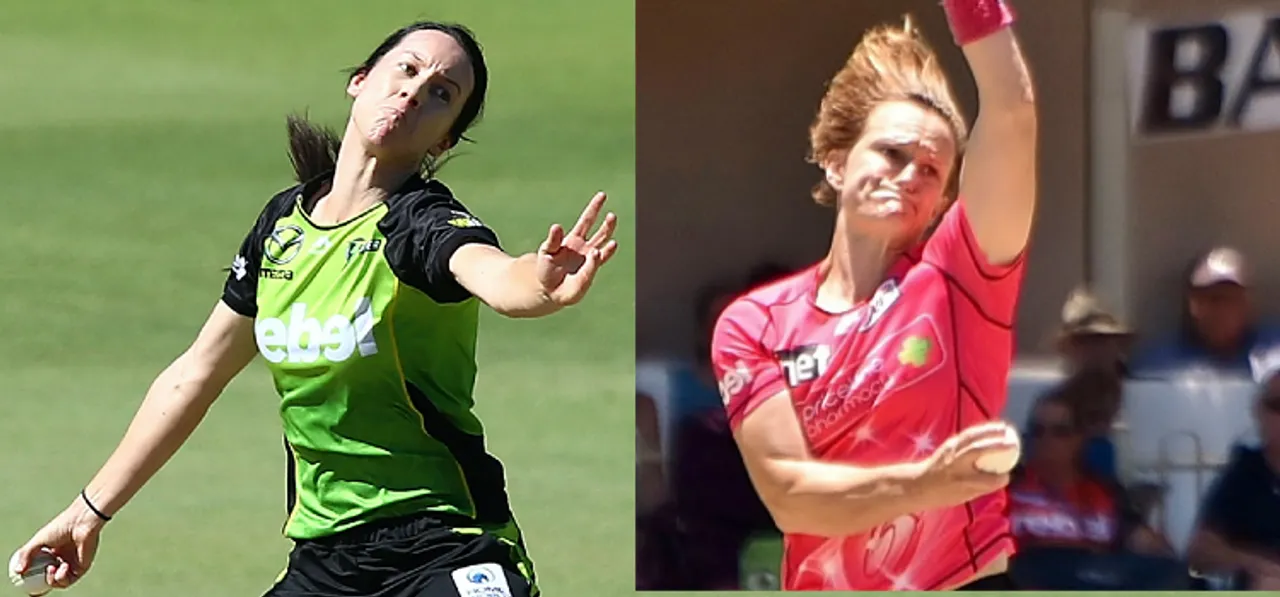 Lisa Griffith and Sarah Aley have been signed up to play for Sydney Sixers in the sixth edition of the Women's Big Bash League, the club announced early on Tuesday (September 15). While Griffith represented Sydney Thunder in the last three seasons, Aley will continue to make her sixth successive appearance for the Sixers – this time as a player cum assistant coach.
I am really excited to have the chance to work with Benny Sawyer, he's a fantastic bowling coach," said Griffith after the signing. The 28-year-old has played 29 games in the WBBL, picking up 11 wickets. Her experience is something Sixers are likely to bank on, though she herself is looking forward to sharing the dressing room with the likes of Ellyse Perry and Alyssa Healy.
"To be able to play alongside players like Ellyse Perry and Alyssa Healy, who I grew up being inspired by and aspiring to be like, will be great," she said.
"I know I can learn from the senior players. The Sixers pride themselves on playing an attacking brand of cricket and I hope that will also help improve my game."
Griffith had captained New South Wales (NSW) in the Women's National Cricket League last year, including in the runners-up finish against Western Australia. She revealed that she had a word with Healy, who also plays for NSW, before finalising the deal.
ALSO READ: Sydney to host all 59 games in WBBL06
"I caught up with Midge about her thoughts about coming across and she talked to me about the values the club has," she said. "The family orientated nature of the club, the attacking brand of cricket – those things really appealed to me."
Last month, Griffith
had revealed
how she had almost given up the game as a teenager, before being called up to play for NSW. She was thankful to the Thunder side for giving her the opportunity, that she considered
"unreal and lucky"
, while looking forward to representing the Sixers.
"I have come to the Sixers with an open mind and will be grateful for any opportunity. One thing I really want to do is improve my fielding abilities, contribute with the bat and ball and anything is a bonus really," she concluded.
Squad:
Sarah Aley, Erin Burns, Stella Campbell, Lauren Cheatle, Maddy Darke, Ash Gardner, Lisa Griffith, Alyssa Healy, Jodie Hicks, Emma Hughes, Marizanne Kapp, Ellyse Perry (c), Ange Reakes, Hayley Silver-Holmes, Dane van Niekerk