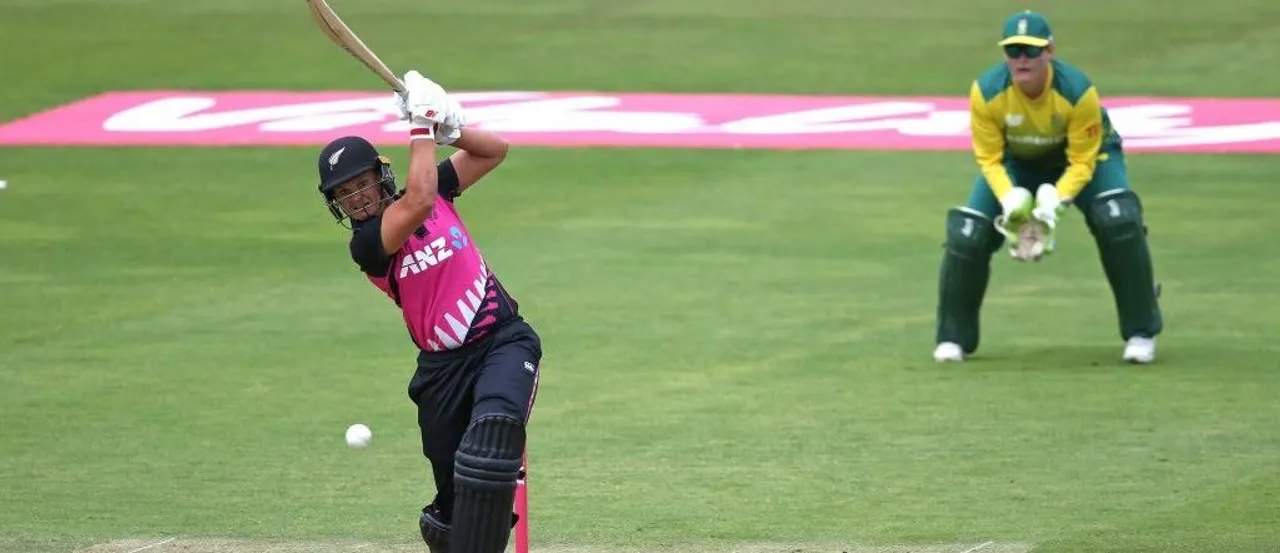 More important than exuberance- you might have heard- is the experience. And what values more than flamboyance is the character. Few are able to stay true to a rather feel good adage, seemingly straight out of a literary school of thought than White Ferns' captain
Suzie Bates
.
The only difference, however, is that Bates possesses as much strength of character, amplified by her great leadership of the White Ferns as flamboyance with the bat. And while there's little doubt about the exuberance or finesse she possesses as a world-class athlete, there's now a stamp of approval where experience stands.
Name another international cricketer in the current fold of the game with 100 T20Is?
Staring at Suzie Bates's skyscrapers in international cricket, it better be advised, might induce vertigo. For there's often a giddy feeling when one encounters a giant.
This, however, is a humble, ever-smiling colossus of our times.
Few other montages, you'd reckon, would miss the case in point.
Where most international contemporaries are determined to make heads turn in at least one format of the game, Suzie Bates is in midst of a mélange of impressive performances in both templates of the game, T20s included.
4192 ODI runs, amplified by 10 hundred, 24 fifties give able company to nearly 2800 T20 runs, peppered by a hundred and 18 fifties. The giant behind this magnanimous accumulation, however, glows in a halo of simplicity.
Gazing past Bates' persona is like being amidst tunnel of incandescence; the power of the light emitting hope in a serious tunnel of talent that's New Zealand cricket.
On June 28, 2018, as Bates led New Zealand to a historic doubleheader- first playing against South Africa and then, against an in-form England- she became the only women's cricketer to participate in 100 T20 contests.
Where most are collecting plaudits striking tons and raising the bats, only one cricketer has struck a rare hundred, one a different kind in T20s.
Interestingly, in the back-to-back battles at Bristol, Bates wasn't merely around to collect claps, cheers or smiles. In her 99
th
T20, she'd gather a strokeful 62, leading New Zealand to a win against South Africa, which would be followed by a day of mixed fortunes, White Ferns running into a Sciver, Knight and Taylor-powered England.
It was only nearly over a fortnight ago that Bates plundered a world record 151 against Ireland. Her mammoth striking lifted the White Ferns to a mountain of runs. You wondered amazed, partly watching in disbelief, partly with hands joined in admiration just what was going on in Dublin?
Of the 490 runs that had been plundered, a third of them came from the breezy blade of a dynamite batswoman. This, unless it be forgotten, is a figure who knows a thing or two about shattering the timber.
Well over 10 years into her career, Bates continues to pile on the runs as also vivid records with the ebullience of a cricketing newborn.
Her craft knowing no mediocrity, hers is a strangely warmly case of a talented cricketer working hard on the proliferation of runs. It's the combination of great work ethic and skills. On current form, Bates looks devastating in T20 cricket.
Having piled on the misery of
Stafanie Taylor's
women, she's plundered the Irish joining forces with Kerr, Satterthwaite, Devine. You can hardly wait for what among the most respected cricketers in women's cricket can bring to the ICC Women's World T20.
Will the breeze in Jamaica and St. Lucia unfurl a heart-stopper for White Ferns' rivals? One can hardly wait. /codes_iframe