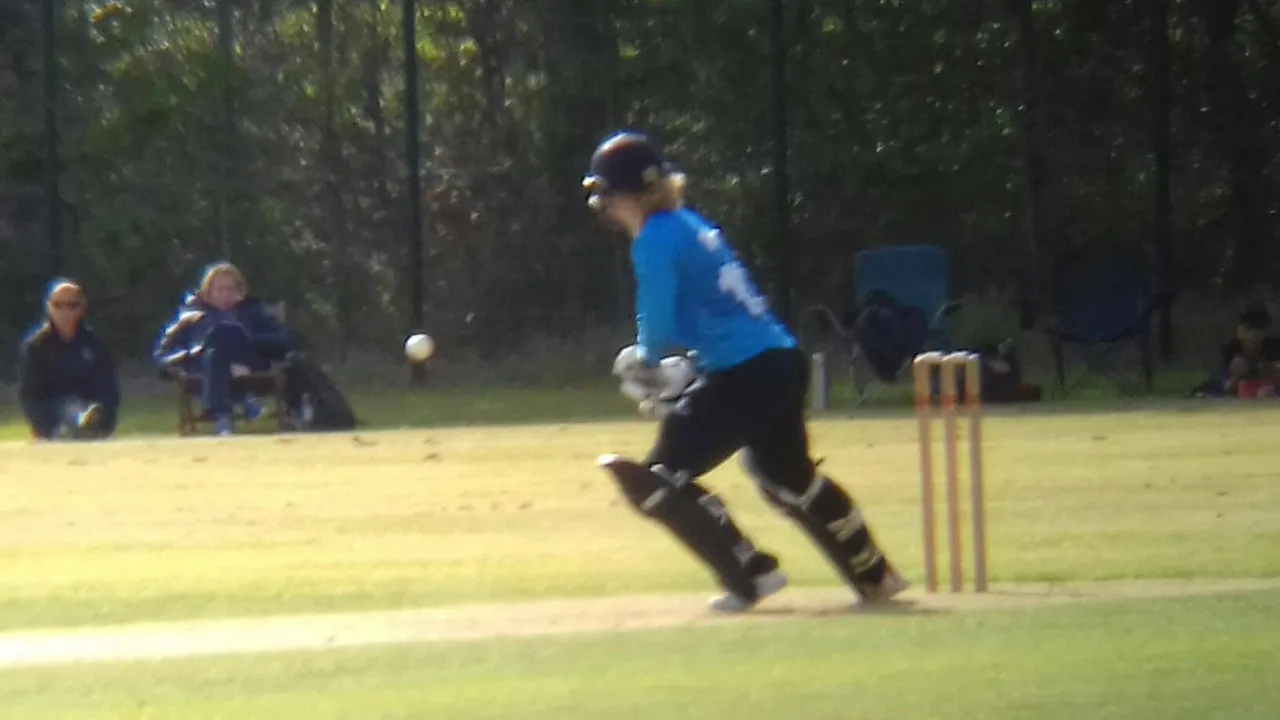 In a game that went to the final wicket, it was Sussex that prevailed over a resilient Warwickshire. At the Sir Rod Aldridge Cricket Centre, both sides had plenty of opportunities to win this game. It was the South Coast side that won by 1 wicket on their return to division one.
Sussex won the toss and elected to field on a pitch that looked ideal for batting on Georgia Adams chose to field first. The ground had showers on yesterday and while there was no moisture on the surface Sussex knew that any under the surface would suit them. They opened with Freya Davies on of just two of Sussex's England players to play today. Along with Tarra Norris, Davies probed the Warwickshire openers of Amy Jones and Bethan Ellis.
The bowlers offered nothing loose and every run was earnt. Jones took the single any time she wanted, and Sussex exploited this. Ellis is a technically sound batter found it harder to put the fielders under pressure.
There were only two fours from the first ten overs both from the bat of Jones. It was the England international that would be the first wicket of the day to fall as she lobbed a catch to Nancy Harman at point to give her KSL teammate Norris the first wicket of the day.
Harman was to be the bain of the Warwickshire batters as she took a career-best 6 for 40. Her previous best was 3 for 19 against Yorkshire two years ago.
Warwickshire had looked comfortable if not scoring as freely as they would have liked. That was until a freak run out started a wobble in the Warwickshire middle-order. Ellis hit a Chiara Green delivery straight back at the bowler who instinctively stuck out her left hand. It did not stick but fell kindly on the stumps. It was not so kind on Kathryn Bryce who out of her ground when the bails tumbled to the floor.
Harman took her wickets in clusters the first two fell within the space of four balls both caught behind by Carla Rudd in her first game back for Sussex after her spell at Berkshire. The Gwenan Davies and Georgia Davis we dismissed in the space of two balls.
A last wicket stand of 29 between Liz Russell and Issy Wong helped Warwickshire to 165 all out. While Sussex were favourites, it wasn't an easy target to chase.
Sussex started off their run chase going steadily but above the run-rate. Both Warwickshire's opening bowlers Wong and Russell ran in with the same enthusiasm that took to their batting.
Russell made the breakthrough getting the Sussex captain Georgia Adams for 25. It was part of an opening partnership with Ella McCaughan of 43.
Izzy Collis joined McCaughan. While the latter was content to wait for the bad ball Collis was keen to take the attack to the Warwickshire bowling.
Sussex were in control. Georgia Davis then ensured that Warwickshire would not go down without fighting. Warwickshire tied two games last year and that resilience shone through again today.
Collis and McCaughan were both back in the shed in Davis' second over. Green was caught for 1 and Paige Scholfield soon followed and Sussex had slumped from 65 for 1 to 79 for 5.
Rudd and Ella Wadey stepped up to the task of ensuring that Sussex didn't sink without chase against their West Midlands opponents.
They added 74 for the seventh wicket. It was not going to be a gentle stroll home as the run-rate was never a problem.
The resistance was broken by Russell returning to the attack and she yorked Wade her with the perfect ball.
Warwickshire brought back Wong sensing they could still win the game. She accounted for Freya Davies.
The following over Russell bowled Rudd and three different results were still a possibility. Sussex needed 8 runs and only one wicket left.
It was Harman on strike when Wong got it wrong. She bowled a full toss and the ball travelled with relative ease to the boundary rope. It was the toughest of luck on Warwickshire but Sussex showed they can still be competitive in the division.