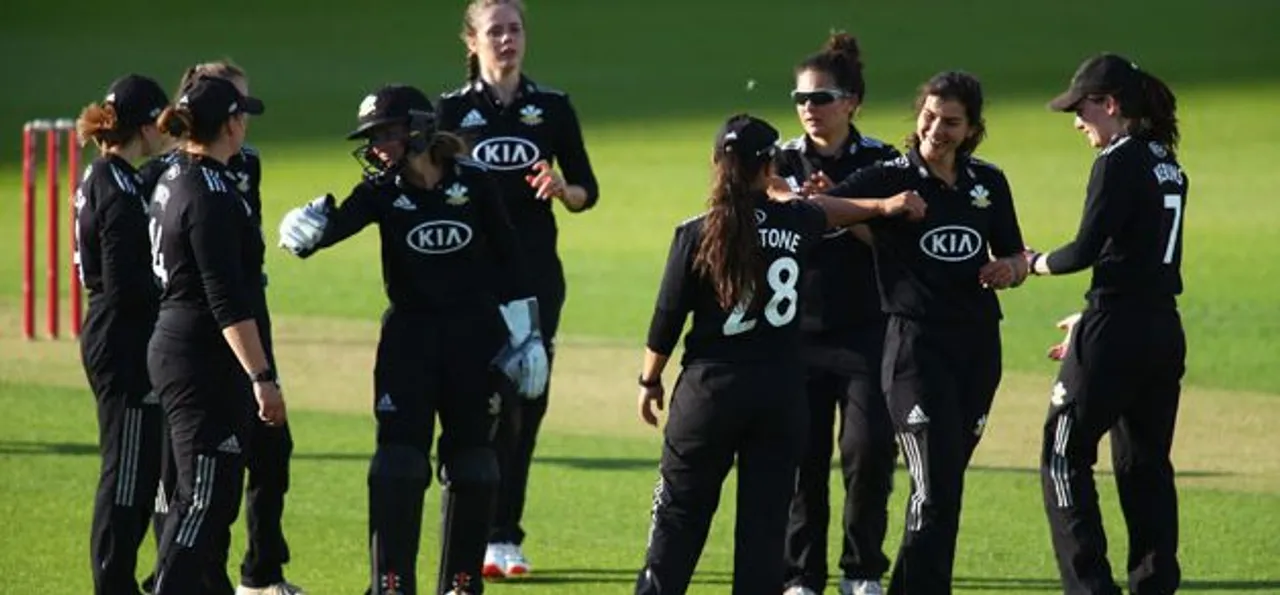 This year's London Cup clash between old rivals Middlesex and Surrey was always going to have a wider significance.
As the first English domestic fixture since lockdown (the men's County Championship does not get underway until August 1), Wednesday's (July 22) game at the Oval had a far bigger spotlight cast on it than usual. Some 1,000 people streamed the action live on Surrey's Facebook page and website.
More important still was the moment all players and coaches took a knee in solidarity with the worldwide anti-racism movement.
The cricket itself did not disappoint. Inevitable lapses in fielding and some misjudged singles betrayed understandable rustiness borne out of a long layoff. Despite this, both teams conjured up a tense low-scoring thriller which went down to the penultimate ball. Eventually Surrey triumphed by four wickets.
The London Cup was the brainchild of former Surrey captain and current Director of Women's Cricket, Ebony Rainford-Brent. However, Middlesex have been in the ascendency since its inception, winning the first five iterations of the one-off annual T20 fixture. On their home turf last night, Surrey were determined to put an end to that losing streak.
Surrey skipper, Hannah Jones, said it was good to get back to some kind of normality after the socially distanced training and other adjustments in place due to lockdown. She particularly savoured the wicket of Cordelia Griffiths in the ninth over after Middlesex had rebuilt following two early wickets.
"It's been a long time to think about setting fields, and to think about hypothetical situations," she said.
"So, when it went down Amy Gordon's throat at deep midwicket, it was very nice for a plan to finally come together, not just be drawn on a whiteboard."
Surrey had Kira Chathli to thank for holding her nerve and steering them to victory from a perilous 64 for 5 chasing a modest target of 109.
ALSO READ: Charlotte Edwards named head coach of Southern Vipers
Chathli first steadied the ship after three Surrey wickets fell in as many overs and then, with eight an over needed off the last five overs, started to play her shots. She deployed her favourite ramp shot to score boundaries off consecutive balls off the experienced Naomi Dattani in the 17
th
over to drag Surrey firmly back into the game. A further boundary over mid-wicket off the penultimate ball of the match sealed the win.
"Those ramps are my kind of my shots," she said at close of play. "I'm pretty confident playing them, and the fielders were up so I wasn't too nervous."
Talking about the number of fans streaming the game live, Chathli said: "To know that we're improving women's cricket and just seeing us play at the Oval, and we played at Lord's last year, I think that's really helped the case as well. So, it's pretty awesome."
It was a game which showcased young spinners on both sides. Rainford-Brent praised the flight, guile, and grip from 20-year-old Danielle Gregory in particular. It took something special from Gregory to prompt a mid-order collapse from Middlesex. In the 13
th
over, she bowled a perfect leg-break, pitching leg and hitting the top of off-stump as Natasha Miles looked to shape the ball on the on-side.



JAFFA 🍊


WATCH LIVE ➡️ https://t.co/ganm1c05F1 pic.twitter.com/mSLOrzwUo2
— Surrey Cricket (@surreycricket) July 22, 2020
Gregory was ably supported by 18-year-old Claudie Cooper, who made an early breakthrough, and 16-year-old Alice Capsey, a member of the England Women's Academy's 2019/20 intake last winter. Surrey's young spinners exerted great control, preventing the Middlesex batters from forcing the ball off the square.
"Danni Gregory bowled superbly, and she's bowled consistently well throughout training," said Jones, who was delighted with her attack.
"So, it was really nice for us to see that pay off on a cricket pitch, and Claudie, again, was superb. I couldn't have asked for much more from both of them. Then me and Alice will pick up the pieces like we kind of did last year. It's really pleasing and fills me with a lot of confidence that they're both able to execute what they do in training on a cricket pitch and especially at the Oval."
"I didn't think that that was it at 64 for 5. I think we'd made it difficult for ourselves. But Rhianna
and Kira showed the simplicity needed. And once that started to unfold, yeah, it was cruising."
Jones said it was good to have support from Rainford-Brent, fresh from commentating on the men's Test Match in the 'bubble' at Old Trafford.
"Ebony kept pacing up and down, which wasn't doing anything for our nerves! She was around for the whole match so it's nice to have her around and have her support."
Earlier, Middlesex got off to the worst start losing two quick wickets which left them struggling at 5 for 2 before drawing on the experience of former captain Natasha Miles and Cordelia Griffiths to affect a rebuilding job.




🎥 HIGHLIGHTS: All the action from Surrey's maiden win in the #LondonCup 🙌 pic.twitter.com/QBgJa10HaA


— Surrey Cricket (@surreycricket) July 22, 2020


However, with the bowlers keeping up the pressure and allowing few scoring opportunities, Middlesex did not get away before that mid-order collapse which began with Miles' wicket. At 64 for 6, they had lost three wickets for four runs inside two overs.
Promising Middlesex all-rounder Gayatri Gole, on her 22nd birthday, provided an invaluable unbeaten 27 which ensured the bowlers had something to bowl and set up a thrilling finish.
When Surrey batted, they got off to a solid, if unspectacular, start, before losing five wickets for 30 in inside eight overs with young Middlesex leg-spinner Emily Thorpe bowling a miserly spell of 2-11.
That brought Chathli and Southby together who combined for the win. Southby was bowled off the first ball of the final over but Chathli ensured she finished off the job with no further alarms.
Brief Scores: Middlesex 108/7 in 20 overs (Cordelia Griffith 30, Gayatri Gole 28*; Claudie Cooper 1/14, Amy Gordon 1/16) lost to Surrey 110/6 in 19.5 overs (Kira Chathli 28*; Emily Thorpe 2/11) by four wickets.
https://open.spotify.com/episode/3wIV5plfHhXuX9kotfATXW