Sunrisers is a fitting name for a new team at the dawn of its life as a professional outfit. The going has been tough for Amara Carr's team though, still without a win in either season of the Rachael Heyhoe Flint Trophy so far. Yet
Sunrisers Director of Cricket
Danni Warren sees cause for optimism and is excited by the depth of talent at her disposal – almost a third of the country's population lies within her catchment area.
Sunrisers is one of eight new regional hubs competing in English cricket's new women's elite domestic structure.
Unlike many of the other regional teams though, Sunrisers had no equivalent in the Women's Cricket Super League, the semi-professional women's T20 competition that ran between 2016 and 2019.
Warren has therefore worked in partnership with the counties and the MCC to build a new professional side from scratch – and with it, a structure to deliver a performance programme at Academy and Emerging Player level, aimed at developing talent across a vast geographical region, comprising north London and the whole of the East of England.
Talking to
Women's CricZone
after Sunrisers' crushing defeat to Northern Diamonds in Cambridge on Saturday, Warren said: "We're in our second year and even in the KSL, 50-over cricket wasn't played here."
"So, everyone's trying to just get the standard and get their footing in the game. So, we take something from every game and a positive way we can move forward with. That's all that we can ask for with this group. I know that they'll bounce back."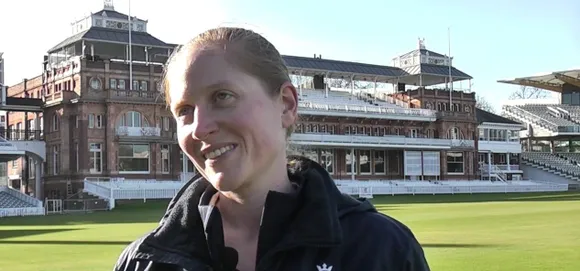 Danni Warren, Sunrisers Director of Cricket. © Middlesex Cricket
Warren highlighted Katie Coppack's impressive performance on debut in an
otherwise one-sided affair on Saturday
, as an example of the exciting talent in the Sunrisers setup.
"You look at someone like Katie coming in today making her debut, someone who most people probably wouldn't have had on their radar a couple of weeks ago even."
"So, we know that there are the players out there. We've got someone like Emily Woodhouse who has come in from Norfolk. Again, she's been playing very well on the local county scene."
ALSO READ: It's a marathon, not a sprint: Sophia Dunkley not too worried about England selection
"We want to be able to give those players, and that potential that there is within the counties, a really good chance to progress."
"Give us time and we'll mould as a team. We know that there are some really good players and they're a young group. We don't have a senior leader who has been there, done that, bought the T-shirt and that's probably the difference between us and some other sides. But we've got the leaders in there, they just need to bring it out."
The new era of regional contracts afforded Sunrisers'
five professionals
, Amara Carr, Kelly Castle, Naomi Dattani, Jo Gardner and Cordelia Griffith, the opportunity to devote themselves full time to training over the winter. That investment is starting to pay off on the pitch, believes Warren.
"The way Amara performed today and the way she has over the last few weeks, the way that Kelly's bowled in the last few weeks, we've seen it with all those girls have now had that time over the winter."
Despite that, the winter had a disjointed feel with distinct challenges posed by COVID regulations. It meant reverting to one-to-one sessions with less time to bond as a group. A wet spring also meant the Sunrisers were short on match practice, although the county T20 competition did allow players some valuable time in the middle.
"So, there are a lot of things that we'll reflect on and say that we've taken a huge amount of credit out of the way we've adapted given different and difficult circumstances at times," notes Warren. "That's down to the girls and the staff because they've done brilliantly."
The new era of regional contracts afforded Sunrisers' five professionals Amara Carr, Kelly Castle, Naomi Dattani, Jo Gardner and Cordelia Griffith. © Getty Images
On Saturday, Northern Diamonds demolished Sunrisers for a meagre 53 and then made short work of the run-chase.
At Fenner's, the picturesque university setting in Cambridge, England and Diamonds opening bowler Katherine Brunt was at her destructive best. She took three wickets for just 11 runs and combined with Beth Langston to skittle the Sunrisers top order and leave them reeling at 16 for 5.
Skipper Carr offered some resistance, sticking around to make 17, but former England allrounder Jenny Gunn ran through the lower order, picking up Fran Wilson with her first delivery and claiming three wickets for just three runs on the way to match figures of 3 for 10.
"It's always difficult when you come up against a quality bowling attack," said Warren. "Diamonds bowled well at the beginning on a wicket that gave them some assistance. We rebuilt well in periods, but until you put partnerships together it's very hard to put a score on the board that does that. But the girls fought all the way to the end, and I credit them for that because it's a difficult day to be a player."
ALSO READ:
'The last year has taught me to respect life more'
"Amara and all the girls all the way down the order have come in and fought really hard. So, we know we bat all the way down. We didn't give ourselves a platform to show how disruptive they can be at the end. They did the best job they could in the situation."
Where do Sunrisers go from here? The key will be to turn those moments of promise and possibility into consistent performances as a team.
"Every week, there are good things that come out of it, and I think it's going to take a bit of a time for us to sit down and work out the way we take from here."
"We're at Lightning next week, it gives us a chance to perform again. They haven't had the greatest start to the year either.
"So hopefully we've got a chance to go up there and these girls, today will deeply hurt them and they'll want to put it right."
Soon attention will turn to the short format with the regional hubs playing a T20 competition for the first time. Warren is encouraged by some of the performances in the county T20 competition such as Grace Scrivens' unbeaten 94 for Kent against a strong Surrey attack.
"There is a lot of talent there and county cricket is a really key level for these girls and for us because it gives them that exposure to get match time under their belts."
"Grace's innings was in T20. In a couple of weeks' time we turn on hand to T20. We've never played it as a region. No one else has played it in this format. So that's a brand-new start. It's something for us to look forward to."