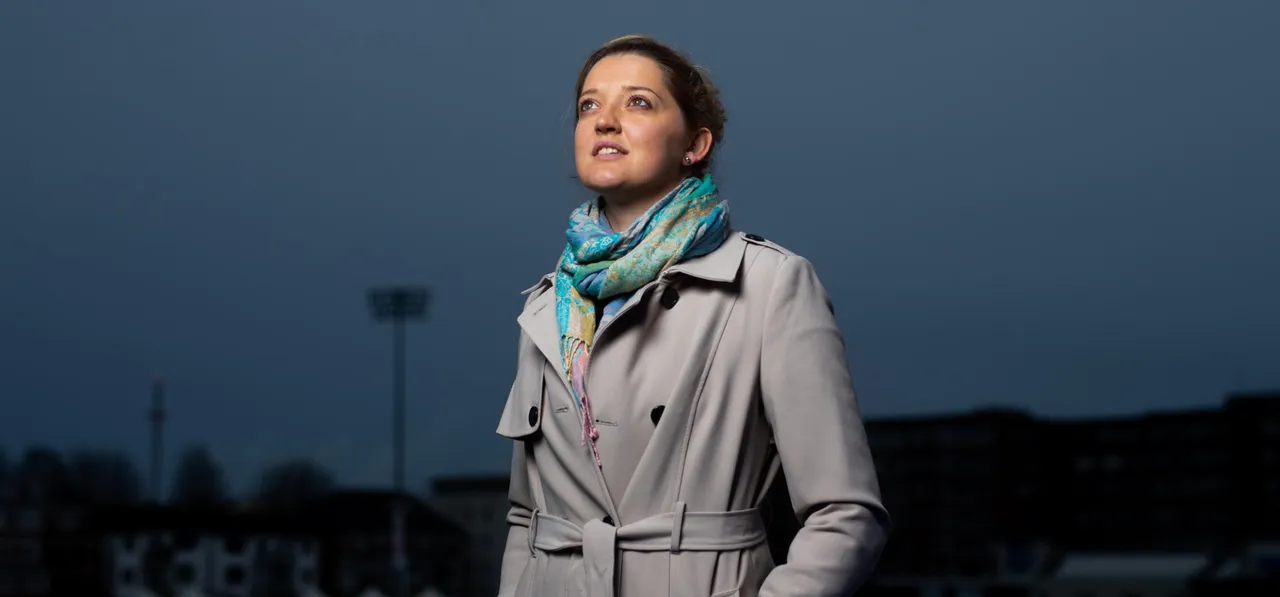 This article was originally published in the second issue of the Women's CricZone magazine.
When Sarah Taylor announced
her retirement
from international cricket in September 2019, aged just 30, there was a feeling within the cricket community that we were mourning the premature end to the career of one of the true greats. Several weeks on from the decision, though, Taylor herself sees things very differently.
"I'm in a really, really good place," she tells
Women's CricZone
. "People were led to believe that I'd retired because of my anxiety but I was actually in quite a strong position to leave. I wasn't at my worst place - I was in a good place, knowing it was the right thing to do. So because of that I've got zero regrets, and I'm happy."
The tone of her voice and the smile on her face back up the assertion. She sounds relaxed, comfortable, content: a far cry from the figure she has sometimes cut on the pitch of late. Despite making a return to international cricket in June 2017 after a 10-month break, brought about by a debilitating anxiety condition, Taylor sat out of the World Twenty20 in the Caribbean late last year, and subsequently struggled for form to the extent that her place in the side, previously a mere formality, came under question for the first time in her career. She acknowledges that the last 12 months of her international career were some of the most challenging she faced.
"I obviously have struggled for the last year," she says. "I've always said that if I'm not enjoying cricket, my anxiety gets worse and then that affects my cricket."
ALSO READ: 'If you score runs, people will respect you'
It was that realisation which ultimately brought things to a head. Initially she chose to withdraw from the T20 leg of the Women's Ashes series, stating: "at the moment I don't feel in a good enough place to compete in international sport". Then, following extensive conversations with family and close friends, she finally made the toughest call of all.
"There were a lot of things building up to the decision," she explains. "I was very much, 'right, I'm going to see how I go in the Kia Super League'. And that was a big marker for me - I realised that I really enjoy the cricket, so then it was a case of, what are the pressures of England that I'm struggling with?"
"I realised that with two away tours this winter, I was already feeling anxious about those. I wanted to get to Australia
, but it wasn't just a case of playing in one place, it was travelling around, and my anxiety around that was going to be really harsh on me."

"In terms of contracts, they were coming up for renewal, and they've got the World Cup in 2021 in New Zealand, and then it was a case of 'are England going to want me around when I can't winter tour? They should probably play younger players in the summer instead of me if they're preparing for the World Cup'. So it was just lots of factors kept coming through that was it right for me to leave, better for the team, better for the squad."

"With me, everyone would say I'm quite a logical person, so it was logical with the future of England - and the future of myself and my health included."

"It was the right time to walk away," she concludes.


***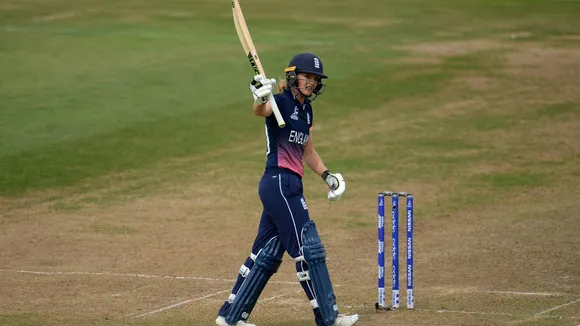 Sarah Taylor celebrates a milestone. © ICC

There is no doubting that Taylor leaves an extraordinary cricketing legacy behind her, as she closes the door on international cricket and looks to a different future. Between her debut in 2006 as a fresh-faced 17 year old, and her final match in July 2019, she made 226 appearances for England and scored 6,533 international runs, placing her second on the list of England's all-time leading run-scorers. With the bat, she broke records at the start and end of her career: she retires having been part of England's two highest partnerships ever in international cricket, putting on 268 for the first wicket against South Africa at Lord's in 2008, and 275 for the second against the same opposition during the 2017 World Cup.

It is for her smart feats behind the stumps that she will be best remembered, though: nobody in women's cricket has ever effected more dismissals across all three formats of the game than Taylor's 232. Last year Adam Gilchrist famously tweeted that Taylor was the best wicket-keeper in the world, male or female; English cricket journalist Mike Selvey recently labelled her "the greatest female cricketer of all time".

ALSO READ: A case for the revival of Test cricket

And yet when I ask Taylor about the proudest moment of her career, she does not cite any of her incredible leg-side stumpings, nor one of her 7 international hundreds, nor even her stupendous catch diving full-stretch to her right at Hove against Australia in 2013.

"People always remember certain moments - everyone keeps showing me the video of my catch, or a hundred here and there, or winning the World Cup at Lord's was amazing, and you remember those," she says. "But it's the stuff that they don't see that I've had to get through in order to do things that I'm probably most proud of."

She is talking, of course, of the fight she had against her own internal demons, every time she walked out to bat. Her bubbly personality and effortlessness behind the stumps meant that few suspected what was going on underneath the surface: an anxiety condition which at times rendered her unable to even leave her house.

"At its worst, it's a panic attack. On a cricket field it happened mainly when I was about to bat, the expectation of wanting to score runs was the hardest. The nerves would hit me but it would be nerves plus something else," she told the BBC in June 2016, in an interview which was at times painful in its candour. "I was always confused as to what it was but now I know; it's a genuine kind of panic. The heart races, you kind of feel faint, those are things I go through. There have been times when I've had to run off into the changing rooms and be sick sometimes, through sheer panic."

Cricket has long been acknowledged as a sport that takes its toll on players mentally: lengthy periods away from home on tour, a unique team sport that measures your worth by your individual performances, as well as the ever-present media scrutiny. Players like Marcus Trescothick and Jonathan Trott have increasingly felt able to open up about their mental health struggles over the last decade. And yet the women's game, having only recently become professional, had tended to be seen as immune from such issues.

As the first high-profile female cricketer to speak candidly about her mental health, Taylor has therefore left a legacy that extends far beyond anything she achieved on the pitch.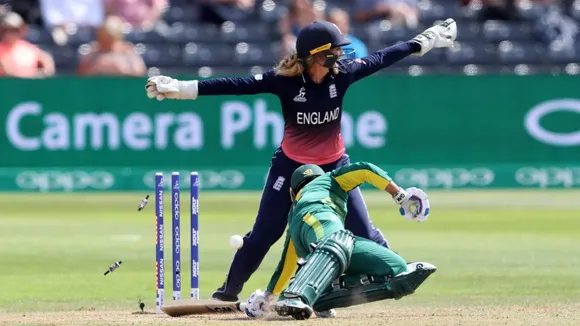 Sarah Taylor appeals for a stumping. © ICC

"I feel like I've just opened a door for that to be normal," Taylor says. "If that's a legacy, I guess so. But it's more a case of, I don't want it to be something that you have to really really think about saying before you say it. I want people to discuss how they're feeling, and say when they're vulnerable, and it to be in a really safe environment, always. I've been a part of teams where it's not safe, and where it is safe, and the difference is unbelievable really."

"I'm just hoping that it becomes the norm across all sports. Especially women's cricket now because of the profile of it getting bigger and bigger, the girls are going to be up for more scrutiny so we have to learn to deal with that. I'm hoping that it's left the mark of - it's normal, it's OK."

We are already seeing others following in Taylor's wake with their own brutally honest accounts of the strain that elite women's cricket can place on players' mental well-being. Taylor's England teammate Kate Cross last year revealed that she, too, had struggled with anxiety and depression during an almost three year absence from the England side. More recently Australia's Nicole Bolton divulged that she had been forced to take a break from international cricket across the first half of 2019 because of mental health issues which had caused her body to "completely shut down".

Asked if players from around the world have approached her in the wake of her openness in discussing her mental health, Taylor says that yes, it has happened on numerous occasions. "I gave a shirt to one player who because she got me out thought that I wouldn't like her, but actually it's just cricket. Cricket wasn't my life, in that sense."

"And this player has hopefully learned that actually there's more to life than cricket. And they've now created quite a good, balanced lifestyle now, whereas before it was quite an unhealthy balance. Things like that have been quite nice to hear, especially when it's other international players."

 

Read the full article here.