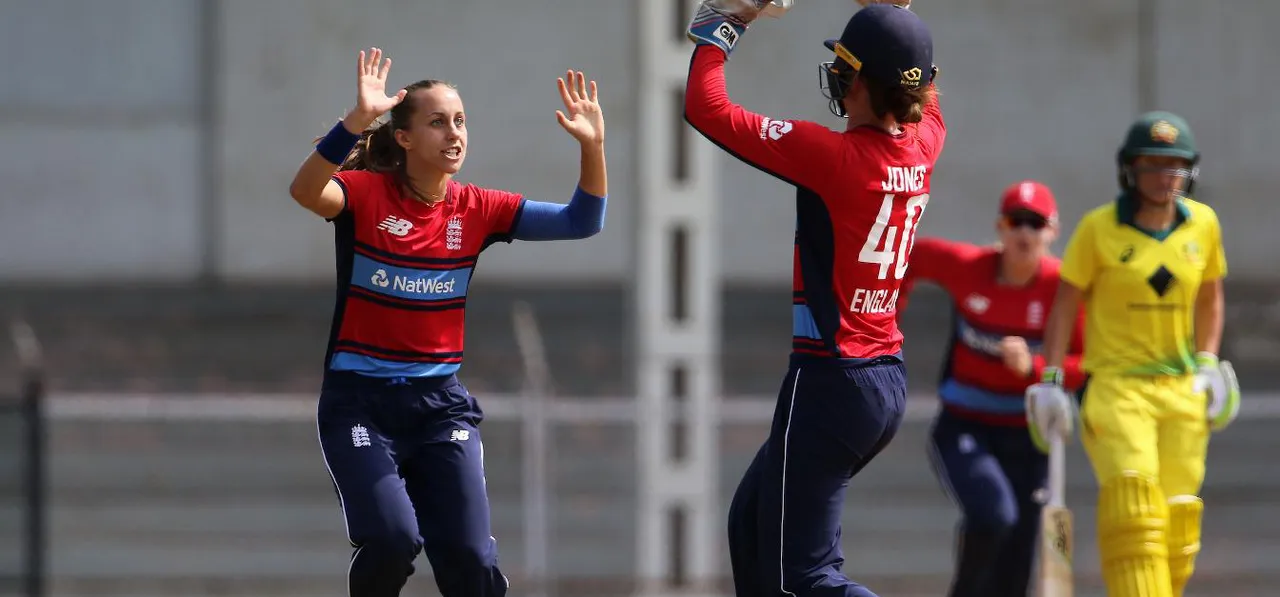 Left-arm pacer Natasha Farrant is keen on completing 'some unfinished business' in England colours and is eager to make most of the chances she might get in the New Zealand series, which begins with the first ODI on February 23.
Farrant has been recalled to the England squad in place of Anya Shrubsole
, who missed out on this tour due to a knee injury.
"I think, for me, there is really some good competition out here, which is what you want in the squad. I am sure I will make myself ready if I am selected in any of the games, be it an ODI or a T20I," Farrant told reporters during a virtual press conference ahead of the ODI series.
"For me, it is about making the most of the training with the coaches, putting my name back into the selection process. Hopefully, if I can get a go, I will try to make most of the chances." The 24-year-old has seen quite a bit in the past couple of years.
ALSO READ: Brooke Halliday and Fran Jonas – who are they?
She lost out on England central contracts in 2019 before bucking up and working on her game to give herself the best chance to be considered again. And with the COVID-19 pandemic coming in, it kind of helped the youngster to work her way back into the squad on the back of some impressive performances in the Rachael Heyhoe Flint Trophy last year.
"Initially, when I lost my contract, I wasn't that positive about how I was able to get back in the squad," said Farrant, who took nine wickets in six matches in the RHF Trophy. "But deep down inside, I do want to tell myself that I have some unfinished business in the England shirt. I felt like I am still young and have got a lot to learn still."
"When I got over the initial disappointment of losing my contract, I started on my game, had one-to-one sessions with the coaches, and then obviously, when the regional contracts came in, that was a new lease of life for me. I definitely was not expecting to be this soon honestly, but really grateful to get this opportunity," said Farrant, who was one of 41 awarded the regional contracts by the ECB.
ALSO READ: Bengaluru to host India-South Africa limited-overs series in March
Farrant returns tp the squad after a three-year hiatus having last played a T20I against New Zealand in 2018. During these three years, she finished her last year of University and also was the head of Women's Cricket in Trent College – all these at a time after she lost on the central contract.
"I have to thank Lydia Greenway. She helped me get a job at Trent College, where I became the Head of Women's Cricket and absolutely loved it. I think I also learnt a lot about my own game through coaching, especially kids who didn't want to play cricket," she said.
When asked how much she has evolved since her international debut, Farrant said, "when I made my debut at 17 (against West Indies in 2013), I didn't realise how big it was. I feel quite a different person being out of the game, but also I feel my cricket is in a completely different place."
"I have had to work things myself so as to get to know my own game, which I think has really helped and hopefully, that will put me in a better place. I feel like I am a more rounded person, I guess, now and much more relaxed at where I am, knowing that I have come a long way."
Farrant believes that the regional contracts will glue the cricketers to play longer than what they really used to do with age playing no bar. "In women's game, it is always seen that you retire when you are still younger," she said.
"But I think, with this regional contracts, I don't think age be a limit. If you are playing well, I don't think age be a limiting factor. If you are putting in the performances, it doesn't matter how old you are. You should be able to get into England or back into England."