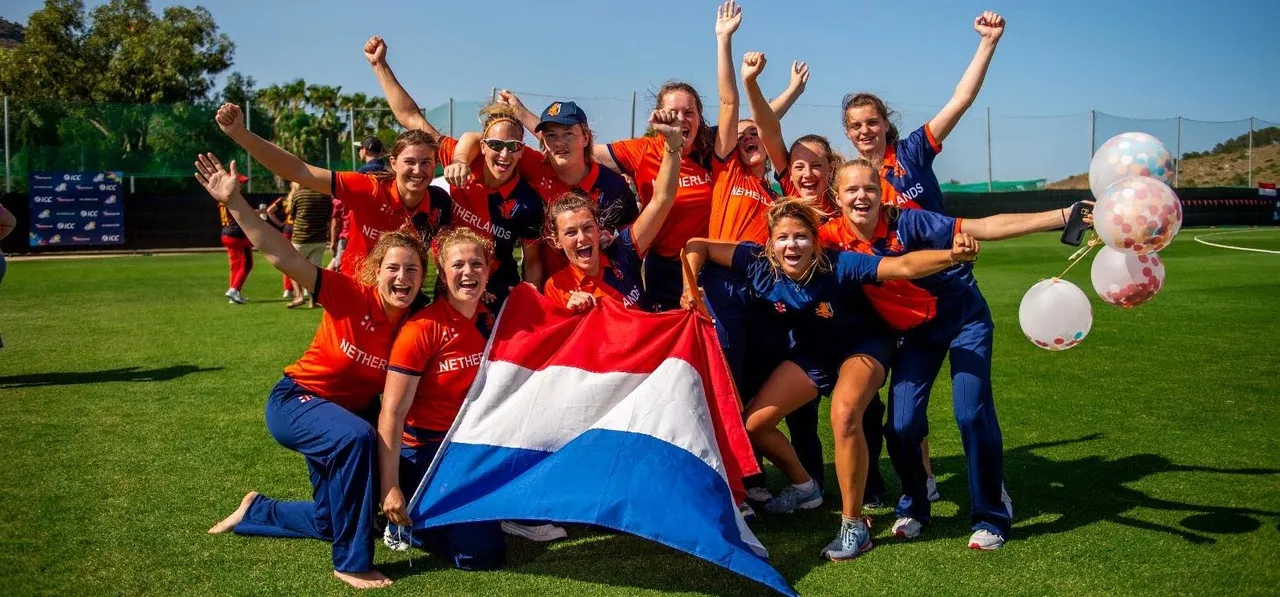 Sterre Kalis will return to national duties after a hiatus of two years as
" rel="noopener noreferrer">the Netherlands
announced a 15-member squad for ICC Women's Cricket World Cup Qualifier in Zimbabwe starting on November 21. The retirement of experienced campaigner Miranda Veringmeier opened the doors for 23-year-old batter Jolien van Vliet, who made her debut in 2018.
The Netherlands will play their first ODI since 2011 after the ICC Women's World Cup Qualifier tournament in Bangladesh, where the Dutch finished seventh. The current assistant coach, Helmien Rambaldo, was part of that squad and scored 167 runs across seven matches.
ALSO READ:
Lewis, Overdijk begin T20 World Cup Europe Qualifier with record feats
Kalis has earned back her spot in the Netherlands squad on the back of some strong performances in domestic tournaments over in England where she has been plying her trade a a professional. She represented Northern Diamonds in the Rachael Heyhoe-Flint Trophy and had a productive season helping her side reach their second final in two seasons. She was the highest run-scorer for the Diamonds with 290 runs across nine matches, including two half-centuries. 
Netherlands head coach Shane Deitz believes the inclusion of Kalis will bring experience and stability to the young side. "I look forward to seeing Sterre play against some of the world's best teams and see her as a real leader on and off the field, after her brilliant year in the UK this summer," he said. He also tipped young Gwen Bloemen as the 'one to watch' player from his side.
The side led by Heather Siegers has some up-and-coming talent like wicketkeeper-batter Babette de Leede. The 22-year-old scored a half-century in the Netherlands' first-ever victory
" rel="noopener noreferrer">over Ireland
in a T20I in July 2021. Another right-hander, Robine Rijke, scored 100 runs across four matches during T20 World Cup Europe Region Qualifier, including a valiant 43 against Scotland.
ALSO READ:
Sterre Kalis rates RHF Trophy final knock on top; wants to return next year
The regional qualifier in August was a mixed bag for the Netherlands as they were comprehensively beaten by Ireland and Scotland, but put in strong performances against both Germany and France. Right-arm medium pacer Frédérique Overdijk created history when she became the first player, across gender, to take seven wickets in T20Is. She will no doubt be one of the key members of Netherlands' bowling attack when they travel to Zimbabwe.
The tournament will see 10 teams compete for the three spots in the ICC Women's World Cup in New Zealand in 2022. The Netherlands are grouped alongside Ireland, Bangladesh, Papua New Guinea, and West Indies. Three teams from each group will advance to Super Six and the top three teams from Super Six will qualify for the 12th edition of the ODI World Cup.
Sqaud:
Heather Siegers (captain), Babette de Leede, Caroline de Lange, Eva Lynch, Frédérique Overdijk, Gwen Bloemen, Hannah Landheer, Iris Zwilling, Isabel van der Woning, Jolien van Vliet, Juliet Post, Marloes Braat, Robine Rijke, Silver Siegers, Sterre Kalis.