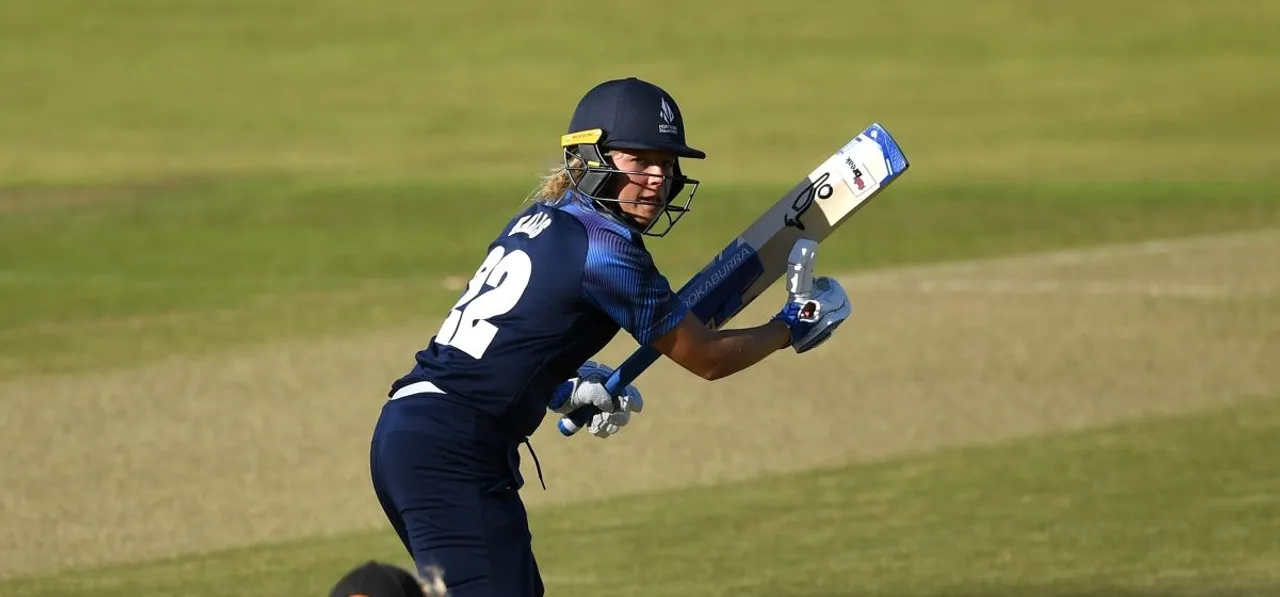 Northern Diamonds batter Sterre Kalis has referred to her Rachael Heyhoe Flint Trophy experiences as a "tough learning curve" and stated her knock
in the final
against Southern Vipers is one she will remember for long.
"Mentally it was a very tough learning curve as I have never experienced a couple of ducks in a row before," the Netherlands batter told
Women's CricZone
. "I wanted to train more in the nets and it was difficult to get the ducks out of my mind."
Kalis, who wasn't required to bat in the first game, registered three back-to-back scores of zero in the first four matches. Having come into the tournament slightly rusty - she hadn't played any competitive games since February, and had only a couple of one-to-one sessions in the nets in the Netherlands - she got better as the tournament progressed.
The right-hander bounced back strongly with three consecutive half-centuries to finish the tournament on a personal high. She said that the confidence she got from her teammates was the base for her turnaround.
ALSO READ: Northern Diamonds caught in Charlotte's web
"The first round, I was supposed to bat on no. 4 but we managed to win the game with the first three batters. The second two ducks were disappointed for me as, of course, I wanted to perform well, doing my job by helping the teams with runs. The last duck in the row was unlucky but that's cricket as well," she continued.
"All coaches and teammates helped me through, talked with me about it and that, together with the confidence I felt from everybody at that time was the base for me to be able to turn it around. In the next games my own confidence grew again, and I managed to contribute with runs again. Looking back at it, I think I have learned a lot out of it," added the 21-year-old.
With 197 runs in seven matches, Kalis finished the tournament seventh in the list of highest run-getters and rates the third half-century in the final as her best. "After three ducks in a row, scoring 87 was a very nice feeling but we lost that game as a team. The second one was a bit of a relief, knowing that I was back on track and we made the final then," she said.
ALSO READ: Lauren Winfield-Hill encouraged by Northern Diamonds' performance in the Rachael Heyhoe Flint trophy
In the final, chasing 232, Kalis came into bat pretty early after Diamonds lost opener Lauren Winfield-Hill early. However, Diamonds lost wickets at regular intervals with Kalis standing firm like a rock at one end. She was the penultimate batter dismissed for 55.
"The one in the final was nice as performing well in a big final, broadcast on
Sky
, was an exciting new experience as well. Maybe I could have played a little more sensibly to get closer to victory but I took that with me as a learning curve as well. So finally I think the last one was the best for me personally, although we lost the final with the team!"
Recently, Diamonds coach Danielle Hazell
heaped praise on Kalis
, saying she'd love for the Netherlands international to return to the side next year.
"I would love to return," Kalis said excitedly when told about Hazell's statement. "The team, coaching staff, housemate, manager and all the people around the Diamonds were amazing to me," she said.
"To be part of a professional cricket structure is all I want. The period I have been playing professional cricket with the Queensland Fire in Brisbane was different and more difficult as I was a bit younger. So hopefully my cricket future will be in the UK for at least the next couple of years," Kalis said.
ALSO READ: Danielle Hazell sees bright future in Sterre Kalis; hopes the Dutch returns next year
The Netherlands will come up against Ireland, Scotland and newcomers Turkey, France and Germany in the T20 World Cup regional qualifiers scheduled for mid-2021. Kalis feels qualifying for the next round will be challenging as there is only one team that qualifies.
"Obviously you always want to win and qualify for the T20 World Cup qualification tournament as that means a couple of more competitive matches," she continued. "In this group, only one team will qualify so that will be challenging. Compared to Scotland and Ireland we have a bit of a different structure. No contracts yet and nearly no opportunities to play games."
"We will see what's happening as playing in Scotland, weather-wise, without reserve days can also have a big influence," she added. With COVID cases rising in the country, she is uncertain how the preparation for the tournament will look like since they haven't played international games since 2019.
"COVID-wise, I really don't know. We haven't played any international games since September 2019 and have only been together for the last couple of months in small groups. We are waiting for a new head coach to be announced so I don't know what he will have in mind. For myself, I am not sure yet. Going to leave for the UK as soon as possible, I would like to start training over there and we must have a look at dates later. I leave it all open now," Kalis concluded.