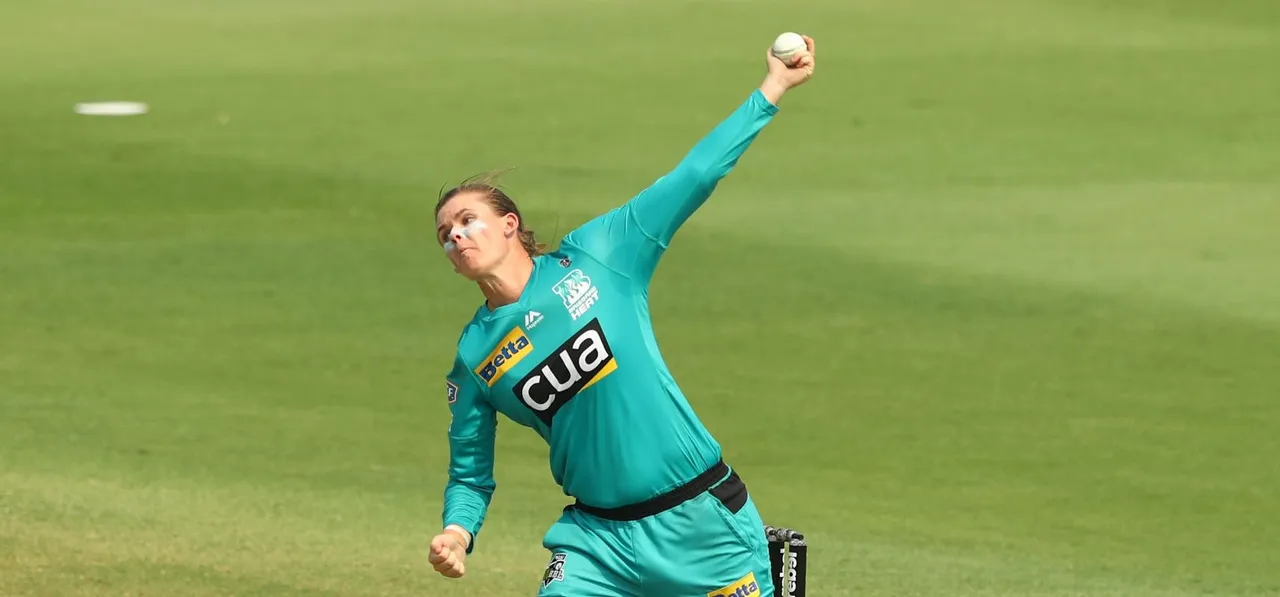 Jess Jonassen aims to bring a sense of calmness to the situation irrespective of what's going on during a game is, as she gets ready to lead Brisbane Heat in the sixth edition of the Women's Big Bash League (WBBL)
"Nothing ever seemed to faze (Kirby) on the outside – she always used to say she was a bit of a duck on water, she was all calm on the outer and under the surface she was going around like crazy," Jonassen was quoted as saying by
cricket.com.au
.
"That's something I'd like to take away from her… that element of calmness regardless of the situation. That's something I've had a few conversations with her about already. It gives the players around you that bit more confidence and helps keep them be calm as well."
Jonassen was named the
captain of the current WBBL champions
, after Kirby Short announced
her retirement
at the end of the last season. She will also
lead Queensland
in the Women's National Cricket League this season, which will be her first as the captain of any side. Jonassen has been a part of the Heat's squad since the inception and is their leading wicket-taker (75 wickets) and second-highest run-scorer (1378 runs).
"I've had to put a lot of work into myself personally over the last few years in particular," she said, adding, "I've come back from some pretty dark places and I'd like to think that's given me a better perspective on the game and on life in general. I like to try and ensure the players are happy around you, and that you're happy within yourself too."
"Over the course of my career I've had a few injuries and missed a few crucial games – one of the more recent ones was being over in the West Indies for the World Cup," said the left-arm spin bowling allrounder, who had missed making it to the T20 World Cup in 2018.
ALSO READ: Beth Mooney hopeful of 2021 Women's World Cup being held on schedule
"Not being able to make the final XI over there was a situation I'd never found myself in and there was just a lot of self-discovery through that time, trying to find different ways to contribute to the team's success. From a personal point of view, that was one of the best things that has ever happened to me, because it opened my eyes to new challenges and new ways to contribute to team success other than on the field."
One of the other challenges that Heat face – apart from Short's departure – is to fill Beth Mooney's shoes. The southpaw
signed up with Perth Scorchers
for WBBL06, which leaves Heat to find a suitable replacement – an opener as well as a wicketkeeper. Mooney was adept at both those roles, which was evident from her outing in the WBBL04 final, where she delivered the goods, despite not being at 100%.
"Mooney is a prolific run scorer and a great tactical player as well, she'll be missed like any senior player would be," said Jonassen. "But it opens some amazing opportunities for other girls in the squad."
"It will expose them to some different situations and put pressure on them a little bit more, which is exciting. Playing without Moons doesn't necessarily mean we won't win games of cricket, because we will, we might just win slightly differently."
https://open.spotify.com/episode/68RdoUPR5JUmx0RUr9fixZ