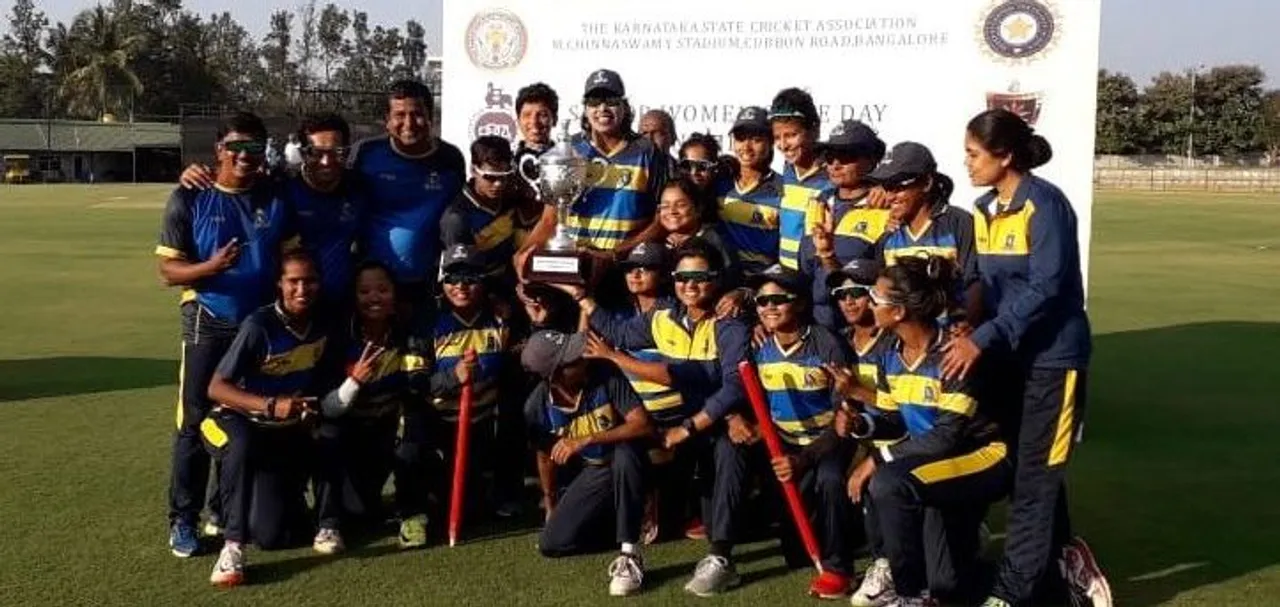 Sidhanta Patnaik from Bangalore
'Dot kore jao, dot kore jao'
– keep bowling dot balls, Jhulan Goswami instructed her bowlers over after over after Bengal had failed to score off 172 deliveries in their innings.
She was now a step away from living her unfulfilled dream of winning a title for Bengal, and there was nothing that was going to stop her. If she had to scream at her players, she did with full authority, and she did not hesitate to extra few seconds to get field setting to perfection. When Andhra looked in control in many parts of their chase of 199, she kept saying to the players, '
kotha bolo, anek baaki aache'
– keep talking, there is enough left in the game. When the dangerous looking S Hima Bindu threatened to take away the game, she produced a direct hit to send her back for 23 in the 46
th
over.
The Bengal girls responded to their beloved Jhulu
di's
call of war to script a ten-run win over Andhra in an encapsulating final of the inter-state 50-over competition at the Just Cricket Ground on the outskirts of Bangalore on Monday (December 31).
Having put on 198 for 7 after being asked to bat first on the back of some handy contributions from Deepti Sharma, Paramita Roy, Mandira Mahapatra,
Jhulan Goswami
and Priyanka Pandey, Bengal seized key moments in the second half when the pendulum swung frequently from one dressing room to another. Andhra were eventually dismissed for 187 in 49.1 overs, with Deepti finishing with 3 for 33 and playing a role in two of the three run outs.
It was Bengal's maiden silverware after BCCI took charge of women's cricket in India in 2006 – a dream come true for the captain who has been a loyal servant of the state.
The huge investments made by Andhra on women's cricket at the grassroots for more than a decade is often used as a model example. The big reward looked within grasp till their 19-year-old skipper, N Anusha, was in the middle.
C Jhanshi Lakshmi, who had provided the first game-turning moment with three wickets in two overs, got out early in the chase, but Anusha and V Pushpa Latha frustrated Bengal with sharp running between the wickets during their 68-run stand.
The way Anusha and Pushpa Latha converted ones into twos, and played risk-free shots to keep the required run-rate under check offered lessons to Bengal's batting unit.
The pitch did get better to bat as the temperature rose, but that took little away from Anusha's positvity. It rubbed on Pushpa Latha and E Padmaja, with whom she added a total of 119 runs. Anusha was involved in running two threes – a rarity in women's cricket, exposing Bengal's problems on the field.
Almost every shot Anusha played made a sound that was so different from the ones played by other batters through the match. Her deftness was pleasant to the eyes, as was the ways she made fielders irrelevant after a point by just dabbing and running. It must have left an indelible mark on the national selectors watching the action from the viewing area, and always struggling to plug gaps in the Indian batting line-up.
Anusha's cheekiness, however, proved costly when Mahapatra produced a direct hit from short midwicket at the bowling end to send her back in the 37
th
over. She fell for 61, but could not be faulted for being run out as it is her intent that took the game so close.
Andhra needed 70 more when Anusha became the third wicket to fall, and Hima Bindu took charge. Just when Bengal's shoulders were dropping, Goswami's direct hit tilted the balance back in her team's favour. There were also two sharp catches from Prativa and Neha Majhi too for Bengal to not worry much about the earlier misfields.
With the game starting at 9am at a venue where cross breeze is usually a factor and early assistance for the pacers, Andhra started steadily through their pace bowling pair of K Jyothi and Anjali Sarvani, conceding only 29 in the first ten overs.
Bengal's ploy to blunt the new ball seemed to work as the scoring picked up for the opening pair of Deepti and Roy as they put on 57 in 18 overs.
A ball from Pushpa Latha, the first-change right-arm medium pacer, kept low, and Roy failed to execute the pull shot to be bowled for 32. Anusha introduced spin in the form of Jhanshi Lakshmi in the 16
th
over, and it produced Andhra's best phase on the field. Jhanshi Lakshmi first deceived Deepti with flight, making her play early and offering a simple return catch. Prativa too was caught and bowled, and Tanusree Sarkar missed the line of a delivery to be leg before wicket – all in a space of two overs.
Suddenly Bengal lost momentum to be 96 for 4 in 27.4 overs. Soon after that Neha Maji was run out before Goswami and Mandira Mahapatra did not try anything fancy, focussing more on strike-rotation. A flick from Goswami's bat to the square leg fence in the 43
rd
over was the first boundary after Prativa had hit a six over long-on almost 15 overs back. Then Mahapatra added crucial 31 with Pandey for the eighth wicket.
The game that could have gone anyone's way. Bengal prevailed on this day, bringing curtains on what has been an excellent tournament.
Bengal
198/7 in 50 overs (Deepti Sharma 34, Paramita Roy 32, Prativa 26, Mandira Mahapatra 39*; CH Jhanshi Lakshmi 3-40) beat
Andhra
187 in 49.1 overs (N Anusha 61, V Pushpa Latha 28, E Padmaja 38; Shublakshmi Sharma 2-39, Deepti 3-33) by ten runs.