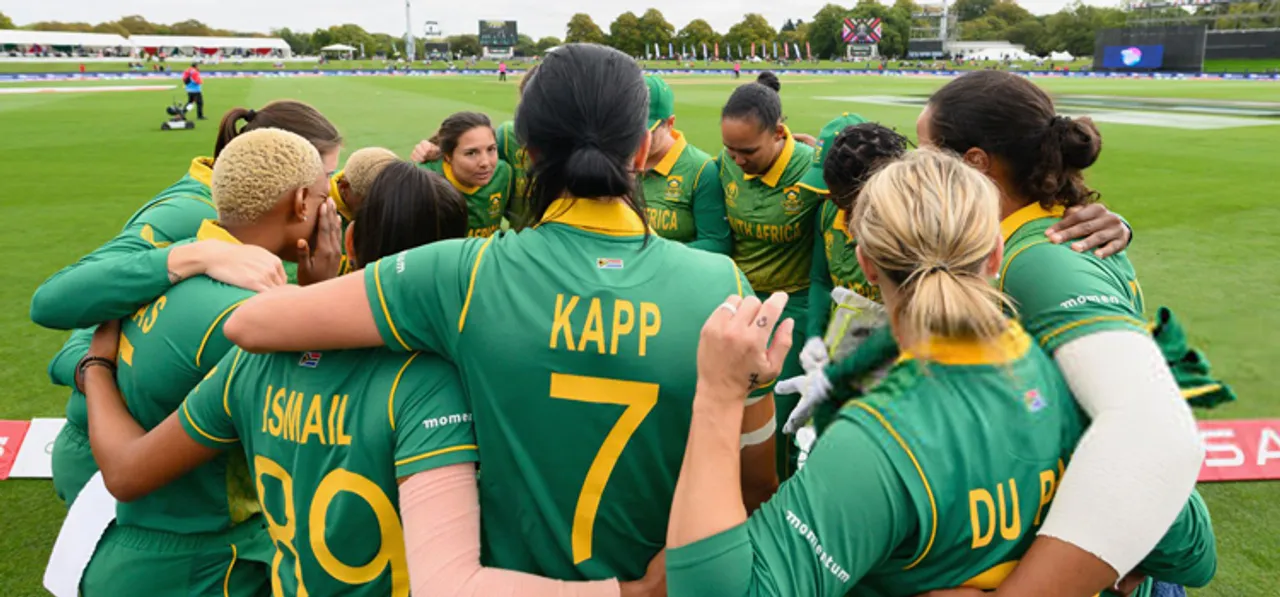 Cricket South Africa (CSA) has announced a 27-member training squad for the two-week camp at the high performance centre in Tshwane. The training camp is set to start on May 5 and will run until May 20 as South Africa prepare their tour to Ireland England, CSA said in a release on Wednesday (May 4).
The training camp will include fitness assessment as well as technical skill sessions. Head coach Hilton Moreeng talked about allowing the players to regroup after their World Cup 2022 campaign which ended with the semi-final loss against England.
"We took a lot of positives from the World Cup, and it was important for us to give the players a well-deserved break after almost 90 days away from home, to give them time to regroup and spend time with family," Moreeng said.
"There are two boxes we would like to tick. The first one would be fitness and rehabilitation assessments and then also make sure we touch base with the overall squad, including the high-performance and national academy players."
ALSO READ: Brits and Mlaba gain South Africa Contracts for 2022-23 season
The focus will be on the two red ball intra-squad matches with South Africa scheduled to play one-off Test against the hosts – their first in eight years – to kick off their multi-format tour of England. The tour will start on June 27 with the Test match and end on July 25.
"We are also now looking at how we can address the red ball because this will be our first Test match after a very long time, so this camp will be giving everyone an opportunity to play red-ball cricket, which as you know in the country, is not a format that we've played a lot.  It is going to be new for most players and this will be a good opportunity for them to get exposed to that so we can be ready for the Test match when we get to England," Moreeng added.
Before their tour to England, South Africa will visit Ireland for a six-match limited over series starting on June 3. The ODI leg will also kick start their ICC Women's Championship for the 2022-25 cycle. This will be Ireland's first series in the championship having qualified for it for the first time.
With South Africa set to return to action for the first time since their World Cup exit, six players who played in the semi-final of the event - Shabnim Ismail, Laura Wolvaardt, Ayabonga Khaka, Suné Luus, Marizanne Kapp, and Mignon du Preez – will miss the training camp owing to their participation in the FairBreak Invitational T20 tournament. Dané van Niekerk will not be part of the training but will join them to have her medical assessment having missed out on the World Cup due to an ankle fracture.
ALSO READ: South Africa and World Cups: An agonizing tale of heartbreaks
Anneke Bosch, who missed the World Cup due to injury, will feature in the training camp alongside emerging side players like Delmi Tucker and Leah Jones. Domestic performers like Andrie Steyn, Elize-Mari Marx also will be part of the training.
"We have a few players away at the FairBreak tournament in Dubai and therefore it poses a great opportunity for the emerging and the provincial players who have done well in domestic cricket to attend the national camp to put themselves out there with the rest of the nationally contracted squad," Clinton Du Preez, convenor of selectors, said.
"We have to ensure that we balance the outcomes of both formats as we prepare for the Women's Championship and also the T20 focus as this will be our inaugural participation in the Commonwealth Games, which will also be great preparation for the upcoming T20 World Cup to be hosted in South Africa in 2023."
Training squad:
Anneke Bosch, Nobulumko Baneti, Tazmin Brits, Trisha Chetty, Nadine de Klerk, Annerie Dercksen, Lara Goodall, Sinalo Jafta, Masabata Klaas, Lizelle Lee, Nonkululeko Mlaba, Raisibe Ntozakhe, Tumi Sekhukhune, Nondumiso Shangase, Andrie Steyn, Chloé Tryon, Delmi Tucker, Faye Tunnicliffe, Jane Winster, Leah Jones, Nicole de Klerk, Micaela Andrews, Courtney Gounden, Elize-Mari Marx, Tebogo Macheke, Anri Grobbelaar, Paulinha Mashishi