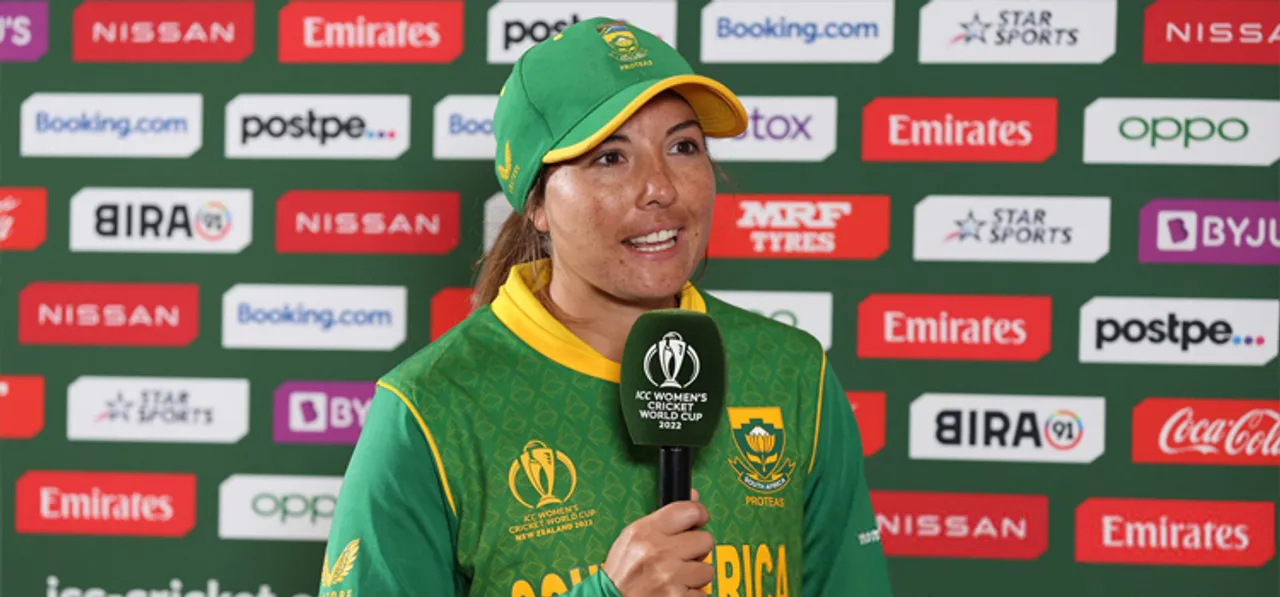 With a fractured left ankle ruling South Africa's regular skipper Dane van Niekerk
out of action
, the mantle of captaincy fell suddenly on the young shoulders of the star allrounder Sune Luus and she hasn't disappointed either. Leading into the World Cup she led South Africa to victory against West Indies at home and has also guided them to back-to-back wins in the ongoing World Cup.
Although she doesn't have a lot of experience as a skipper, she has shown a lot of promise already and will look to take the Proteas all the way this time around.
In an exclusive chat with
Women's CricZone
, Luus talked about her leadership role, Dane's absence, having plenty of experienced heads around her in the side, recent form of South Africa and a lot more.
Excerpts:Q: How does it feel to lead the Proteas?
Yeah, it's a big honour and privilege to captain the South African side. It is something that I didn't expect will happen anytime soon. So, I am taking this opportunity with open arms and hopefully I can make the country proud. When I got the call-up to be the captain, I spoke to my dad right away and he said to me that 'Do you remember when we were next to a cricket field when you were eight or nine years old and you said that one day that you want to be the World Cup captain'. I obviously don't remember it but it's been a dream since I was very young. So, this is obviously a great opportunity and great privilege.
Q: Dane's injury is a big blow for the side not only as a captain but also as an allrounder. How do you see it?
Yeah, obviously it's not ideal. She phoned me the day after the injury happened and my heart broke. She's someone that the team looks up to and to not have her here is not ideal. But we have got a great team here (in New Zealand) and I am confident that we can still do the job.
Q: Dane and you have a lot in common. Both of you are leg-spinning allrounders and lead the side at the same time. How much does that add to the pressure in her absence?
No, I don't think so. Although we do the same, I still think we are two different people and two different players. So, whenever we are in the team together as well we play two different roles. So I don't think there's any such extra pressure.
ALSO READ: This the best side we have had at a World Cup: Laura WolvaardtQ: Many cricket experts are rating South Africa very highly and are predicting an Australia vs South Africa final. Your thoughts on that?
I think a lot of the team see us as a threat at the moment in the World Cup. We have had a lot of success in the last two years so we are definitely a team to be reckoned with. I think the performance that we have been putting in speaks for itself. The team is taking responsibility for the games. I think it's gonna be a good World Cup whether we go to the final or not. All the teams have come prepared and have come to win so every game is gonna be a challenge. So, we are taking it one game at a time and not looking too far ahead.
Q: Do you think you are a better leader than you were four years ago?
Yes. I think with every game you play you grow as a player and as a person. I think we all have changed and evolved as players and I think the game has also evolved. So, we had to adapt towards that as well. I think everybody has changed a bit and we are just growing as a unit.
Q: 18 July 2017, South Africa suffered heartbreak in the World Cup semi-finals against England. What was that feeling like?
I was fairly young back then but for some of the older players who kind of realised that it might have been one of their last World Cups, I think that was heartbreaking for them and obviously for us too. Purely because we were one step away from playing the World Cup final and that's why it hurt even more. And if presented with the opportunity we will do the best we can to not experience that again.
Q: A lot has happened in the last few years. Your side defeated India in India, defeated the West Indies in West Indies and at home. There are a lot of players in the current South African setup who have played in the Women's Big Bash League (WBBL) and the inaugural edition of the Hundred. So what has changed from 2017 to 2022?
Yeah, I think we have played more cricket and with more cricket comes more experience. So I think that's certainly something that has helped everyone in their games. When you play more cricket you learn more about yourself and you learn to develop a new skill here or there so I think that's definitely helped. Because before that I think we didn't have as many series in a calendar year. Playing more cricket around the world and experiencing different conditions and playing with different players also helped a lot.
ALSO READ: Dané's absence is a massive loss for us: Marizanne KappQ: You played a Super Over after the completion of both your warm-up matches. Did you do it with the thought that it could be a case at some stage during the World Cup?
Yeah, it was something that was decided between the two captains. Like you said it is something that can pop up at any stage during the World Cup and you kind of have to be ready when it comes. So yeah we did it with the thought that we have to be prepared when it comes.
Q: South Africa arguably have the most potent pace attack out of all the sides competing in the tournament. How do you plan on using your pace bowlers?
Yeah, all the pace bowlers that we have can bowl at any stage in the game. They can open the bowling, bowl in the middle and at the end of the innings so that makes my life as captain a lot easier. Whenever I need one of the pace bowlers they are experienced enough to bowl at any stage of the game. The difficult part is to choose your bowling attack in the first XI. There are so many bowlers who are doing really well at the moment and everyone has been putting up their hands so that's the challenging part for us to lock in the pace bowlers that we want to play.
Q: There are so many former captains in the side at the moment. How much does that help you as a skipper in tense situations?
Having too many experienced players in the lineup makes a huge difference. I can just always go to Marizanne (Kapp) or Chloe (Tryon), Shabnim (Ismail), or Mignon (du Preez). We actually have a lot of experience players right now so that makes my life a bit easier just to tap into their minds to get their insights and feedback. So, it definitely helps to have all of them on the field and also some of the youngsters as well, they give great ideas on the spot in different situations.
Q: What do you think has been the reason behind South Africa's success in the recent past?
I think when you look at the team and our success you can't really pinpoint on someone who has been doing all the hard work. In the last year to an year and a half, there has always been someone different who picked up their hand and performed and that's a really positive sign for us because you cannot always rely on a Lizelle Lee or the Marizanne Kapp or the star players. There's always gonna be pressure and you don't know how pressure affects different players and that's where in the last year to year and a half that's what been great and even the youngsters are putting up their hands and these are great signs.