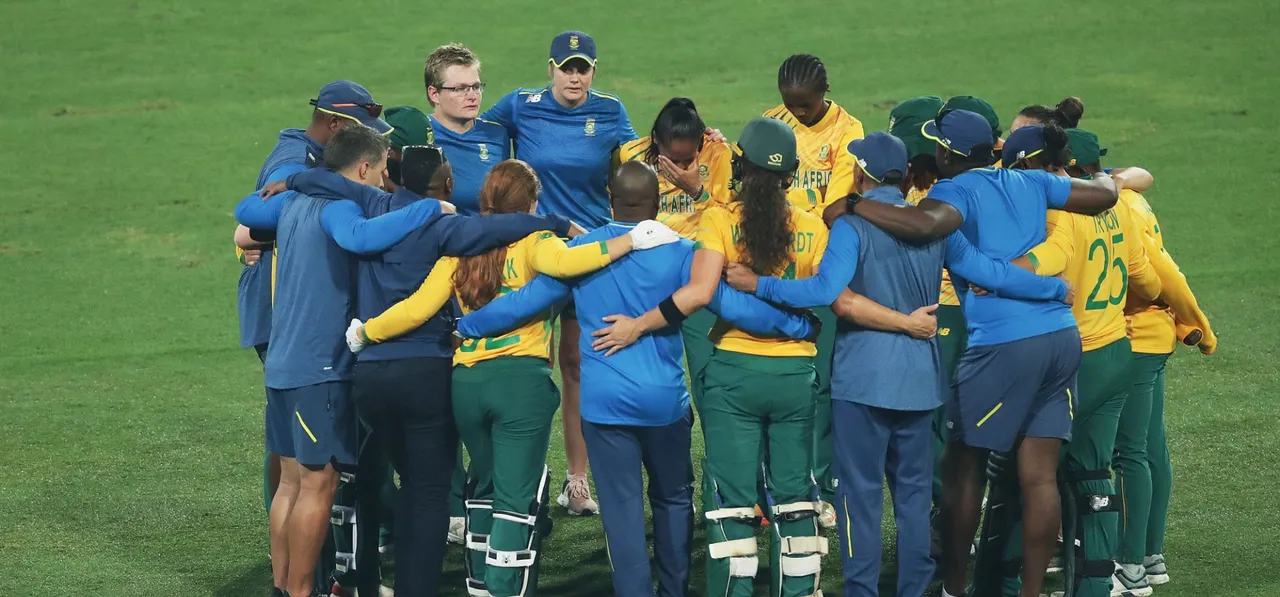 Cricket South Africa (CSA) announced the dates for third edition of the Women's Super League (WSL). The 2020-21 season of the T20 tournament will be played from December 14 to 16 at the Newlands Cricket Ground.
An 18-member squad have began their fourth off-season camp as a prelude to the 2020-21 season that is set to begin next month in a bio-secure environment with the WSL.
A player draft will be held to determine the four squads- Coronations, Duchesses, Thistles and Starlights- on December 3 with almost 100 players from the nine provinces are said to take part in it.
Teams will play six matches each and the team that finishes on top after round robin will be declared as the winner. CSA also named head coaches and assistant coaches for all the four teams.
"We have assembled a strong team of qualified coaches within our ranks and looking forward to see how they fare in the third edition of this T20 tournament," said Johan Weyers, CSA Senior Cricket Manager.
Adele van Eck will coach the Coronations and Shaun Pretorius has been named assistant coach for the side. Martelize van der Merwe will lead Duchesses with Mark Arthur being the assistant coach.
Angelique Taai and Richard Hlela respectively has been named head coach and assistant coach of the Thistles team. Former South African cricketer Claire Terblanche will train the Starlights squad with Neo Sekokotla as her assistant.
The 18-member training squad- consisting of centrally contracted players, high-performance and academy players- has started training with a focus on enhancing their fitness and refining their cricketing skills.
Eight players who are currently in Australia with their WBBL commitments are not part of the training camp. Ayabonga Khaka and Sune Luus have joined the sessions post their stints at the recently conclude Women's T20 Challenge.
ALSO READ: The paradoxical ways of Mignon du Preez
Hilton Moreeng, head coach of the national side, is pleased with the players have been able to stay despite the challenges owing to the COVID-19 pandemic and subsequent restrictions that were in place.
"We're happy with what we're seeing from the players so far," Moreeng said. "They have really managed to stay fit and in shape considering all that has happened so far this year.
"I think all of them you can see when they're in the nets and practicing, the basics we have been emphasising are all still there. They are also constantly improving their fitness levels, so everyone is now just excited and keen to get out there in the middle and play cricket."
Moreeng added that the training camps are very important for South Africa as they look to build towards the upcoming 2021 World Cup in New Zealand and 2023 T20 World Cup at home.
"There's a lot that we are building towards with these camps, domestically and internationally with the World Cups coming up," he said.
"So it's very important for us to make sure that each and every one that comes into the set-up, they understand what needs to happen, where we're going as a team and how we can make sure we keep improving I think as far as the rankings go and howe we can get the team to be in the top three of world cricket.
"In terms of readiness, I think when that tour comes, we'll be ready. The girls will also have an opportunity when the WSL comes, so all-in-all, we just can't wait to play."
South Africa last played international cricket during the 2020 T20 World Cup in Australia in March. Their home series against Australia and West Indies tour were then cancelled due to the pandemic. They also pulled out of their proposed tour to England citing the travel restrictions in the country.
Squad:
Masabata Klaas, Tazmin Btitz, Anneke Bosch, Ayabonga Khaka, Robyn Searle, Trisha Chetty, Raisibe Ntozakhe, Lara Goodall, Andrie Steyn, Sune Luus, Nondumiso Shangase, Nonkululeko Mlaba, Micheala Andrews, Delmi Tucker, Tebogo Macheke, Nobulomko Baneti, Khayakaze Mathe, Jade De Figueiredo