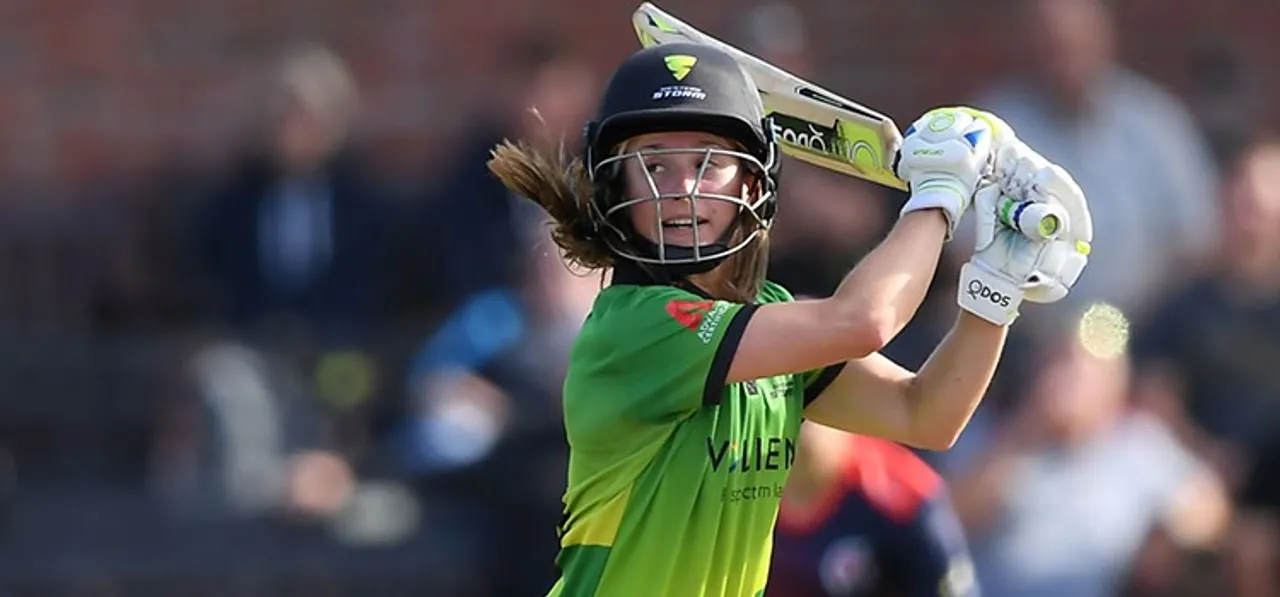 With minimum of fuss, a calm head and a broad smile Sophie Luff underlined her vast experience during a crucial knock for Western Storm in Taunton on Saturday (August 10).

It is the kind of innings which would not have come as a surprise to her many admirers. Not least Storm head coach Trevor Griffin who last year tipped her for England recognition after she played a key role in the side's 2017 title win. On that occasion, she joined forces with Stefanie Taylor in an unbeaten 57-run partnership at Hove to seal Storm's first Women's Cricket Super League trophy. Coming together at 94 for 3 in the 10th over, Luff and Taylor both made unbeaten 30s to see their side to their target of 146 and a seven-wicket win over Southern Vipers.

"It was a nerve-wracking occasion," Luff told Women's CricZone. "You just take it as another game of cricket and you don't really think too much about it, you just play the situation."

"It was really special to be out there at the end and finish unbeaten and get us over the line. It's something that I look back on really fondly."

If batting in the middle order for Storm behind several international stars has sometimes limited her opportunities, Luff's runs have often been key to Storm's success. On Saturday, against Lancashire Thunder she came to the crease in the 16th over with 36 runs still needed for victory.

Playing on her home ground, Luff supported captain Heather Knight by putting the pressure back on Thunder's fielders, taking quick ones and twos and rotating the strike. Her 22 off 13 balls out of a stand of 33 with Knight took Storm to the brink of victory— a "classic drop and run innings", according to her skipper afterwards.

https://twitter.com/_hypocaust/status/1160229124218249216

A former England schoolgirls and England Academy captain, Luff hails from a family steeped in West Country cricket. Her own ability has been clear for some time. In domestic one-day cricket she averaged over 50 in both 2010 and 2014 and in excess of 100 in 2015 and 2017.

Her talent for scoring runs and bringing the best out of young players has been rewarded in the last two years with the Somerset captaincy and her appointment by Somerset Cricket Board as the county's Women's and Girls Performance Head Coach.

Speaking last year, Griffin predicted that Luff was destined for England honours: "Although Sophie is still young, she has a real wealth of experience already. The supporters in the South West love her and I'm sure that it's only a matter of time before she receives international recognition. Her runs in the middle order were one of the main elements of our success in 2017."

Luff though is keen to downplay such suggestions when we meet: "If those decisions happen then that's great. I'm just trying to enjoy my cricket at the moment and I'm excited to get going in the KSL. If I can contribute to wins for Western Storm and put in some performances, that's my key focus over the next month."

She is backing Storm to be the only side to reach Finals Day every year and the only team to win the trophy twice.

After signing for her fourth season, Luff said: "I'm really excited to be back. Being involved with a West Country team makes it feel like home for me. It's been great to get back with the girls and get amongst it and our prep has gone really well."

With her coaching background, Luff is well placed to cast her eye over the Western Storm squad, which boasts a consistent feel throughout the past four years.

"That's something that Trevor Griffin, our head coach, is really keen for, is the continuity of the squad. We've got some new fresh faces and some young girls this year but the main bulk of the squad is similar and that represents what we're about here at Western Storm. There's a real team feel to us, the way that we go about things and I think that's what sets us apart."

As well as the England players, Luff highlighted the influence of the high-quality overseas stars in the squad, pointing to the contribution made by Priest and Indian superstar Smriti Mandhana who last year hit 421 runs at an average of 60.14 and a strike rate of 174.68 

"Smriti had a fantastic season for us last year," she said. "Rachel's been with us since the start. Having someone with her skills and her experience to offer the squad is fantastic for the girls being involved."

Luff has worked with some of the new faces in the Storm squad through the South West Regional Development Centre and says they will bring fresh energy to the group. She is pleased to see such programs helping young players break through.

"Dani Gibson played a huge role for us last year and I think she'll have a big part to play again this year. So, she's definitely one to watch. She's on the England Academy, so she's on their radar."

"We've got two new girls in Ellie Mitchell and Alex Griffiths both 17 coming into the squad this year. So, if they get out on the pitch then I'm sure they can show what they can do."

Indeed, Welsh quick bowler Griffiths claimed a wicket in only her second over for Storm in their opening game against Loughborough. She trapped Mignon du Preez lbw for 29 to stem Lightning's momentum.

"Alex performed exceptionally well," said Luff. "It was great to see her step up and take it to the next level."

Outside of Storm duties, Luff's focus has been on her role with the Somerset Cricket Board: "It's is a really good role for me getting the best out of the girls that we've got in the pathway, seeing new faces and trying to get them involved in some capacity. That's where I see my career going and I'm incredibly passionate about trying to get the best out of players."

She takes a lot of pride from captaining a youthful Somerset county team to the top of division two in this year's domestic T20 competition.

"We've gone really well in the T20 format. We're a very young side but we've managed to get over the line in some close games in the T20 and managed to top the division which was which was a great reward for the hard work that the girls have put in this year."

The 50-over Women's County Championship will be replaced by eight regional centres of excellence next year but Luff is pleased with the news that the ECB will continue to run a women's county Twenty20 competition in each of the next two years.

"For our young girls that's what they aspire to play at the moment. We've got a very young side playing senior women's cricket and for them to continue that over the next couple of years will only help their journey into the game."

The article is also available on SheThePeople.TV is India's biggest digital storytelling for women, dedicated to passionately championing and promoting their journeys.