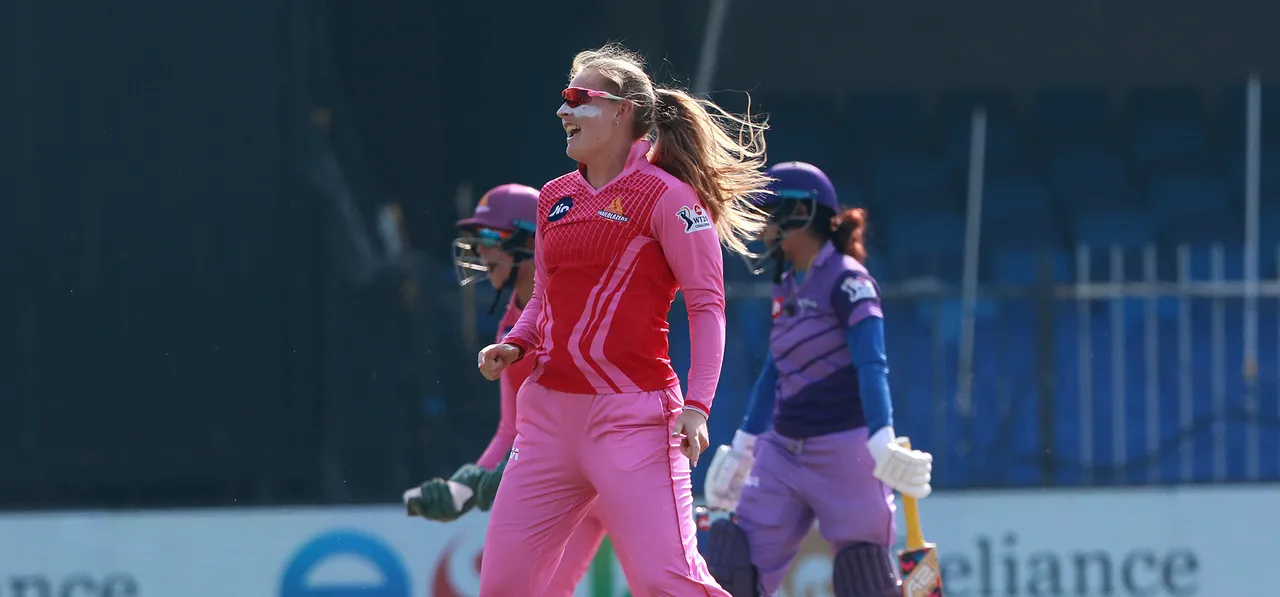 "It's one of days you want to forget."
Not if you are Sophie Ecclestone. Or perhaps she would have, after the first over she bowled on Thursday (November 5) in
Trailblazers' clash against Velocity
at the Sharjah Cricket Stadium in the Women's T20 Challenge 2020. Her first ball saw her pushed towards mid-off. Singles came off her second and fourth deliveries. On the final ball, Shafali Verma danced down the track and smashed her over long-off for half a dozen.
Eight runs off her first over.
That was it, though. She almost didn't give a run after that, let alone a boundary.
"Mithali (Raj) is one of the quality cricketers in international cricket," Jhulan Goswami would say in the post-match video conference. "
was to bowl wicket-to-wicket and just get her out as soon possible."

It was precisely how Ecclestone got rid of Raj. The first ball of her second over was a straighter one, which she flicked towards mid-on. Ecclestone then followed it up with a 85.6 kmph delivery around off and middle, that drifted in and straightened after pitching. Raj went back to flick like the previous ball but failed and was trapped in front.

ALSO READ: Mithali Raj rues lack of recovery time as Velocity succumb to a nine-wicket defeat



The next to go was Veda Krishnamurthy. She perhaps wanted to come down the track to disturb the English spinner from her line and length, but was instead undone by the pace and deceived by the flight – the speed-gun said that it was fired in at 92.2 kmph. Krishnamurthy tried to adjust and play the cut but missed it to be clean bowled, giving Ecclestone two wickets in two balls.

Sushma Verma saw off the hat-trick ball and also the remaining two deliveries in the over. It was a double-wicket maiden for the numero uno T20I bowler in the world.

"(The wicket) was skiddy. I aimed to keep it simple and vary the pace," said Ecclestone in the post-match presentation, "and hoped for the batters to make the mistake."

Ravindra Jadeja, India's men's allrounder, is credited because of the lines and the lengths he bowls especially in Tests, which makes it very difficult for batters, at times, to judge which ones to leave and which to play. He is known to be very accurate with his left-arm spin and, more often than not, targets the stumps. As a result, he is effective even on tracks that aren't too conducive to spin. That's one of the reasons why 87 of his 213 wickets in Tests are by means of bowled or LBW.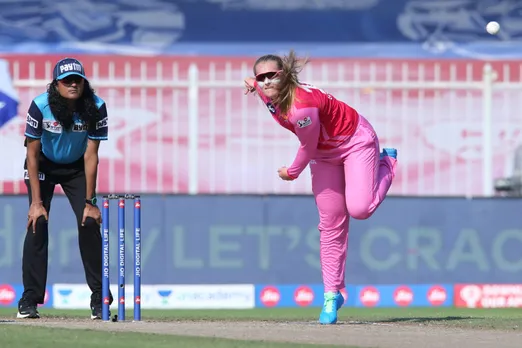 "Everyone knows that if there's a massive plan I get confused, so I keep it simple." © BCCI/IPL

Ecclestone was bowling in that mould on Thursday.

The tall left-arm spinner began her third overall inside the power play - with a couple of tossed up balls, which Verma pushed to the off side. The third delivery was yet again fired in around off and middle. The Velocity wicket-keeper was in a quandary as to whether to play forward or back, eventually almost camping on the back foot and attempting a cut. She missed it completely and saw her woodwork shattered.

ALSO READ: Playing in a bio-bubble does not affect my game: Katherine Brunt

Ecclestone's delight knew no bounds. But the secret to her success in the Women's T20 Challenge as it has been in the international circuit is knowing what works for her.

"(My plan was to) just keep it straight and keep it simple. Everyone knows that if there's a massive plan I get confused, so I keep it simple," she would say later in a chat with Harleen Deol and Rajeshwari Gayakwad on IPLT20.com.




I've had a couple of questions about my celebration 👀

This is the #BoltForPlanet ⚡ It's all about @hyloathletics' mission to use sport to inspire positive change for our 🌎

It was nice to be able to use it in today's game🥰#WomensT20Challenge @IPLpic.twitter.com/6tLdSltFaI


— Sophie Ecclestone (@Sophecc19) November 5, 2020



Ecclestone's fourth scalp was a tad easier, with Jahanara Alam not too accomplished a batter. She bowled it fuller around middle, which Alam tried to defend. But she did so expecting the ball to turn, despite most of them not spinning, and was trapped right in front.

After her eight-run first over, Ecclestone gave away just one more in the next 13 balls she bowled – 12 of which were with the fielding restrictions on. She finished with figures of 3.1-1-9-4.

Really a day to forget for Velocity – notwithstanding having to play two matches inside 18 hours in the hot conditions of the UAE, certainly one to remember for Excellent-stone. Or Economical-stone, perhaps.