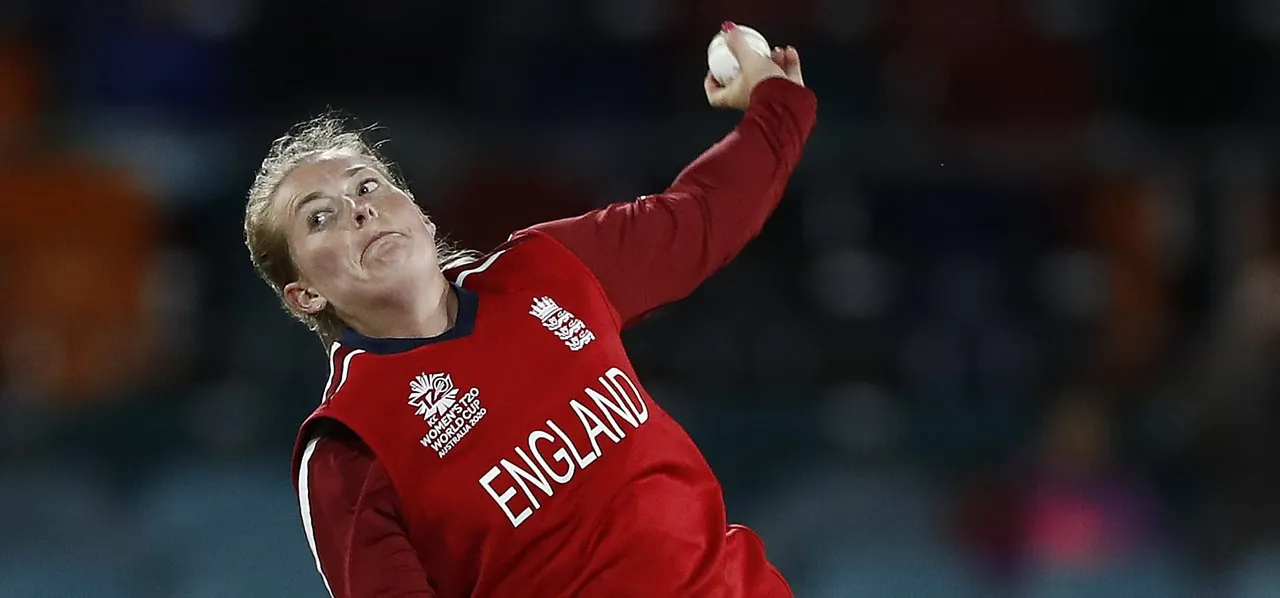 England bowler Sophie Ecclestone won the Women's Cricket Award at the annual Cricket Writers' Club Awards for her impressive performance during the 2020 season which saw her rise to number one in the International Cricket Council (ICC) T20I bowling rankings. The winners were announced on Tuesday (October 20).
The Cricket Writers' Club (CWC) is an association for cricket journalists established in 1947, after which the awards began in 1950. The CWC Women's Cricket Award is given to the player who made a significant impact in elite performance in the women's game, either during the year or over a longer period.
A panel consisting of Isabelle Westbury, Adam Collins, Vithushan Ehantharajah, Henry Moeran, Raf Nicholson and Ebony Rainford-Brent adjudged 21-year-old Ecclestone as the winner for the year 2020. Former England cricketer Beth Morgan was the recipient of the award in 2019.
ALSO READ: Sarah Bryce, Megan Belt dominate Kent Cricket Awards for 2020
Left-arm spinner Ecclestone rose to No.1 in the ICC bowling rankings after her outstanding performance over the last 12 months. She became the youngest player to take 50 wickets in the T20I format. She took 19 wickets at an average of 9.31 and an economy rate of 4.51 from 11 T20Is during the 2019-20 season. In the recently concluded T20I series again West Indies she continued her stellar run of form taking six wickets at an average of 16.16 from five matches.
"I'm really honoured to receive this award, given the girls who've won it before and hopefully there's more to come in the future," Ecclestone told the Cricket Writers Club via a video interview. She also thanked her father and brothers for their role in the development of her game from a young age.
"We're definitely not that far away. Last year against them (Australia), we were terrible in some ways, but now we are not far off," said Ecclestone while talking about the gap between Australia and the rest of the teams in the women's game.
"Ecclestone has had another outstanding 12 months in international cricket, most notably being instrumental in getting England to the T20 World Cup semi-final earlier this year," said Westbury, women's award panel convenor.
"Her eight wickets in the tournament were achieved at a staggering economy of just over three runs per over and an average of 6.12, when the next best average for anyone bowling more than 10 overs in the tournament exceeded 10."
ALSO READ: Sarah Glenn underlines allround credentials
CWC Chair Alison Mitchell congratulated Ecclestone and other winners and praised the England and Wales Cricket Board (ECB) for staging domestic and international cricket despite all the challenges that they faced due to the COVID-19 pandemic.
"I'd like to congratulate all of our 2020 winners – in a year in which we wondered whether we would see any summer cricket at all. Huge praise must go to Steve Elworthy, his team at the ECB, and the counties, for staging both domestic and international men's and women's matches in safe environments," said Mitchell.
"Naturally it is disappointing that we can't honour our winners at the usual CWC Lunch event this year, but we hope we can formally present the trophies at an event in the future."