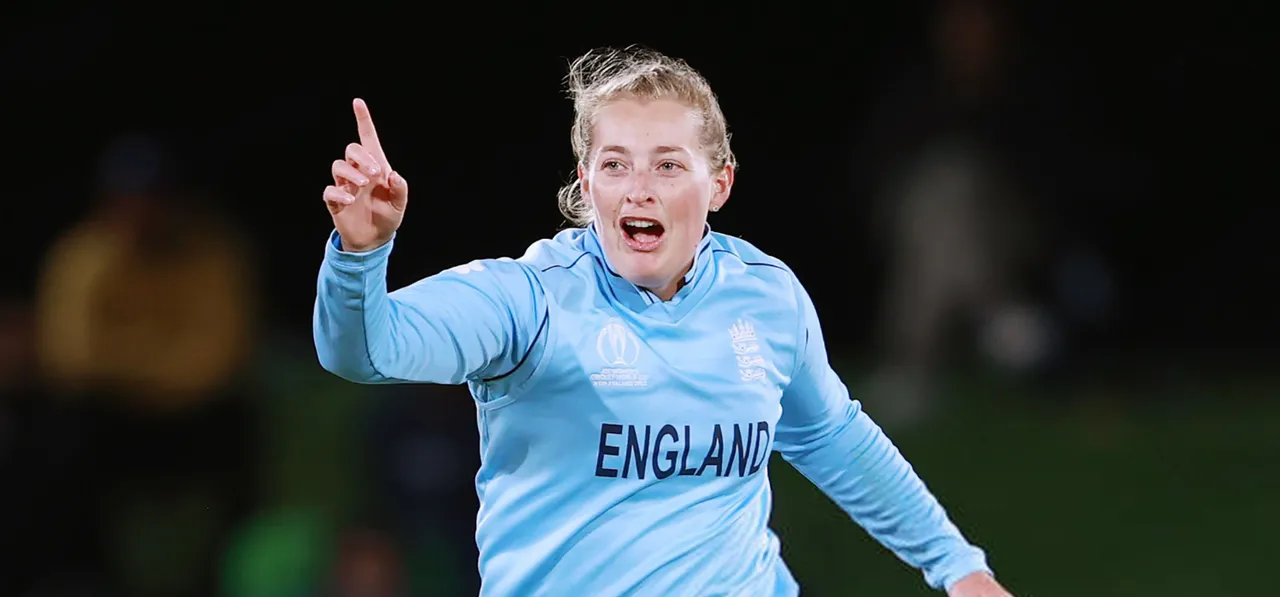 When Sophie Ecclestone was 
interviewed
 by 
Women's CricZone 
ahead of the 2022 World Cup, she was cognizant of the fact that she wasn't going to get enough turn from the surfaces in New Zealand. All she wanted was a bit of bounce. The 22-year-old left-arm orthodox spinner was fairly excited to feature in her first-ever 50 over World Cup. But little did she know about what was waiting for her in her first World Cup match.
Baptism of fire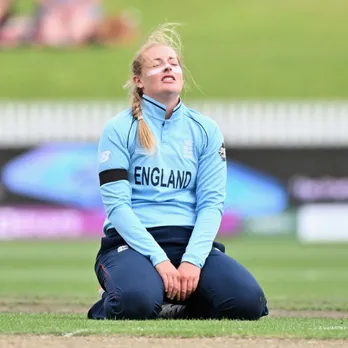 Sophie Ecclestone in despair © Getty Images
England played familiar foes Australia in their tournament opener and Ecclestone had a nightmarish game. She was taken for 77 runs in her ten overs. The game was so appalling for Ecclestone that she got hammered for 11 fours - the game would go on to be her worst in terms of the number of boundaries and runs conceded in the tournament. Also, she couldn't claim a single dismissal.
Even in the final, where Australia put on a humongous 356 on the board, she conceded only eight boundaries and most importantly ended Rachael Haynes' vigil at the crease. So, what went wrong for the then number two ranked ODI bowler in the world? Did she bowl as poorly as her numbers reflected? Not really.
By the time she came on to bowl in the 19th over, both Lanning and Haynes had already gotten their eyes in. Like a good finger spinner, she tried to put maximum revs (revolutions) on the ball to see whether the wicket had anything in it for her. But there wasn't.
She tried pitching her deliveries around the good length area and added enough flight. Both the Aussie batters played her carefully for a while. But as soon as they sensed that there were hardly any demons in the wicket, they used a tactical gambit.
They started using their feet to meet the balls on the full and pushed them in the gaps. Not for ones and twos but for boundaries. Their ploy helped them in negating any turn and helped Australia score at a healthy run rate. With a precision that would even make a surgeon envy, the duo threaded gaps and forced Ecclestone to move to her Plan - 'B'.
Ecclestone chose to pull her length back slightly to prevent the duo from meeting the ball on the full. But that was not all. She also flattened her trajectory and did away with attacking fields. But by doing so, she played into the hands of both the batters, who had already anticipated what was brewing. The moment she pulled her length back, they brought their backfoot game into play and made Ecclestone look like a novice.
Sitting deep in their crease, they employed the 'cut' to perfection and started scoring square of the wicket. Ecclestone, sensing the change in their gameplan, tried varying her pace but kept the length shorter. However, it hardly made any difference.
ALSO READ: Charlie Dean's stocks are rising fast and her best is yet to come 
When you are bowling to Lanning, who has arguably the best cut shot in the game, it's hard to win that battle. Lanning and Haynes were able to fathom the variations in pace and still score with ease and England's number one spinner had no answers.
The quick turnaround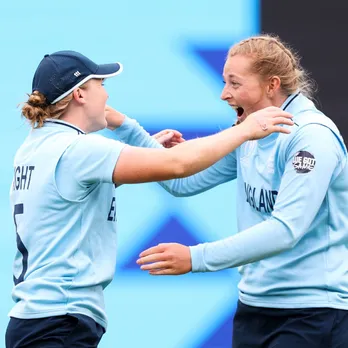 Sophie Ecclestone ecstatic after a dismissal © Getty Images
But there is a trait of champions. They learn from their mistakes and adapt, that too quickly. And so did Ecclestone. After the opening game, she made adjustments in her bowling to find success on the unresponsive wickets. And she got plenty of it.
She picked up two three-fers: against the West Indies in Dunedin and against the hosts in Auckland, on wickets that did not have much in them for spinners. But it was her spell against Pakistan at the Hagley Oval in Christchurch that gave us a glimpse of her virtuosity. On a wicket that was so damp that it required the ground staff to put sawdust on it every time a seamer landed in her follow through, England seamers made early inroads and made life miserable for Pakistan batters.
When Ecclestone was introduced in the attack in the 25th over, half the Pakistan unit was already back in the dressing room. Former England captain Nasser Hussain, who was on air at that time, said, "Don't know how much spin she'll get from the surface, we shall see. Sometimes it can spin off the damp and off the softness."
In search of some purchase off the wicket, Ecclestone flighted her deliveries to both Aliya Riaz and Sidra Nawaz and gave plenty of revs on the ball.
But there was hardly any turn on the surface as both Riaz and Nawaz were able to negotiate her first over unscathed. As soon as she delivered her final ball of her first over Hussain said, "Not a lot of spin there."
More of the same in the second over. Tried putting in as many revs as possible on the ball to extract some turn from the surface but couldn't get much.
ALSO READ: Sophie Ecclestone's mantra - Keep it simple, silly!
When Aliya was dismissed while playing a sweep shot to Heather Knight and Fatima Sana had come in, any other bowler would have varied her game plan because of the lack of turn available on the wicket but not Ecclestone.
She kept flighting the ball because she knew that with Sana, an over-ambitious shot was around the corner. And that's what happened. In an attempt to break the shackles, Sana tried a slog sweep. But was she trying to go after every ball since her arrival at the crease? NO.
The reason she was tempted to go after the third ball of the 38th over is because Ecclestone flighted it even further and forced Sana to play such a stroke. But Ecclestone was able to get enough dip on the ball, which deceived Sana, as she ended up bottom edging it to the wicketkeeper Amy Jones. Because of the dip, the delivery died on Sana at the last moment and outdid her.
Her dismissal brought Aiman Anwar to the crease and then there was another event that unfolded on the fourth delivery of the 40th over. Having tried to get some drift and turn it away from the right-handers and not succeeding at the same, Ecclestone pulled out another trick from her armory.
After the realisation that there was hardly any turn despite putting enough side-spin on the ball, she flighted the ball with enough over-spin on it. The ball pitched around the short of good length area, wide enough to entice Anwar to have a prod at it.
Anwar, who was looking to thread the gap between point and short-third fell for the bait and the ball bounced a lot more than what she anticipated and kissed the outside half of her bat into the gloves of Amy Jones.
But it wasn't the end of Ecclestone's brilliance for the day. The best of her proficiency was yet to come. With Pakistan tottering at 105 for nine, she came into bowl the 42nd over. With Diana Baig on strike, Ecclestone flighted the first ball and Baig advanced down the track in an attempt to launch her down the ground but got cramped for room and ended up hitting it straight to short mid-wicket.
Having sensed Baig's intentions, Ecclestone flattened her trajectory on the next ball and restricted Baig from going big, and forced her to play from the crease.
To most spectators, the second delivery was as mundane as it could possibly get. But little did they know that it was an integral part of what was going to follow.
ALSO READ: Spectacular Shrubsole: Best bowling displays from a career full of hits
The second delivery planted the thought in Baig's mind that it could be a potential risk going down the track to Ecclestone as she showed she can change the trajectory even at the last moment. The third delivery turned out to be an arm-ball, a well-disguised one at that. It followed the trajectory of her arm and was so well executed that it yorked Baig and cannoned into her stumps.
But what was so special about it? You can argue and say that Baig is a bowler and is hardly known for her batting prowess. And that's where you need to take notice of everything that Ecclestone did within the span of those three balls.
She bowled three different kinds of deliveries in terms of flight, trajectory, and drift but from exactly the same part of the bowling crease. Due to which she hardly gave any cues to Baig, and in all fairness to Baig, the whole setup could have undone even a frontline batter on a given day.
The whole spectacle was so amazing and Ecclestone's wizardry and sorcery of spin bowling was so captivating that even Ian Smith, who was commentating at that moment, said, "Never a better example of how clever Ecclestone is and there's almost a smile on the Coach's face (When the camera panned towards Lisa Keightley) as Pakistan are sent packing for just 105 in just 41.3 overs."