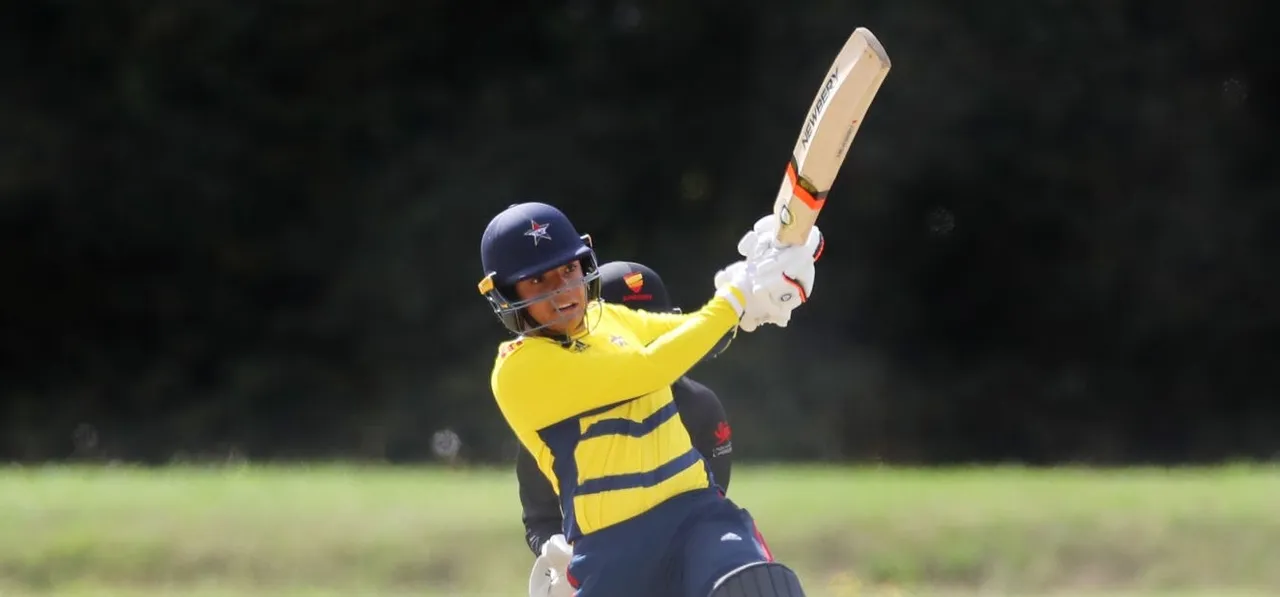 Batting in the middle order has afforded Sophia Dunkley limited opportunities to make her mark for England in T20I cricket. She has batted only seven times in 15 matches, scoring 78 runs. But the promising batting allrounder believes that international selection is "a marathon not a sprint".

Dunkley, one of the players benefiting from England's new professional domestic set-up, is eagerly looking forward to her season with the South East Stars. Talking to Women's CricZone this week she said the security of that professional contract has allowed her to relax and enjoy her time in an England shirt.

"It definitely takes a lot of pressure off and gives a different and new opportunity," Dunkley said of the new structure.

The right-hand batter echoed the recent thoughts of her South East Stars skipper Natasha Farrant, admitting that domestic contracts have reduced pressure on England's fringe players who previously had no other options to play high-quality cricket.

"It's absolutely brilliant. I can't really explain how much it's going to do for women's game, but when you get recalled to England, you know that you've got that structure underneath you to support you," Farrant told this publication.

"For me, I've been training with the Stars throughout the winter. I wasn't really expecting to go to New Zealand. And then when I did, it was brilliant. I was so excited."

"It was like a bonus because I was loving the stuff with the Stars as well. It just creates that bit of security around your job, but also the structure underneath."

ALSO READ: I'm a lot clearer about my game, less concerned about my failures: Fran Wilson

In September 2020, close to 18-months since her last England appearance, head coach Lisa Keightley handed Dunkley an opportunity during the home series against West Indies, before playing her in all three T20Is in New Zealand in March 2021.

With such a strong England top five, Keightley backed Dunkley's ability to force the pace in the finisher's role at No.6. In Wellington though, having been sent in as high as No.4, she showed her ability to bat in pressure situations too, helping England rebuild after they had lost early wickets.

"I took a lot from the tour," Dunkley said. "I was able to go out and enjoy playing in New Zealand, being on the pitch with the girls and not have too much else on my mind about the future. Because I know that, either way, there's going to be good quality cricket and training wherever you go."


Sophia Dunkley heaves the ball through the off-side. © Getty Images
"Looking forward to the summer, there's a lot of international cricket. But you know that if you don't make those squads, there's the Rachael Heyhoe Flint Trophy, there's a regional T20 trophy to come back to and play a big role in, which is going to be a really good standard. And, you'll be playing with a really good team as well. So, I think it definitely takes a lot of pressure off and gives a different and new opportunity which I'm looking forward to this summer."
When she first earned her call-up in 2018, Dunkley, then aged 20, was one of three uncapped players picked in England's squad for the ICC World T20 in the West Indies. It was just reward for an impressive full season with Surrey Stars in the Women's Cricket Super League. In only her third international, she betrayed few nerves while digging England out of the mire at 50 for 6 against the hosts at Gros Islet. Her impressive 35 from 30 deliveries saw her top score and allowed England to reach a somewhat respectable total of 115 for 8.
It was enough to earn her a place on the tours to India and Sri Lanka that followed, but she was omitted from England's squad for the Ashes in 2019.
ALSO READ: Natasha Farrant to lead South East Stars in 2021 RHF trophy
On
taking over as head coach
, Keightley was keen to get a
closer look
at Dunkley and included her in the wider
England training bubble
last summer. She then came into the side for the final two T20Is against West Indies at Derby, replacing Fran Wilson at No.6. However, the strength of England's batting means there is a tough challenge for places behind that top five, with the experienced Wilson and Lauren Winfield-Hill also in the mix – something the 22-year-old is very aware of.
"The batting line-up with England at the minute is full of world class players," said Dunkley. "So, it's a very hard line-up to get into. I think for me, I'm trying to think of it as like a marathon, not a sprint."
"I'm fully confident in my ability and if I do well, hopefully I get an opportunity. If not, then I'll try my best to get back in. But it's not the be-all and end-all just now."
In her limited opportunities, Dunkley has shown the ability to raise her game under pressure. © ICC
"I'll do everything I can to really break into that squad and try and put myself in a set position. In the meantime, I'll try and win a few games with the Stars and just enjoy my cricket and not have too much of it on my mind."
Due to England commitments, Dunkley only featured in Stars' opening two fixtures last summer. In that brief stint though, she made a telling contribution, scoring
97 against Sunrisers
to secure the first of only two Stars victories all tournament.
ALSO READ: Indrani Roy's journey to the top
This season has started well too, with runs in warm-up games for England A against the full England side and an unbeaten century for the Stars against England A. Such performances send a clear message that she has the game for the longer format too. Indeed, Dunkley harbours hopes of breaking into England's ODI side as well, although she stresses that, for now, she remains focussed on playing well in one-day cricket for South East Stars.
"I feel good at the moment and feel clear on what I want to do. I would love to break into the ODI squad at some point in the near future. But for me, it's just taking each game as it comes and just trying to win each game for the Stars and not thinking too much about the future and England selection. Just try and focus on the here and now and get a few games, a few wins, under the belt for the Stars and get off to a good start. That will be key for me to be successful this year."
"And enjoy playing with the girls. They've had a really good winter and it's been really fun to come back and join in. I'm sure the next few weeks we're also going have a lot of laughs and a lot of fun on the pitch too."
If Dunkley's recent form is anything to go by, the summer of 2021 may be her most prolific yet – one that could potentially put her in contention for the 50-over World Cup next year. But with England's batting riches at the moment, she insists she is not looking too far ahead…
It's a marathon, not a sprint, remember!