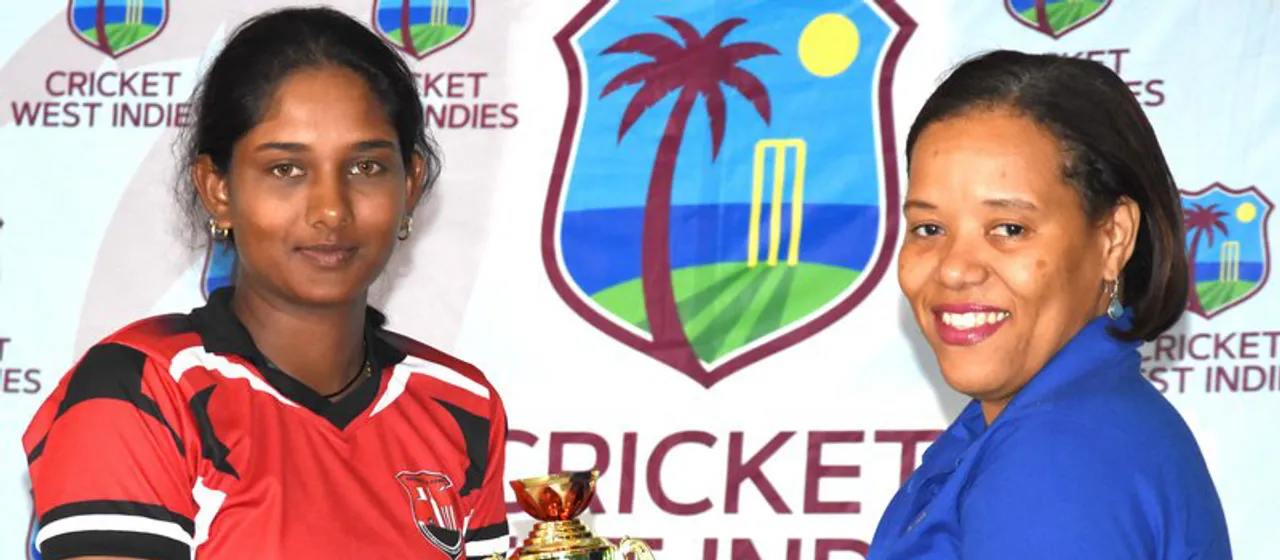 When West Indies were struggling to get a win under their belt after their opening game against Thailand in the recently concluded T20 World Cup, Karishma Ramharack was watching it on TV back home in Trinidad, cheering for her team. In hindsight, she might have preferred to be with the team in Australia.

"As a cricketer, one of my dreams is to feature in a World tournament and have an impact in it," she tells Women's CricZone.

Ramharack was a part of the 21-member squad in the pre-World Cup preparatory camp at Antigua. However, she missed out on the 15-member squad that flew to Australia. 

Back then, little did she know that, six months later, she would be on a plane to England as a part of the West Indies team for a five-match T20I series that will mark the return of international cricket among full-time members. 

The 23-year-old off-spinner did not spend too much time brooding over the non-selection for the World Cup. "As I got back home from the camp, I started training," she says. She began working on the advice that she had received during the preparatory camp. Such has been her attitude towards the sport right from day one.

Hailing from El Dorado - not the lost city of gold, but a small locality in Trinidad and Tobago (T&T) - Ramharack started by playing soft-ball cricket on the streets and in the garage. "At the age of five, I represented my primary school's senior team as I used to play when the boys were playing in school."

She credits her family, who played a pivotal role in her taking up the sport. Primarily, it was her uncle Krishna Deederan, who used to take her to the training sessions day-in and day-out so that she could train properly.

"What I've achieved so far is based on the support I've received from my family," she says, adding that without her parents and uncle's support, she would never have played for T&T, let alone West Indies.

ALSO READ: England, West Indies players to sport Black Lives Matter logo, says Heather Knight

At 15, Ramharack trialled for the Under-19 nationals. However, she made the team only four years later. Soon, she was playing for the T&T senior team, and has since made a permanent place in the squad thanks to her incredible performances that made people sit up and take note.

While people might remember Stuart Broad's epic spell of 8 for 15 when he ran through the Australian men's batting line-up at Trent Bridge in 2015, not many know that on the same day, Ramharack took 8 for 23 against the Southern Windward Islands in the 2015 Regional Women's Super50 tournament. It is one of her biggest accomplishments so far.

Merissa Aguilleira, the then West Indies captain, who was also her skipper at Red Force Divas, spoke highly of her. "For the entire camp, I kept talking about Karishma because I know what she can give," Aguilleria said after the match. The veteran wicket-keeper said that she was expecting big things from Ramharack.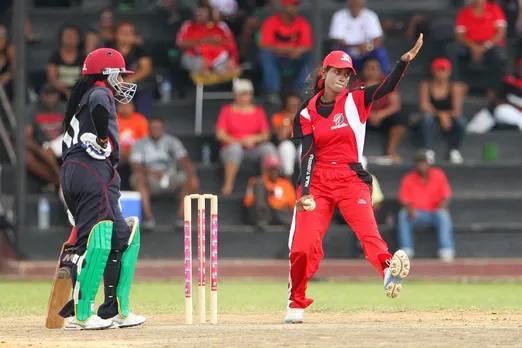 Karishma Ramharack in action. © Windies Cricket/ Facebook
The off-spinner, however, feels that it was one of those relaxed spells where everything fell in place.
"You know, for anyone, getting eight wickets in the shorter formats is quite rewarding as a bowler," explains Ramharack. "I just stuck to the basics, which was working for me during my practice matches, and with the help of Merissa's field adjustments, wickets kept coming."
From then on, there was no looking back. A twin victory for Trinidad in both formats in 2016, was followed by another 50-over triumph in 2017. Ramharack had an indispensable role to play, especially, in the successful campaign of  Red Force Divas in 2017. She bagged eleven wickets in six matches, including a crucial 3 for 10 in a low-scoring thriller against Jamaica. 
ALSO READ: Fran Wilson: I'm a lot clearer about my game, less concerned about my failure
She remembers that match vividly and believes that, despite the ups and downs, her time with T&T has only helped her progress.
"A finals victory is always the sweetest feeling, especially, when your performance makes a difference," she says. "The T&T team has been a roller coaster journey for me. I've had some minor injuries a couple of times, which have played a part in some of my performances, but those have only given me the strength to go on for another year."
Consistent performances in the next two years saw Ramharack make her international debut in the third T20I against Pakistan in Karachi in February 2019. She outfoxed a well-set Omaima Sohail with her second delivery. In the next over, she dismissed Iram Javed and finished with returns of 2 for 20, including a maiden over. A week later, she made her ODI debut in Dubai against the same opponents.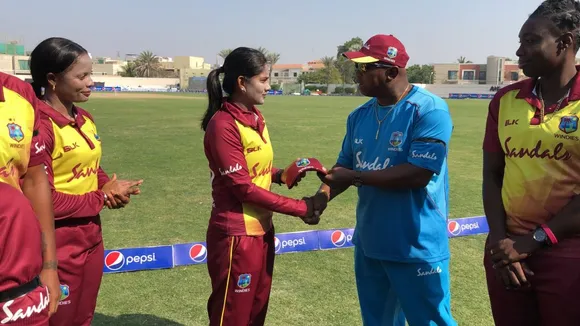 Karishma Ramharack receives her T20I cap. © Windies Cricket/ Facebook
"That was probably the proudest moment of my life thus far," she says, recalling the day she wore the majestic maroon for the first time. "You know, representing an entire nation under these colours is such an amazing feeling. I just wanted to get out on the field and take wickets for the team!"
Throughout her domestic career, Ramharack has played alongside the veteran off-spinner Anisa Mohammed at Trinidad. Even on her T20I debut, she was the second spinner in the team as an understudy to Mohammed. In fact, she was selected as a replacement for allrounder Hayley Matthews, who got injured before the series in Pakistan. Nonetheless, it has not affected the way Ramharack plays the sport. If anything, the rookie off-spinner has made the most of her time with the veteran offie in Trinidad.
"Anisa is quite a welcoming person. I was very lucky to have her at (the) start of my career as she would always give her opinions and suggestions where necessary," she says. Emphasising that the duo shared a good relationship, Ramharack said that irrespective of who does better, their priority was to win matches for the team.
One of the fascinating traits of Ramharack is her understanding of playing different formats. There is a stark difference between her List-A record, and that of her T20 career. She averages 30.54 and operates at 6.28 runs per over in the shortest format, which is significantly higher than her List-A numbers.
"T20 has always been a fast-paced game," she says. Nevertheless, Karishma is quite clear that her role in different formats changes, and it could be the reason for the contrast in her stats. In T20s, she continues, "there are no room for much mistakes, else you get punished. Therefore, (in) T20s, you always got to be on top of your game, especially, bowling in the power play and death overs."
For her, it is more about the execution than the result. "Sometimes your plans work, sometimes they don't, and that's just how the game is," she says. The 25-year-old said that off late, she has worked more on her T20 bowling, and soon, they might come into play.
In the absence of Mohammed, the young off-spinner from Trinidad has yet another chance to show what she is capable of with the ball during the upcoming series against England. It could be the beginning of a new chapter for Ramharack that would let her pursue her dream of winning a World Cup.
As she says, by the time the next tournament happens, she could be much more prepared to be a valuable asset for the team.
https://open.spotify.com/episode/1F2gXFppJQGyM0JCxJGJQe