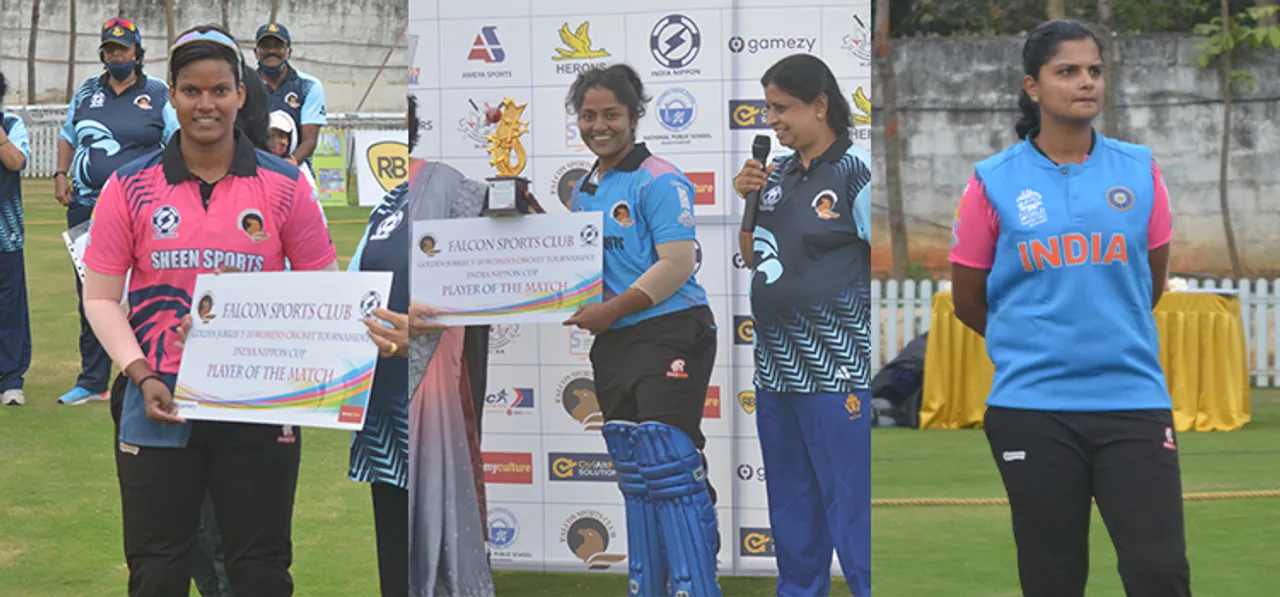 A half century, a couple of scores in the 40s, a couple of three-fers and numerous run outs were on show on the fifth day of the Falcon Sports Club Golden Jubilee T20 Tournament on Saturday (January 9) at the Samprasiddhi Sports Estadio in Bengaluru. The day saw Sheen Sports and Herons Sports turn up victorious, which meant that the gap between KiNi RR Sorts and Herons Sports in the points table has narrowed.
As many as nine run outs were witnessed in the day, with two in the first match and the rest in the second.
It was up to the experienced Deepti Sharma to take Sheen to a respectable total, after the early fall of the first two wickets, including that of Jemimah Rodrigues (seven). Walking in at two for 39, she played herself in, rotating the strike smartly. She added a couple of partnerships in the twenties – first with K Prathyoosha (20) and then with
captain Rakshitha Krishnappa
(12).
Sharma also regularly found the fence, hitting five fours and a couple of sixes during her 38-ball stay. She saw off economical spells of Pranavi (one for 17), Anuja Patil (one for 22) and Pooja Kumari (one for 15) en route to an unconquered 48. That effort meant Sheen finished with five for 114. Krishnappa and Niranjana Nagarajan (four) were the players run out in the innings.
Ameya Sports' reply was never on track as they kept losing wickets at regular intervals. Nagarajan and Krishnappa shared the majority of the spoils – sharing six wickets between them – with
">Nagarajan being at her stingy best
, finishing with three wickets for just five runs in her four overs. Ameya were kept to 87 for nine in their 20 overs, with Nikki Prasad's 32-run knock being the only one of note.
ALSO READ: Rakshitha Krishnappa – the serene leader who flies under the radar
In the second contest, it was yet again Divya Gnanananda, who was at the fore of Herons' successful run-chase, finishing unbeaten on 52. Her team was chasing a target of 93 but proceeded to lose a cluster of wickets because of the misadventure of Herons' middle-order. They ended up losing six wickets, including two run outs, after Divya added 54 for the opening wicket with Shubha Satish.
Asha Joy was the pick of the bowlers in the clash as her two for 12 troubled KiNi Sports as much as their five run outs did. Punam Raut made a painstaking 45 but eventually perished in a bid to take the side to some respectability.
With a last round of league games to be played on Sunday, all eyes will be on KiNi and Herons, with both teams tied on 12 games after five games. Sheen are at the top with 15 points.
Brief Scores:Sheen Sports
114/5 in 20 overs (Deepti Sharma 48) beat
Ameya Sports
87/9 in 20 overs (Nikki Prasad 32; Niranjana Nagarajan 3/5, Rakshitha Krishnappa 3/25) by 27 runs.
KiNi RR Sports
92/10 in 20 overs (Punam Raut 45; Asha Joy 2/12) lost to
Herons Sports
96/6 in 18.1 overs (Divya Gnanananda 52*) by 4 wickets.