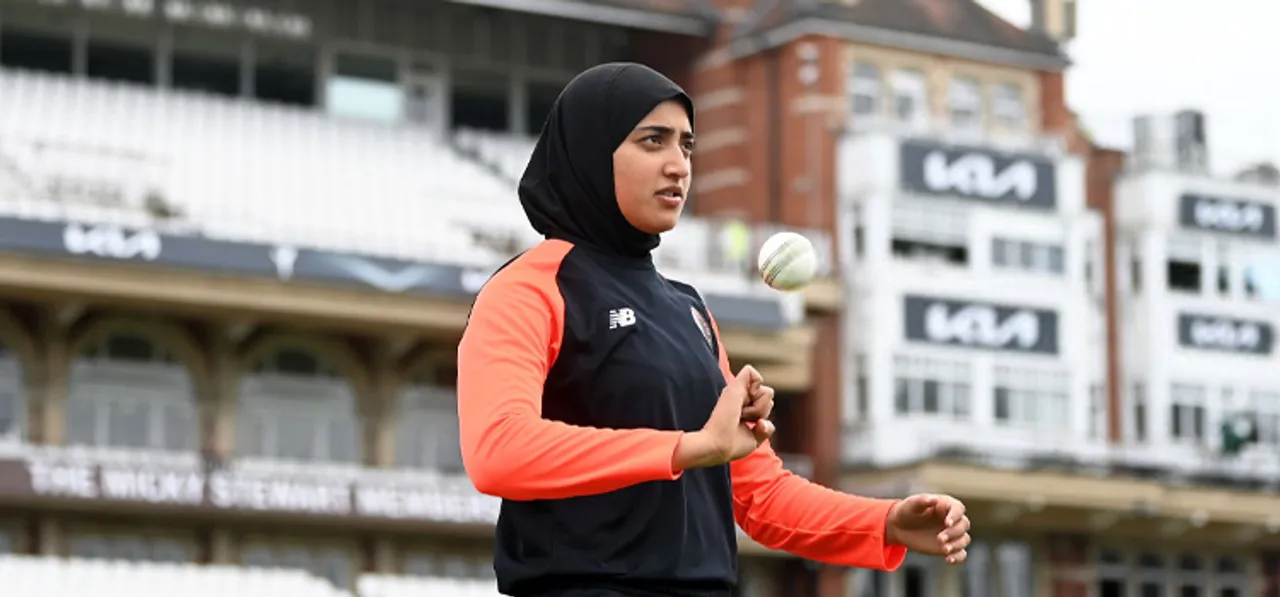 Irrespective of how many seasons The Hundred lasts, July 21, 2021,
will go down as
a significant date in the history of the tournament. A couple of days later, on July 23, Birmingham Phoenix took on London Spirit at Edgbaston. Scotland spinner Abtaha Maqsood made her debut for Phoenix. It was not a fairy tale start as she got to bowl only five balls or 'one set', but it became a day that she would not forget soon for non-cricketing reasons.
Born in a Pakistani family who later moved to Scotland, Maqsood started playing club cricket when she was 11. Her religious beliefs meant, the leg-spinner has played cricket wearing a hijab from the very start. It wasn't something she thought about. It was just who she was. But when she took the field for Phoenix that Friday, something had changed.
Soon after her first match of The Hundred, short video clips of Maqsood bowling in a hijab for the Phoenix set social media abuzz. The 22-year-old was taken aback by the reactions and messages that came through online.
"I didn't expect it at all. Obviously, I have received so much support from my family, friends and cricketing community in Scotland. But, you know, cricket lovers from all over the world have really pulled through, and that is, honestly, amazing," Masqood tells
Women's Criczone.
ALSO READ: Jemimah Rodrigues is a weapon: Laura Kimmince
The comments did come with their share of negativity, but Maqsood felt that most of them were positive, adding that she was overwhelmed by the support she received. The Hundred is the first high-profile tournament that
Maqsood has participated in
. After the video went viral on social media, Maqsood opened up about her journey to the world stage.
"I think representation matters so much. When I was growing up, I never really had a role model to look up to who looked exactly like me," she told on
">

Sky Cricket
about what it means to be a hijab-wearing female cricketer playing at the highest level. Since that interview, she has spoken extensively about it on various platforms. Maqsood believes that the conversation has to be kept alive by the cricketing fraternity until it is normalised. 
"It's quite important to keep talking about it and keep raising awareness. Show people that you can practise your faith and be a big cricketer if you wanted to. Because, that is something that is really important to me. I really believe that we need to keep talking about it as much as possible. I really hope that people see me, and hopefully, get inspired by it."
Known as a
'
">

wicket thief'
amongst teammates, Maqsood had her moments in The Hundred, especially stealing wickets at the non-striker's end. Earlier in the tournament, Masood deflected the ball onto the stumps, trying to field off her bowling. Twice, she managed to run out the set batter at the non-striker's end. "Obviously, both of those run-outs were definitely not a fluke. But yeah, I don't know how that's happened. It's been quite lucky for me in the past games I have got that," she smiled.
When asked if she would run out the non-striker, who is trying to leave the crease before the bowler released the ball, Maqsood said that she had not done so yet, and would warn the batter before running them out.
In seven games so far, she has managed to take only three wickets with a few drop-catches and DRS reviews not going her way. However, the leg-spinner is delighted to have taken part in the first season of The Hundred.
"It has been amazing. It is quite difficult to put to words how big this (opportunity) has been for me. I didn't realise how big this was until I got here, loving every second of it. Just playing with and against some of the best cricketers in the world is amazing. I am learning so much."
ALSO READ: As long as the conversation keeps going, that's all you can ask for: Katherine Brunt weighs in on the Hundred pay gap
Maqsood is one of the three Scotland stars to feature in The Hundred, alongside Kathryn Bryce and Sarah Bryce.
While she admits it would be a dream to follow their footsteps and become a professional cricketer, the 22-year-old is clear that she is not keen to leave Scotland.
"I would love to be paid to play cricket. That is like a dream come true. I have never really had that in Scotland, so doing that would be amazing. But my heart is with Scotland, so first and foremost, I want to make sure that Cricket Scotland is growing as much as possible. If that means I play most of my cricket in Scotland, then so be it. It's early days right now. I'm just trying to live in the moment and enjoy The Hundred."
Scotland's next international assignment is the ICC 2021 T20 World Cup European Qualifiers. They lost their previous four-match T20I series against Ireland 1-3 in May. Going into the global event, Maqsood is confident that the experience of playing in the high-pressure games in The Hundred will be helpful for her and the Bryce sisters.
"Hopefully, I can take the learnings back to Scotland. I'm sure Kathryn and Sarah are also learning a lot. Us three being in this tournament is a huge thing for Scotland, and hopefully, it leads to a good performance in the Europe qualifiers."
A Royal Challengers Bangalore fan herself, Maqsood said that she would be thrilled to play for any team if a prospective full-fledged Women's Indian Premier League (WIPL) were to happen. Her only wish was to be in the same franchise as her Phoenix teammate Shafali Verma.
"I don't really mind; any team would be amazing, to be honest. That would be another amazing experience. Whichever one Shafali (Verma) is playing for, I guess."
Maqsood also feels the role of franchise-based tournaments like The Hundred and the WIPL could play a crucial role in taking the sport to the audience and making it more inclusive. "I think there is a lot of diversity in cricket, in particular women's cricket. We are doing a good job with that," she said.
"I think where we can do better is to continue doing what we are doing. Keep showing women's cricket in this sort of light like The Hundred has been. Then hopefully, that inspires a whole lot of people because the way this is going shows that it is definitely inspiring people. We need to keep doing this, in particular with franchise cricket as well. Maybe get the IPL going. The Big Bash is going pretty well. So, really showcasing women's cricket at a high level is what we need to do better."
Cricket started as a colonial imperialist sport, and its history is political and problematic. However, over centuries, the sport has continued to reinvent itself because of the athletes who stood up for inclusivity and ensured that the game continues to evolve and get better for the next generation. For this generation, Maqsood is one such athlete and there is little doubt that cricket is a better game because of her.