Amy Jones was struggling, really struggling, while opening the innings. The job was not new for the right-handed England batter, who had donned the opener's role in the past. But things had gone downhill for her in 2020 until their 46-run win over West Indies in the ongoing T20 World Cup when she came down the order and played a brilliant unbeaten knock of 23 off just 13 balls to give England the impetus towards the end helping them to the semifinals.
England have been experimenting with Tammy Beaumont, traditionally a top-order batter, in the middle-order through the T20 tri-series featuring Australia and India in the lead-up to the T20 World Cup and even when the tournament began. But with Jones managing scores of 23, 0 and 2 as an opener in the first three fixtures, Beaumont was sent out to open with Danielle Wyatt against Windies. Although Beaumont failed, scoring a duck, the change clicked for England as Jones' cameo helped England get close to the 150-run mark.
"Amy's had a few low scores and we felt like we wanted to change something," England captain Heather Knight said after the win. "In tournament cricket, you have to react quite quickly and I think Amy showed amazing character to come out like that and play how she did today (March 1). She's still a very important player for us. Obviously it didn't come off with Tammy but that was the order we wanted to go with."
ALSO READ: Open and score -- Amy Jones in her familiar territory
It is not that Jones wasn't successful opening the innings. In 49 T20Is she has played for England, Jones opened 12 times and has scored most (274) of her career runs at that position, including her career-best 89 that came against Pakistan in Malaysia last year. But there was something that wasn't clicking for the 26-year-old – she struggled against the fuller deliveries.
While her dismissal against South Africa was a miscued shot off the back-foot, against Thailand and Pakistan, Jones was done in by fuller deliveries, which, kind of, created a pressure on the batters to come. However, against West Indies, Jones was in a different zone. Freed of the pressure of taking early strike, Jones hit three quick boundaries in her short stay that helped England gather as many as 48 runs in the final five overs.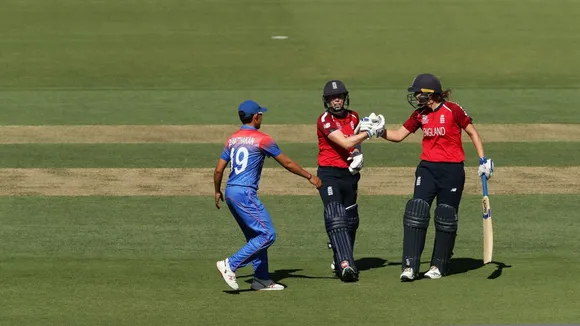 However, not all would have been hunky-dory for England had it not been for Heather Knight and Natalie Sciver, as they almost always lifted England every time the openers faltered. For the record, the Knight-Sciver duo has recorded 346 runs in partnerships in 2020 with the best of an unconquered 169 coming against Thailand in their second game. Meanwhile, Knight's experiment with Beaumont and Lauren Winfield down the order also failed.
Batting at No.6, Beaumont's scores this year read 37, DNB, 3, 6, 9, DNB, 6 while that of Winfield at No.7 are 8*, DNB, 2*, 23, 1, DNB, 4*. It clearly shows that the pair didn't really have much time to revel in the finisher's role.
Winfield eventually was dropped against West Indies, making way for spinner Mady Villiers and England are expected to go with the winning combination against India at the Sydney Cricket Ground, giving another chance to Beaumont at the top. She also has scored as many as 763 runs in 29 T20Is as an opener and according to former England captain Nasser Hussain, playing Beaumont and Winfield down the order was a complete waste.
ALSO READ: Heather Knight and her love affair with Manuka Oval
"There's nothing wrong in both Tammy Beaumont and Winfield playing, but having them at six and seven — and they have been as low as seven and eight when Katherine Brunt has been promoted in the line-up — is a waste because they can only face a handful of deliveries there, whereas an extra bowler can have four overs if required," Hussain wrote in his column for Sportsmail.
"It made more sense to promote Beaumont to opener, even though she didn't come off in the last game, and move Amy Jones to the middle order, where she looked far more fluent against West Indies," he added.
That begs the question - is No.6 the right position for Jones? Can she play the same sort of innings against India in the semifinals like she did versus the Caribbean side?
Over to the SCG for an answer!
Nasser Hussain's tips
A member of England's 1992 World Cup final, Hussain also has some words of advice for the English girls before going against India. He said, "If that pitch is slow and low, it will suit India, particularly Poonam Yadav, who bowls lobs with lots of variation that are difficult to pick and get away. England need to go right back in their crease to play her rather than charge at the ball."