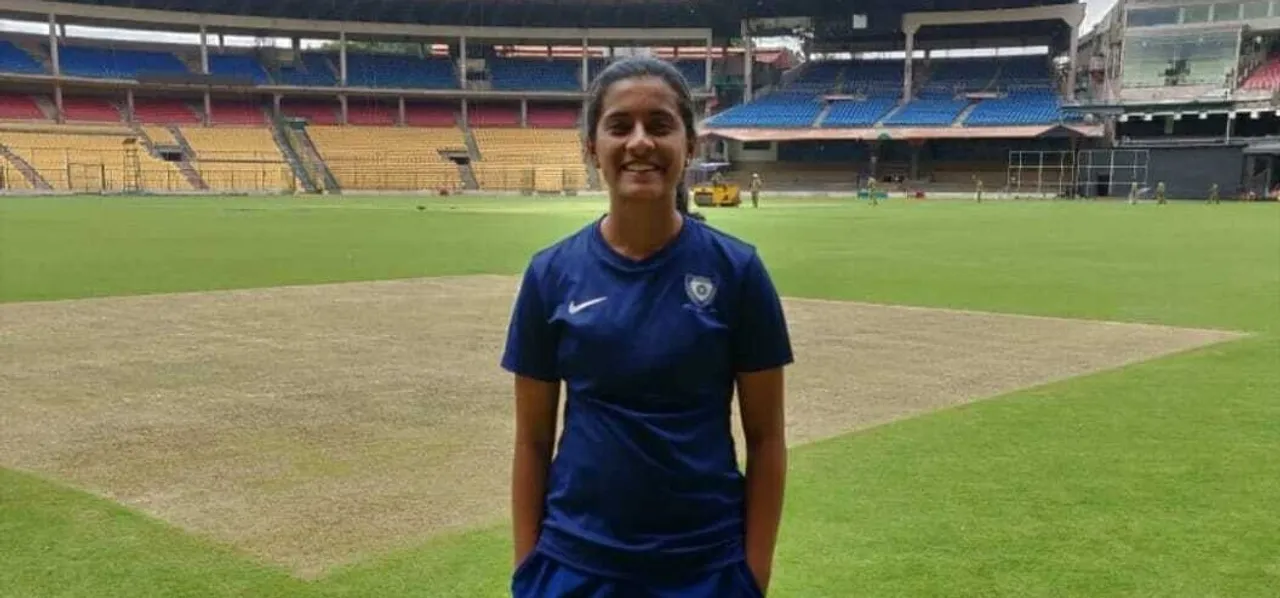 For a player in her teens, still trying to make a mark at the domestic level, inclusion in a squad consisting of several international stars can easily come as a shock. The case was similar for 16-year-old Murali Anagha after she found herself in one of the squads for the Women's T20 Challenge alongside the legendary Mithali Raj. The left-arm spinner from Karnataka, who was
named in the Velocity squad
captained by Raj, is one of the youngest to be selected for the three-team event that is due to begin on November 4.
"I was a little shocked when I got to know about my selection," Anagha told
Women's CricZone
from Dubai. "But later after the news came out that I am there in the team, I was really happy and excited."
"It's definitely a dream come true for me to be
at 16. I am very happy and excited to be a part of it. Eager to get out now," she said, unable to contain the smile on her face.

Things have progressed pretty quickly for Anagha, who took up the sport only five years ago, and her selection is no short of a fairytale so early in her career.

ALSO READ: Lessons from Leigh & Luus: Sushree Dibyadarshini gears up for Women's T20 Challenge

"I am excited to play among all these senior players like Mithali Raj and others. I wanted to learn as much as possible seeing them, being around them."

Having started off as a swimmer and a lawn tennis player, cricket became Anagha's focus after a friend of her father advised her to get enrolled in a proper cricket academy. She joined the Herons Cricket Club under the guidance of K Muralidhara, and just a few weeks into formal coaching, Anagha was among those selected for the Karnataka Under-16 side.

"I kept practising for some time. The coach there then told me about what women's cricket is, who all play, or how it is played. He told me that, 'the state selections are coming up, just go and give it a try. You are a good player'," recalled Anagha.

"I went there, bowled well and was eventually selected. That was my first year (2015-16) on the state team. That's how I got noticed and then next year I played for Karnataka Under-19 and the following year for the Under-23 side. That's how it's all started."

ALSO READ: Women's T20 Challenge: Know your coaches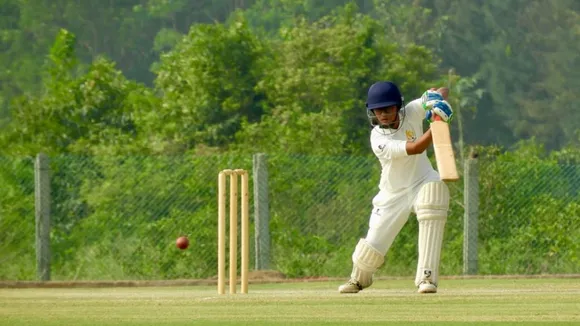 Murali Anagha plays a shot during a state league game. © Special Arrangement

Anagha, a huge admirer of Ravindra Jadeja, was in the spotlight when she played in the Karnataka Premier League (KPL) women's exhibition matches. She was even selected in the senior team probables before bagging the best bowler prize in the Under-16 and Under-19 category during the Karnataka State Cricket Association award function last year.

Asked why she chose cricket over swimming and tennis, she said, "I actually used to play gully cricket when I was young. I generally liked the game but I didn't know about women's cricket. When my father's friend told me about it, I was very interested in joining cricket since I used to play a lot on the road. So I thought why not give it a try."

Anagha's story may have a similar silver lining to that of Shafali Verma as last year. The Haryana opener's heroics in the 2019 edition of the tournament earned her gateway to the senior Indian team. While Shafali used her bat to do the talking, Anagha needs to spin a web around the opposition.

Luckily for her, she can call upon the experience of one of India's most successful left-arm spinners, a certain Ekta Bisht. "Since I am a left-arm spinner, I have asked Ekta di a lot of questions. She was very generous to help. She told me, 'ye karna hai, wo karna hai (you have to do this, you have to do that)'. She was like, 'you don't have to worry. I will tell you, you don't have to worry much'," she smiled.

ALSO READ: Refreshed & rejuvenated Harmanpreet Kaur excited to return to rewarding routine

With the slow bowlers experiencing a lot of success in the ongoing men's Indian Premier League, Anagha had already started her homework even before taking her first big flight to Dubai. "I have been working on some of the variations and things which I usually do. Since the slow bowlers are getting a lot of wickets, I mainly focused on the right lengths so that I can beat the batters."

So keen is the youngster to improve her skills, that she even built a net at her house where she used to sharpen her bowling skills through the lockdown. She also attended online classes that helped her train properly through that period.

"Definitely, at some point during the lockdown, I did feel when will cricket start? What am I gonna do? I was bored staying in the house," she said. "But then again I told myself, 'Okay, this time is also going to pass. Soon the cricket tournaments are going to start. So you have to keep yourself fit and keep practicing so that you are ready when the tournament comes'. I told these to myself and kept practicing," she added.

While it is still unsure whether Anagha will get a game in Sharjah, she has set her goals already.

"Since this is my first big tournament, I just want to make sure that if I get a chance, I do well in my bowling and even if I don't, I will just look at how the senior players conduct themselves, what they do on the ground, I want to learn from them," concluded the teenager.

https://open.spotify.com/episode/2pz6HwvHkcG5mhH3QnMab0