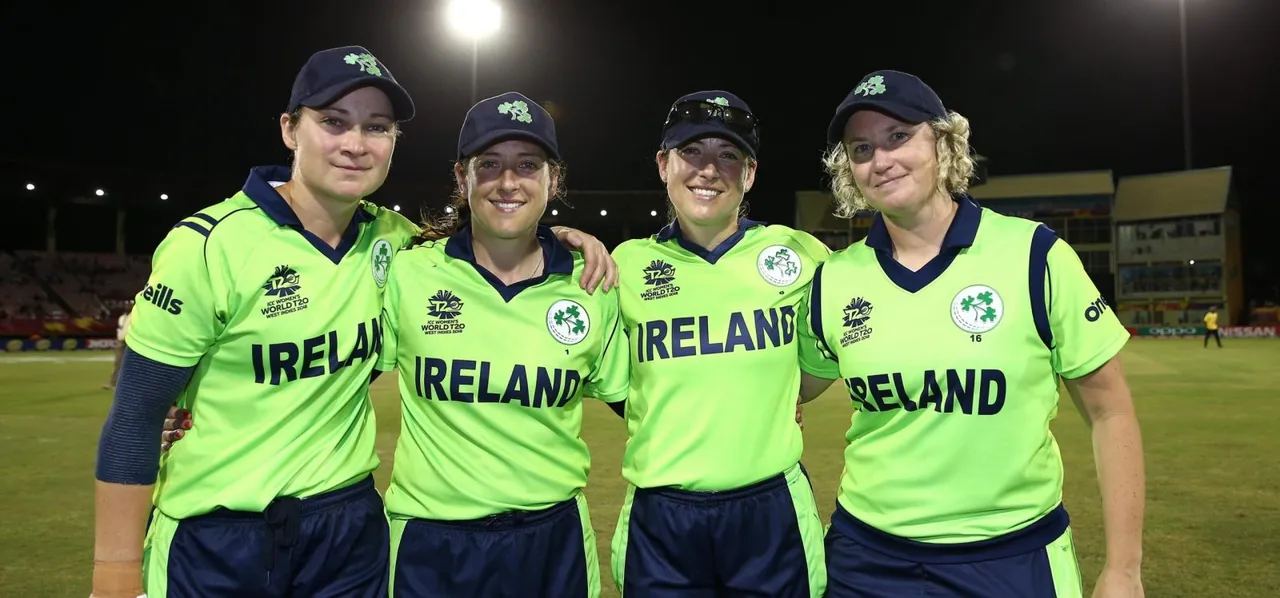 August 8, 1997: Clare Shillington made her One-Day International debut against South Africa. Ireland men's team was still nine years away from making their ODI debut. The women's team had first played in an ODI in 1987.

 

June 26, 1999: Isobel Joyce made her maiden ODI appearance where India's debutant pair of Mithali Raj and Reshma Gandhi made centuries and put on an unbroken opening stand of  258. The match got awarded official status much later after ICC took charge of women's cricket.

 

July 19, 1999: Ciara Metcalfe made her ODI debut against Denmark. Lest you are surprised, Denmark were regular in the circuit from 1989.

 

July 14, 2001: Cecelia Joyce, Isobel's twin, made her ODI debut against Australia.

 

Less discussed fact: Shillington, Isobel and Metcalfe were a part of the only Irish women's team to have played a Test match, against Pakistan in 2000 which they won by an innings and 54 runs. Metcalfe, the legspinner, took four wickets in the first innings, while Isobel, with her left-arm medium pace, took six wickets in the second innings. "Pakistan said, 'Do you guys fancy playing a Test?' Sure, we might as well,' we said," Isobel was quoted as saying to Raf Nicholson on the organisation of the Test, for a feature for CricketMonthly on the eve of the men's team's Test debut earlier this year.

The quartet belong to a simpler and innocent time where decision making was easier, and the protocols were not as tight as it is in the 21st century. The sport was more inclusive.

 

November 18, 2018: Shillington, Isobel, Metcalfe and Cecelia played their last match for Ireland against New Zealand at the World Twenty20 in Guyana. The exit of the veterans came days after their skipper, Laura Delany, broke down in front of the camera for they still being amateurs when all other teams have turned professional. Things are more complicated now even if the game's commercial value has risen exponentially. There are many layers to peel before your voice is heard. That has not hindered these players to let their frank opinions known on the state of increasing gap between the haves and have-nots.

The photograph of the four stalwarts from the retirement night might have reminded some of a similar image of Justin Langer, Damien Martyn, Shane Warne and Glenn McGrath before their farewell Ashes series at home in 2006-07, but the similarities end there.

Shillington's career spanned 7773 days, during which Ireland played only 166 matches across three formats. In other words, she potentially had a chance to wear the Irish jersey for an official fixture once in 47 days. In the similar time period, Australia Women's team played 356 games – one every 22nd day. In corporate jargon, it's called disparity or discrimination.

That's a debate for another day. Now is the moment to celebrate these four legends who served the game in more ways than just making runs and picking up wickets.

The Joyce sisters belong to the first family of Irish cricket. Their brother, Ed, also retired this year after fulfilling his Test dream, and this leaves a big vacuum in the overall cricketing structure of the country. One of the images that has stayed with me is Isobel bowling both left-arm seam and left-arm spin in one innings against Pakistan in the World Cup Qualifier in Colombo last year just to give her team a chance. She finished with impressive figures of 10-1-33-1, but could not stop Ireland from a big defeat. Just to be versatile enough to adapt her skills to the conditions was as impressive to watch as Javeria Khan's unbeaten 90 on that day at the quaint Colombo Cricket Club Ground.

Cecelia and Shillington, who recently became the first Irish batter to score 1000 T20I runs, have obviously been the pillar of the team's batting for so long.

Metcalfe's story is remarkable. She was a seam bowler and wicketkeeper before watching Warne on television and turning herself into a legspinner. She retired in 2011, but returned to the game on the insistence of Aaron Hamilton, the Ireland coach, in 2015 and it proved to be decisive. Her 3 for 14 helped Ireland beat Bangladesh in the World T20 Qualifier in Thailand.

She came to India for the 2016 World T20 hoping to have fun on spinning tracks. After an ordinary show against New Zealand in the opening game in Mohali, she got the ball to skid and turn against Sri Lanka to return career-best figures of 4 for 15 under floodlights at the same venue. It played a big part in Chamari Athathapathu's girls being restricted to 129 for 7. Ireland fell short by 14 runs in their chase despite Cecelia and Isobel making runs. Two good hits and Ireland could have scripted their biggest upset. Metcalfe turned up at the post-match press conference and lit up the atmosphere with her sense of humour.

"I started playing 26 years ago, when there was no TV probably. I just show up here and there and put up a performance, and that is what I did today," Metcalfe, then 36, had said. "My passion for the game keeps me going, and also unlike Australia we don't always play so that keeps me going even more." Referring to her fondness for Warne, she added, "I also have blonde hair (like him)."

As much as her performance was remarkable, what impressed the most about Metcalfe was that she had spent the time between her retirement and comeback coaching children and promoting women's cricket in Ireland through digital media.

These contributions don't get recorded, but those who have spent enough time around these pioneers will vouch for their contribution to the grass roots in Ireland. All the accolades that have come their way since the New Zealand team organised a guard of honour is deserving.

 

https://twitter.com/WorldT20/status/1063923268611133440

 

Melanie Jones spent time with them in the dressing room.

https://twitter.com/IrishWomensCric/status/1063934494628024321

 

Charlotte Edwards hoped Irish cricket to give them an appropriate sendoff.

https://twitter.com/C_Edwards23/status/1063919951935873026

 

Holly Colvin was confident that the playing careers of the quatret is only half of their story.

https://twitter.com/hollycolvin10/status/1063927396775149568

 

Now only Mithali, Shoaib Malik and Chris Gayle remain from the 1990s in the international circuit.

When Metcalfe was growing up, Joseph Caparani, the Ireland batsman from 1940s who passed away in 2015, had told her, 'play hard or go home'. All the four – true servants of the game – surely built their careers on that philosophy.