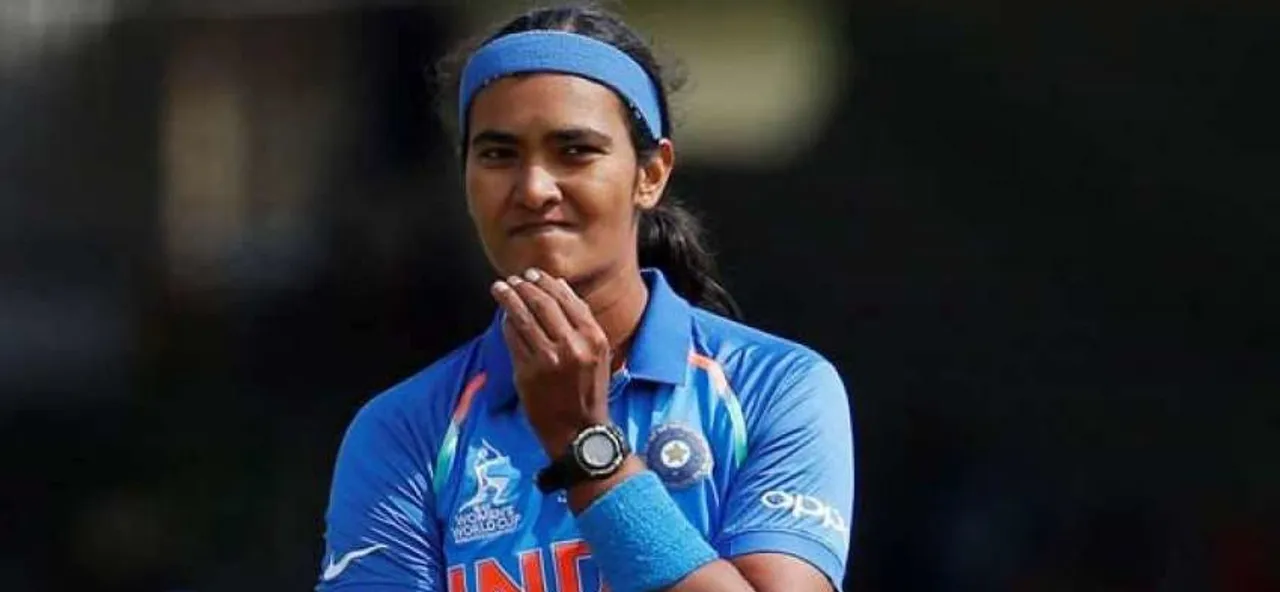 Shikha Pandey's career-best figures of 4 for 18 set up the tone for India's comprehensive seven-wicket win over England in the second One-Day International at the Wankhede Stadium in Mumbai on Monday (February 25). It was in fact Pandey's second four-wicket haul, the first having come against South Africa in the World Cup Qualifiers in Colombo in February 2017.
Pandey credited WV Raman, the new head coach, for having spotted a flaw in her bowling during the 50-over Challenger Trophy in January where she led India Red to title.
Raman had just been appointed as the coach and had gone to watch the tournament in an observatory capacity. Pandey bowled well in New Zealand immediately after the Challenger Trophy and has been in good rhythm in the ongoing ODI series.
"I knew that I was bowling well. It is just that I have worked a lot in being consistent. I have put in many number of practice hours and (there) is this thing about me not being consistent. So, I am trying to work hard on that. There were a few technical issues, which Raman sir – when he came in – brought it to my notice," Pandey said. "I was very surprised that I did not kind of realise those. He has been that assuring face in the dressing room. He is someone you can go and speak to about bowling and he is always there with an opinion. I would say he caught the flaw during the Challengers, and I would say it has actually helped a lot. It is a minor thing."
Many believed that Pandey should have been the Player of the Match, but
Jhulan Goswami
walked away with the honours for her four-wicket haul. Pandey said she was not affected by it.
"I am above all of that, I would say. It really doesn't matter to me whether I am the player of the match or not. We won the series. For me that's more than enough. The way I have been able to contribute, for me myself I am the player of the match," she added. "Both of us are very different bowlers. She is a seam bowler, I am a swing bowler. I am actually only trying to match. That's what I am trying to do. The kind of bowler she is, I have got huge standards to meet. I am just trying to hold up the other end and just trying to contribute while bowling in tandem with her."
Elaborating on her learnings from Goswami she added, "I am sure she would not have learnt anything from me, but I have learnt from here. Her work ethics, for example. She is 35-36. For her to continue her international career and bowl so well…As a youngster when I came into the side I could just learn from her. Work ethics for starters is something I learnt from her. Also the way she fights back in her second spell. There are a lot of things, the list is really long. I can't give you much. For me its been her work ethics. She is such a team player, always there or the team. If I could emulate even ten percent of that I would be doing a great job."
India have now bowled out the opposition below 200 in four out of five ODIs. Pandey felt that the credit should go to the bowlers rather than pinpointing gaps in the opposition's batting. "I would like to give a lot of credit to our bowlers. The way our bowlers have bowled. It's because of the way our bowlers have bowled that we are getting the wickets. I would not kind of say that they are not batting well."
Pandey has not featured in the T20I side for a while now, but she said that she is more focussed in controlling things within her control. "It is just that getting dropped from the World T20 side is something that is not in my hand. I am only trying to help myself with the controllables, what's in my control and I seem to be bowling well in the nets and I am just taking that confidence into the match. I won't say that getting dropped from the T20 side has sparked something in me. That was never the case.
"I am (optimistic of T20 return). As a bowler if I am clear what I am trying to do, that's going to help me in any format. The batting power play we bowl over here is kind of T20 format, just the three players in," she continued. "Thinking clearly about cricket in any format is going to help me. The kind of rhythm I am in right now I don't really care if I am there or not there. Right now I am enjoying bowling. Even if its in the nets I am enjoying getting the top order bat out at least once in the nets."
She said that by narrowing down her focus on things that matter she has been able to improve her efficiency. "I am in a very good headspace right now. Few months back I was not feeling really well about myself, but then right now I am just enjoying my bowling. I am just trying to control the controllables, the things that are not in my control are out of the picture. Probably I have stopped brooding a lot. I am an overthinker and for starters I am not following any writer who writes on (women's cricket). There are lot of things I have done. My focus has narrowed a lot. That has been helping me and I will continue doing that."
With one ODI left, Pandey felt it was important to focus on it rather than thinking about the past. "So, we have had this happy knack of getting the ODI series. It is start of something new (but) we would like to take the level a little higher and win it 3-nil. That's our next goal," she said. "At the end of the day we are professional cricketers, there is another game coming up after two days. So, whatever is gone is gone. That's our dressing room motto right now. Whatever gone is gone, we cannot be complacent about it. We can only think about what we will be doing ahead." /codes_iframe