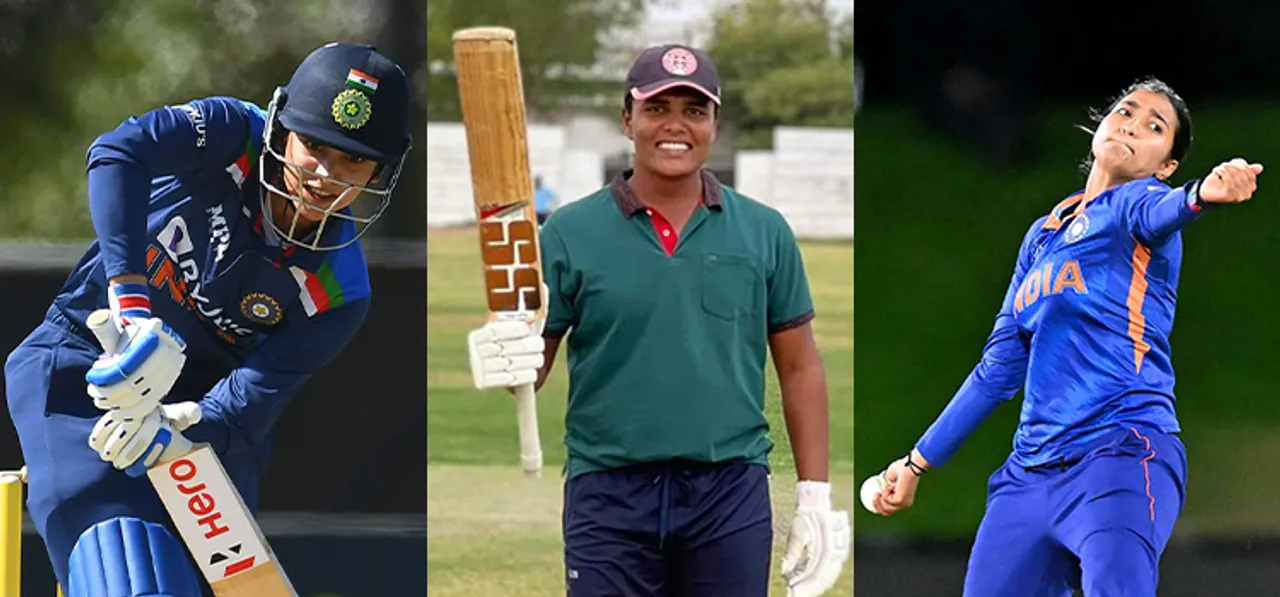 Maharashtra, Odisha, Jharkhand, Railways, Baroda, Goa and Nagaland secured their places in the knockouts of the Senior T20 Trophy on Sunday. Railways, Odisha and Nagaland were the only three teams to end the group stage without a single loss.
Group A: Maharashtra continue winning run
After starting their campaign with a surprise loss against Andhra Pradesh, Maharashtra won each of their last four matches to secure a place in the knockouts.
Both Maharashtra and Andhra registered big wins on Sunday but Andhra's fate will be determined by the last match of the group between Hyderabad and Kerala.
Tejal Hasabnis was the top scorer for Maharashtra again with an unbeaten 39, while S Hima Bindu's 82 helped Andhra trounce Meghalaya by 111 runs.
ALSO READ: Senior Women's T20: Shikha Pandey, Shafali Verma lead from the front; Goa, Railways remain unbeaten 
Group B: Odisha and Jharkhand cruise into knockouts
The mightily impressive Odisha finished the group stage with a perfect record after shading Tamil Nadu by just two runs in a nail-biting clash. Chasing 134, Tamil Nadu fell short as off spinner Priyanka Priyadarshini rocked them with figures of 4-24.
Jharkhand had no such troubles as they won by a comprehensive margin of nine wickets after restricting Bihar to a small total of 87-7.
Group C: Railways a class apart as Karnataka suffer another collapse
Title favourites Railways continued to deliver as they defeated Madhya Pradesh by five wickets in their last group stage match. Pooja Vastrakar's all-round effort of 44 from 32 balls and 2-19 was not enough as Railways chased down Madhya Pradesh's 124/6 off the penultimate ball, with captain Sneh Rana's 36 coming to their rescue.
Karnataka's problems continued as they were bowled out for just 57 by Delhi, who notched a comfortable six-wicket win after chasing down the meagre total.
ALSO READ: Mumbai, Baroda, Karnataka win on day six of Senior T20 Trophy
Group D: Young Baroda shine as Goa lose for the first time
Baroda topped the group after defeating Goa by 10 runs in a clash of the table toppers. Baroda scored 136 in their 20 overs with contributions from Tarannum Pathan (44), Yastika Bhatia (27) and captain Radha Yadav (33).
Goa managed to get close in the chase on the back of captain Shikha Pandey's 46 but ultimately fell short as Pathan and Radha picked up a wicket each with the ball too.
Group E: Rodrigues-Shaikh show continues for Mumbai
Captain Jemimah Rodrigues and Simran Shaikh continued their dominant run of form as Mumbai all but secured a place in the knockouts after acing another chase.
The ambidextrous Fatima Jaffer returned figures of 4-19 with the ball to restrict Saurashtra to 89 in their 20 overs. Rodrigues and Shaikh flew out of the blocks in signature fashion as Mumbai only needed eight overs to finish the chase.
Shafali Verma lead from the front as Haryana kept their hopes alive after beating Assam by five wickets. Verma, who scored the third-fastest 50 of this edition in the match, was the top scorer yet again as Haryana got home with eight overs to spare.
ALSO READ: All-round show from Harleen Deol, Shafali Verma; Goa, Railways continue their unbeaten run in Senior T20
Plate Group: Navgire's classy all-round effort betters Sikkim
It was a familiar story in the Plate Group as Kiran Navgire stole the show yet again as Nagaland registered an emphatic 79-run win against Sikkim to top the group.
Navgire scored her third 50 in this tournament while opening the batting and then opened the bowling and rocked Sikkim's chase to end with figures of 4-16 rom her four overs.
Brief Scores:
Rajasthan 102/7 in 20 overs (Sangeeta Kumawat 29; Aarati Kedar 3/9) lost to Maharashtra 104/2 in 18.1 overs (Tejal Hasabnis 39*, Shivali Shinde 30) by eight wickets
Andhra Pradesh 162/7 in 20 overs (S Hima Bindu 82; Deiphi 3/26) beat Meghalaya 51/10 in 19 overs (Suriti 18; Avula Sireesha 3/1) by 111 runs
Odisha 133/3 in 20 overs (Sarita Meher 61*, Pragyan Mohanty 59*; Kesava Ramyashri 2/14) beat Tamil Nadu 131/8 in 20 overs (Sundaresan Anusha 55*; Priyanka Priyadarshini 4/24) by 2 runs
Bihar 87/7 in 20 overs (Komal Kumari 30; Shanti Kumari 3-19) lost to Jharkhand 88/1 in 11.5 overs (Ashwani 45; Apurva Kumari 1/13) by nine wickets
Madhya Pradesh 124/6 in 20 overs (Neha Badwaik 52, Pooja Vastrakar 44; Ekta Bisht 2/22) lost to Railways 127/5 in 19.5 overs (Sneh Rana 36; Vastrakar 2-19) by five wickets
Karnataka 57/10 in 17.4 overs (Challuru Prathyusha 27; Soni Yadav 3/7, Riti Tomar 3/8) lost to Delhi 60/4 in 15.1 overs (Priya Punia 26*; Akanksha Kohli 2/10) by six wickets
Baroda 136/7 in 20 overs (Tarannum Pathan 44; Sunanda 2/30) beat Goa 126/9 in 20 overs (Shikha Pandey 46; Kesha 1/15) by 10 runs
Vidarbha 131/5 in 20 overs (Bharti Fulmali 48; Stuti Jani 2/36) beat Gujarat 80/5 in 20 overs (Anjali Patel 32*; Disha Kasat 1/8) by 51 runs
Saurashtra 89/8 in 20 overs (Riddhi Ruparel 40; Fatima Jaffer 4/19) lost to Mumbai 91/1 in 8 overs (Simran Shaikh 46, Jemimah Rodrigues 35*; Sujan Sama 1/12) by nine wickets
Assam 112/5 in 20 overs (Uma Chetry 23; Mansi Joshi 2/21) lost to Haryana 116/5 in 12 overs (Shafali Verma 58; Papori Gogoi 2/17) by five wickets
Nagaland 181/2 in 20 overs (Kiran Navgire 57, Punam Khemnar 43*; Pranita Chettri 1/18) beat Sikkim 102/8 in 20 overs (Rinki Rajak 41; Navgire 4/16) by 79 runs
Manipur 107/8 in 20 overs (Kalpana 26; Puipuii 2/24) beat Mizoram 87/7 in 20 overs (Tarang Jha 31; Gangadevi Waikhom 1/13) by 19 runs