It is impossible to understate the impact Ellyse Perry has had on the 2019 Ashes series in England. Quite simply, she has dominated with bat, ball and in the field.
The statistics, 378 runs and 15 wickets, tell only a fraction of the story. In truth, her impact has been so much more than just that. In fact, following the series, Charlotte Edwards, former England captain, called Perry,
"the greatest female player we're ever going to see"
… It's hard to disagree.
Off the field, Perry's self-effacing nature belies her stature and reputation. The ultimate team player, she acknowledges questions about her own performance politely, but bats them away quickly, preferring to dwell on the achievements of the whole side.
So, it was when we caught up a few days ago, just before she boarded the flight home for a well-earned break.
"It's really nice to contribute to team results," she tells 
Women's CricZone
. "I've really enjoyed the opportunities I've had across the summer. It's been a really enjoyable tour for all of us. Lots of girls took opportunities to do a job for the team. To be part of that was really good."
Just as
Perry dominated the series
, Australia outplayed their hosts, winning the multi-format series by a huge margin of 12 points to 4. Perry admitted that the visitors had been surprised at how dominant they had been in England's own back yard.
"Everyone's really chuffed at the enormity of the series, knowing just how tough an opposition England are. For us to have played some of our really best cricket at times is really pleasing."
She plays down talk about a gulf between the two sides and argues that England's
victory in the final T20I
in Bristol on Wednesday (July 31) evening showed there is still a lot of fight and talent in the home set-up.
"They're a formidable opposition. Maybe things didn't go their way this series, but they're a class outfit. For us to have played as well as we did with the kind of scoreline at the end, yeah
a really brilliant achievement."

Australia have clearly emerged as the strongest side in the world game over last 12 months with an enviable strength in depth and serious investment in the grass roots.


Ellyse Perry in action. © Getty Images

Along with the Ashes, the World T20 also has pride of place in the team's trophy cabinet, but Perry believes there is more to come. It's a daunting prospect for any side with designs on challenging their supremacy. Another T20 World Cup lies around the corner, this time on home soil, with the next World Cup 12 months later in New Zealand. On this form they must be favourites to claim both titles.

"I think everything's a bit exciting at the moment in the women's game," says Perry. "It just keeps getting bigger and better. Everything is evolving really, really quickly."

"Certainly, the World T20 next year is a big milestone for us. The young girls that are coming through, Tayla (Vlaeminck), Georgia (Wareham) and Sophie (Molineux), some other girls around the fringes. It's a really exciting time."

There is no magic ingredient behind the team's success, she maintains, pointing instead to some good, old-fashioned hard work.

"It's applying ourselves and being really committed to the roles and responsibilities that each of us have in the group, to play the style of cricket that we want. I suppose when you work at it for a while and keep trying to improve, you're going to have really good results, so that's been really nice."

Australia won the opening two ODIs of the series at Grace Road in Leicester, but not without some scares along the way. With those results in their favour, they were determined not to repeat the pattern of the previous Ashes series in Australia in late 2017. On that occasion, they lost the third game at Coffs Harbour. It effectively checked their momentum, although they eventually retained the Ashes after tying the series 8-8.

Perry's astonishing bowling performance at Canterbury ensured that was never a possibility this time around. She blew England away for just 75 as she finished with career-best figures of 7 for 22. It was a defeat from which England never recovered.

Rather than dwell on her own contribution, the allrounder is quick to credit the work that assistant coach Ben Sawyer has put in over the past year to help her and the other fast bowlers in the squad.

"Ben's really special," she says warmly. "I've had the opportunity of working with him at the Sixers as well during the WBBL. I think what he's brought to the group is he's got such a great eye for technique. He works incredibly hard, he's incredibly diligent in terms of what he can provide to each of us from a technical point of view and then also from a tactical point of view depending on the opposition we're playing. And he's just got a lovely way of going about it. I think all the girls respond really well to his counsel on those things."

"It's really nice to have him as part of the support staff. It's pleasing that we did as well as we did during this tour because it's a reflection of how big an impact he's had."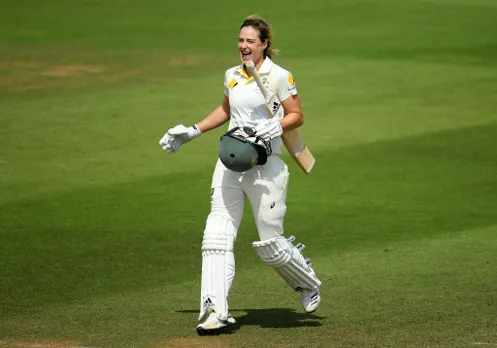 Ellyse Perry celebrates her century in Taunton. ©Getty Images

White ball heroics aside, Perry was born to play Test cricket and it's perhaps one of the biggest causes for regret in the women's game that she has had so few opportunities to play the format. She dominated the match at Taunton with innings of 116 and 76* to follow the unbeaten 213 she made almost two years earlier at the North Sydney Oval.

Her batting average of exactly 78 after eight Tests is outstanding in its own right. Coupled with 31 wickets at 18.19 and it's a phenomenal record, especially for a player who started her career as a bowler who only 'batted a bit' down the order.

Would she like to see more opportunities to play Test cricket?

"I think more broadly, I'd really like to see the Ashes series format potentially be the same series that we play against other top nations in the world. It would be really great to play a similar contest. It's a wonderful challenge."

Post-series celebrations at Bristol over, there is only a short three-week window for some downtime before the team are back on the international treadmill in the Caribbean.

The next ICC World events are firmly in Australia's sights, but just as important, says Perry, is the way the side play their cricket.

She finishes our conversation by adding that the team's targets include "continuing to enjoy our cricket as much as we are and hopefully continuing to keep trying to set a marker and evolve the way that we play and hopefully the way that the game is played as well."

If that pace of evolution continues at the same rate as it has over the past year then the bar will be set even higher come the start of the World T20 in Australia next February. Other sides have been warned.