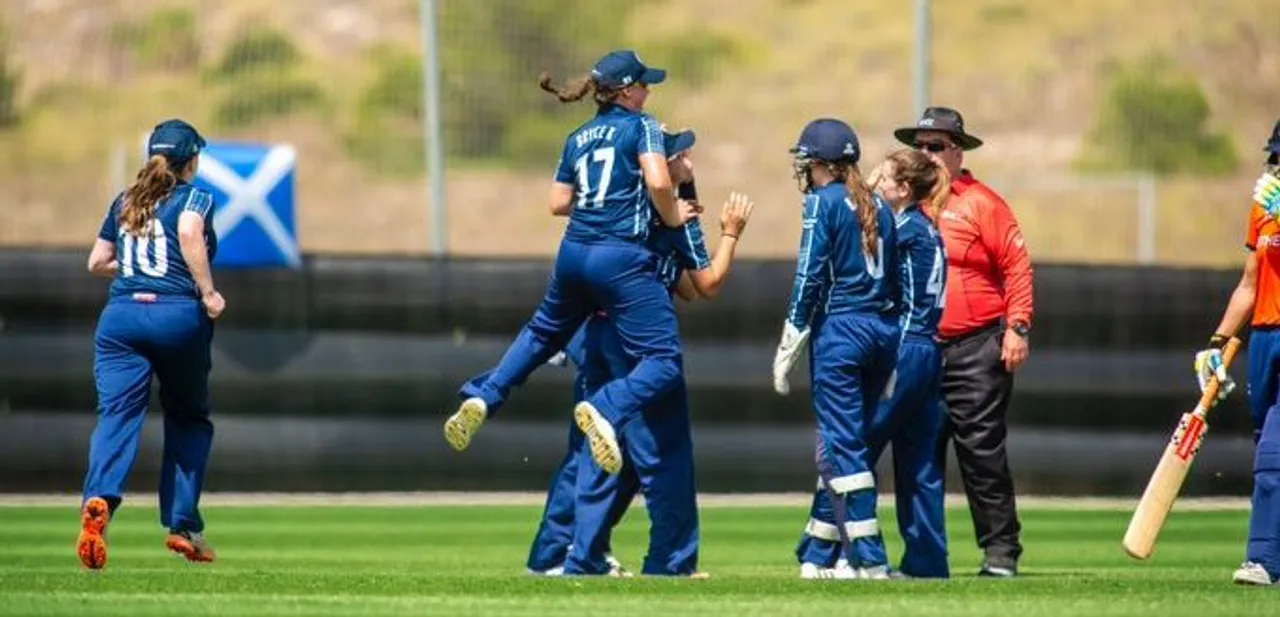 After losing to Netherlands yesterday, Scotland bounced back today to win a super over thriller and end Netherlands two-match winning streak.
In a low scoring affair, Scotland batted first. Sarah and Kathryn Bryce opened the batting, putting on a 29-run stand. S. Bryce was the first to fall for a 12-ball 15 and her wicket triggered a catastrophic collapse that resulted in them being bundled out for 96 runs. K. Bryce played the anchoring role, collecting 34 runs off 39 deliveries while wickets fell around her. Lorna Jack (10) was the only other batter to register a double digit score as Scotland's innings ended an over early.
Heather Siegers and Caroline de Lange were responsible for most of the destruction, taking three wickets each. De Lange proved to be particularly miserly as well, conceding just 10 runs from her four overs.
In the second innings, Scotland struck early to establish their dominance. Sterre Kallis, who was just coming off of a record breaking innings, was the first to fall. Siegers and in-form Denise van Deventer soon departed too, leaving Netherlands reeling at 17-3. However, a 34-run partnership between Miranda Veringmeier (17) and Robine Rijke (27) helped steady the ship. After this partnership was broken, the latter added a further 31 runs to the total, along with Babette de Leede (27*) to put Netherlands in good position to claim their third win.
When Rijke was dismissed, Netherlands were left requiring 15 runs off as many deliveries. Netherlands kept up with required rate, though they lost the wicket of Juliët Post. They required seven off the last over. Pressure built when the first ball of the last over was a dot. Two singles followed off the next two deliveries, but the fourth ball was again a dot. Netherlands then needed five runs off two balls. The batters ran hard for a double off the penultimate delivery, leaving three required off the last. They scurried through for another double but Zwilling was run out coming back for the third, leaving the match tied.
A super over followed. Netherlands batted first as Kallis and Siegers faced K. Bryce. Scotland conceded no boundary, restricting their opponents to seven. K. Bryce then took hold of the bat, with S. Bryce. The latter smashed a boundary of the first delivery, relieving pressure. Though the following delivery was a dot, the Bryce's rotated strike well to take a single off each of the remaining deliveries and claim the win.
Both Scotland and Netherlands now have four points. However, Netherlands leads the table due to a superior net run rate. Germany does not have any points to its name and will need to win both its remaining matches by huge margins if they are to win the tournament. The probability of that happening is quite low, so Scotland and Netherlands will probably be fighting to finish at the top of the table.