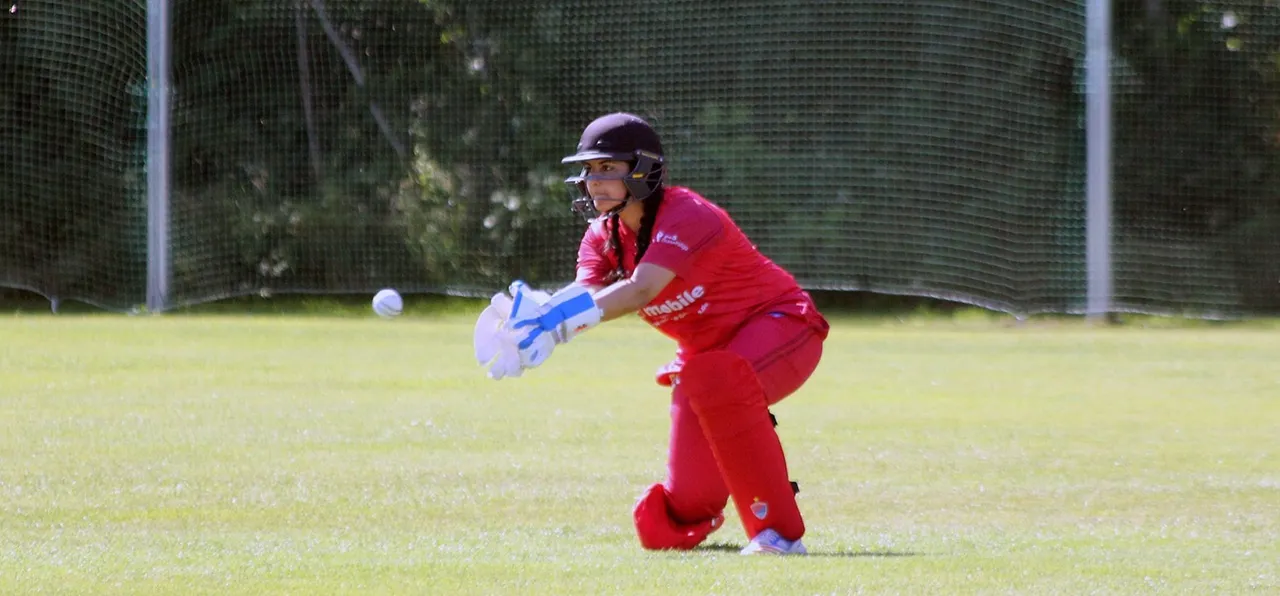 Backyard cricket or
gully
cricket in India is the runway from which most cricket careers take flight. For the women, it includes playing with various boys' teams or being pioneers of forming a separate girls' team before climbing the ranks and making it to the top. But support from parents is what makes or breaks a girl's dream to play the sport at a higher level on a more regular basis.
Her parents' backing was a major reason for Sharanya Sadarangani's success, the 24-year-old who is set to make her international debut for Germany, after beginning her journey in Bengaluru as an eight-year-old. She used to play with her cousins in the backyard before joining Karnataka Institute of Cricket (KIOC).
"I started there and always played for them. It (cricket) was something I always wanted to do and it was just there, it just happened," she tells
Women's CricZone
, over a call from her home in Hamburg.
"My parents saw that I was interested in it and the never said no and always let me play in most of the tournaments. Eventually when I was picked for Karnataka, I had to miss a lot of school as well. They never had a problem with that as long as I kept up with my school work as well."
The senior team at KIOC had Karuna Jain, the former India wicketkeeper-batter. In the second team there was none. So, Sadarangani was asked if she'd like to try that out, after which there was no looking back.
"Why would you even bowl when you can keep!" she laughs.
"You're always involved. You are in the middle of the game – the ball's always coming to you at the throw or you're getting it into your gloves. You've to concentrate a bit more and I like that about keeping."
"At the beginning I looked at Karuna a lot. She's a very good 'keeper and quite diligent as well. It was perfect to have her at the same club and to learn from her first hand. She helped me with a lot of drills that I could even practise now sometimes."
ALSO READ: Convincing the parents will be a challenge, admits CABI president Mahantesh GK
Education is what took Sadarangani first to Essex and then later to Germany. But all through, she always kept cricket in the picture. She admits to dreaming about playing for India at one point but she "was focussing on studying as well as playing cricket at the same time. So you can't have both." She wanted to experience a different culture and hence decided to move to England for higher studies.
Sadarangani chose Essex University to study Liberal Arts since she knew "they had a lot of women's cricket around the area in England." They had a university team, where she played with the men. Upon asking, she was given a trial with the Essex team, since they were partnered with the county, and it so happened that they were looking for a wicket-keeper. She was given a chance to play for the side in 2014 and continued to play for clubs there for three more years.
In 2017, when she chose to continue her education in Germany, a financially viable option, she needed to learn the language in order to live and work there.
"I lived with a German family for a year as an
au pair
and I just picked up the language," says Sadarangani, who recently became the
first woman to play
the European Cricket Series T10 League.
"Before I moved there, I checked where the closest cricket clubs would be. I messaged the German Cricket Board and asked them for possibilities. It so happened that there was a club about half an hour away from me. That's how I could train, learn the language and live here."
The Husum Cricket Club was near the Germany-Denmark border. So, she played in the Danish League with the men's team and also for Denmark's women's team for a year in 2017. However, since the women's cricket in Denmark isn't well-established and she was anyway living in Germany, Sadarangani took up the opportunity to play for the latter. She also switched clubs and now plays for a German club, Kummerfelder Sportverein Cricket Club.
One of her degrees while studying Liberal Arts was a teaching degree in English. She's put that to use now and teaches English in high school. For primary school students, she teaches cricket, which isn't compulsory.
"It's difficult to be a part-time cricketer in Germany; you just do it when you have the time," she says. She's been juggling both the roles in the lead up to her international debut. But starting cricket training early in her life gave her the advantage, she feels.
"I played cricket every day for five hours for many, many years. That gave me the basics. Now I don't get the time to train every day and I don't need the five hours daily. A couple of hours suffice if I know exactly what I'm doing."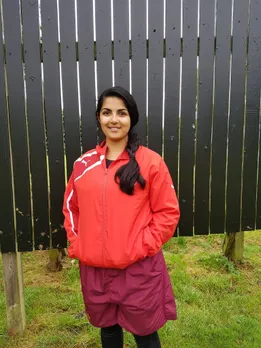 "I like playing men's cricket but women's cricket is something that I'm more invested in." © Danish Cricket Association
Germany and Austria have become the first teams to play international cricket (women) post the COVID-19 pandemic. Sadarangani is all set to make the jump to international cricket and is unsurprisingly chuffed at the prospect. After all, she had a "nice and frustrating" time closely following the national side for the past year, ever since Germany made their T20I debut in the Women's T20 World Cup Europe Region Qualifier in June 2019.
"I'm quite excited, to be honest. It looks like it's going to be a good tournament especially, because we haven't had a lot of cricket going on. We've had a couple of training sessions and the coach came over to Hamburg last weekend. It's looking positive and I've (been) looking to (make) my debut for them for over a year now and I just qualified this April," says Sadarangani, who played for Karnataka's Under-19 team under Veda Krishnamurthy and also shared the dressing room with Rajeshwari Gayakwad.
"It was nice and also quite frustrating because I wanted to play, too. It was nice in the sense finally Germany reached a stage where they could participate in the Qualifier for the World Cup last year. Although we didn't do really well, it was a good first step to take. We can always build from there. It was nice to see how the girls performed (under) pressure and handled it."
It was a three-team competition featuring Netherlands and Scotland apart from Germany, who lost all their matches. But earlier this year, they redeemed themselves by registering a 4-0 win over Oman in a bilateral series.
Germany are led by Anuradha Doddaballapur, another cricketer from Bengaluru. "She is a few years older but she moved to Germany a while before me," says Sadarangani speaking about the team.
"We understand each other well and speak Kannada, too, sometimes. Most of our team is actually German. Out of the 15, 10 are actually half or full German, which is good for the development of cricket here because you've got local players interested. The other keeper, Karthika (Vijayaraghavan), is also from Bengaluru but she's never played cricket in India. She learnt playing cricket in Germany. It's a very nice setup."
ALSO READ: Lessons of hard work, courage and resilience - Natalie Dodd teaches by example
https://open.spotify.com/episode/3wIV5plfHhXuX9kotfATXW
One of the other challenges in a country where cricket – let alone women's cricket – isn't a popular sport is the infrastructure. The players of the national team meet in different cities once a month in order to train. Since Germany is a big country, they have a training camp two days a month in different cities, so that all players have to travel an equal amount. This is apart from training twice a week with the clubs.
But the Deutscher Cricket Bund (German Cricket Federation, DCB) has been actively working for the development of women's cricket and one of the major steps has been the allocation of a budget to the women's game on par with the men's.
"We do a lot of work in terms of PR, getting training sessions organised, the tour to Oman as well, which Vice President Monica (Loveday) organised for us. She does a lot of work in that regard," says Sadarangani, who started working as a Development officer for Youth and Women's Cricket in the North of Germany for DCB from August this year.
"Since 2019, we have the same budget as the men's, which is really good because we get to tour England – we go to England about 2-3 times a year for about a week, we have practice matches with the clubs and county teams as well. They (DCB) do support us in the sense of giving us the opportunities to play."
ALSO READ: Christina Gough, Emma Bargna star as Germany trounce Austria by 82 runs
Sadarangani's family is still based in Bengaluru and her grandmothers are already excited for her international debut.
"They're like, oh, you've to send me the link. I think they're the most excited. They'd wake up in the middle of the night to watch it if it happened in a different country, I'm pretty sure. My parents as well, my sister… They all love watching cricket though none of them played any."
The nature of any sport is such that it is not easy to predict performances. Sadarangani comes across as someone who takes it as it comes and has the same attitude with respect to her possible Germany debut.
"It's difficult to go into a game without having any expectations especially with regard to performance. I just want to have fun with the team. We've played a few seasons together and we understand each other really well. I think it'll be a good tournament for all of us."
But more importantly, it's about the larger picture for Sadarangani, who had also formed women's teams during her time in Essex as well as Denmark.
"I just want to play in a club that supports women, because it's a huge disparity between the number of women playing and the number of men. I just want to be able to build a few teams in and around Hamburg so that we can play against each other and go from there. I like playing men's cricket but women's cricket is something that I'm more invested in," she concludes.