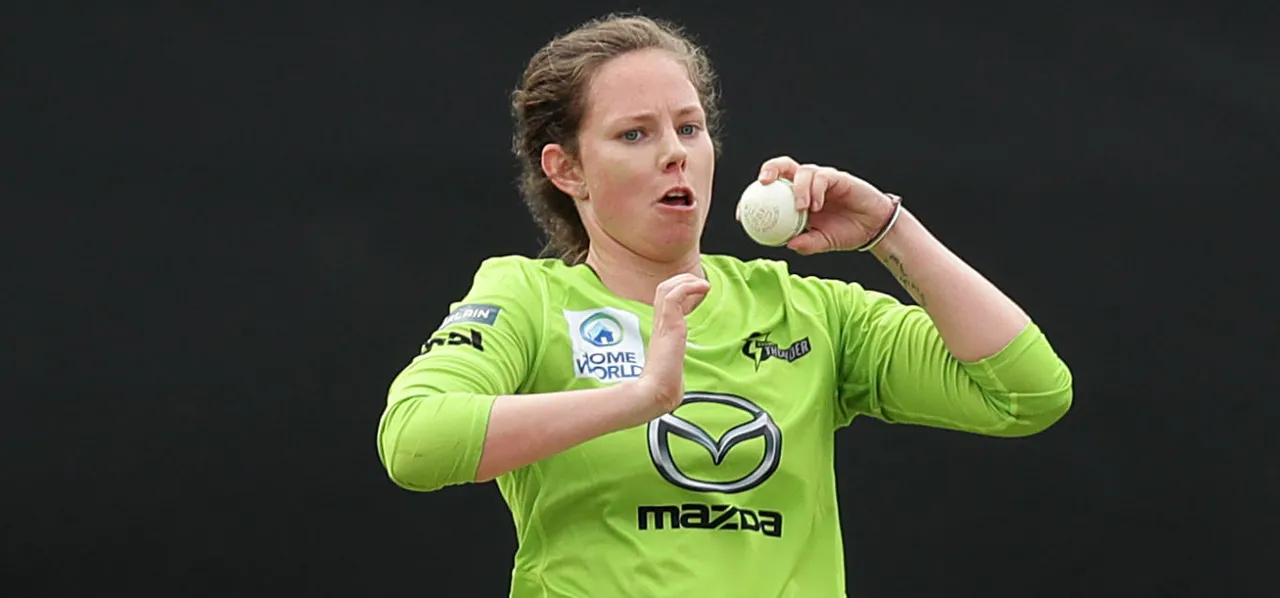 All adversities aren't bad, as Samatha Bates might have learnt. And, so too, a bit or two about the art of deception or bluffing.
The left-arm spinner had suffered stress fractures in her ankles, which meant that she couldn't bowl with her full load for nearly three months. It was only about six to eight weeks back that she could begin bowling with her full run-up.
That routine, of not bowling full tilt and focussing on her lines and lengths, helped Bates perform exceedingly well in
Sydney Thunder's clash against Brisbane Heat
on Sunday (November 1) in the sixth edition of the Women's Big Bash League (WBBL).
"I was pretty nervous actually," said Bates after the match, where she bowled a double-wicket maiden.
"I had an injury during the off-season and I could bowl only two overs a week for quite a long time. I think that helped me because every time I had to bowl those 12 balls pre-season, I knew exactly what I needed to bowl."
"Out there, my plan was clear, I knew what I had to do and it was fortunate enough that I executed it."
Execute, she did.
A lengthy rain interruption meant that Thunder's innings had to end abruptly at three for 80 after 12.1 overs, with the top three of Rachel Trenaman, Tammy Beaumont and Heather Knight all back in the hut. The revised target for Heat, as per the Duckworth-Lewis Stern system was 45 in five overs with ten wickets in hand.
Pretty easy, you'd think, given the T20 era we are in. The idea would have received the much-needed validation, when Grace Harris, opening alongside captain Jess Jonassen, hit Shabnim Ismail for two successive fours in the opening over, which yielded 11 runs.
This was the point at which Bates was handed the cherry.
ALSO READ: Healy storm steers Sydney Sixers over the line; bowlers win it for Melbourne Stars
"We've been sitting around the whole game not being able to get on and all of a sudden it was like go go go," said Bates about the mindset of the team and their plans in that five-over burst.
"Rach Haynes kind of made it that we stick to our plans no matter what the outcome is going to be and what the run rate is going to be. That was the plan."
The 24-year-old struck gold on the very first ball. Spin bowling is as much about guile as it is about four-flushing. Bates was generous in her flight, which even an experienced pro – an in-form one, if we may add – couldn't resist. Harris slinked down the ground to smash it out of the Sydney Showground Stadium, only for the ball to dip on her, spin away from her swooshing blade and go into the safe mitts of Tahlia Wilson, who did the rest.
Danger averted, job half done.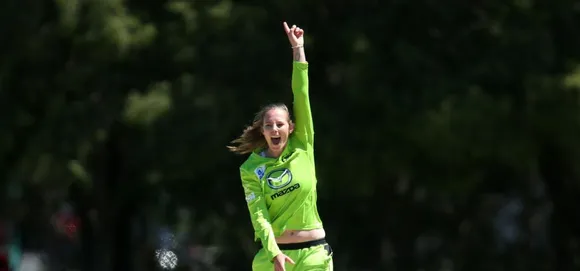 Samantha Bates' generosity in flight and her guile in four-flushing the Heat batters stood out. © Getty Images
Then walked in Harris' sister, Laura Kimmince. Her first shot was an attempted sweep which she missed. And then on the very next ball, she tried to do what her sibling was unsuccessful at – charging down the wicket.
Bates yet again tossed one up, enticing Kimmince to take the aerial route. Kimmince fell for it and was left out of her crease as the ball yet again spun away from her blade, only for Wilson to do the rest. The only difference between the two dismissals were the attempted shots – while Harris looked to hit it straight over Bates' head, Kimmince aimed more towards the cow corner.
And just like that, Bates' ended up getting two big scalps in her first three deliveries without conceding a run. What stood out, as evidenced in the post-match chat, was her ability to anticipate what to expect, along with some smart planning.
ALSO READ: Grace Harris channels inner Dhoni to give Brisbane Heat their first win



Sam Bates making things hard for the @HeatBBL with a double-wicket maiden! 👏


LIVE: https://t.co/XWMUKKaBBD #WBBL06 pic.twitter.com/aAEn8QJLjJ

— Rebel Women's Big Bash League (@WBBL) November 1, 2020
"We knew that the rain was going to make it quite sticky and we do know that the Harisses (Laura Kimmince, formerly Laura Harris) come quite hard, no matter where the ball is really pitched. It was a game-plan to really pull our length back, bowl quite slow and make them make do without the pace on the ball."
This was also highlighted by Maddy Green, in the post-match chat.
"We tried to take the game on and unfortunately we lost wickets," she said, before adding, "which were also dot balls. That made life pretty difficult. Credit to the Sydney Thunder with the way they bowled."
The last three balls of the over were also equally good, if not better. Amelia Kerr got down to sweep the fourth ball of the over, couldn't get bat to ball. The penultimate one could only be pushed towards covers. Bates flighted the last one, which Kerr tried to slog and missed.
It was a double-wicket maiden. More importantly, Bates had successfully managed to bluff three batters in the space of six balls.
Although Heather Knight's incredible over – where she picked up three wickets, conceding just four runs – dashed any hope Heat might have garnered, the fall was plotted by Bates early on.
Who's complaining about getting injured? They aren't all that bad, are they?