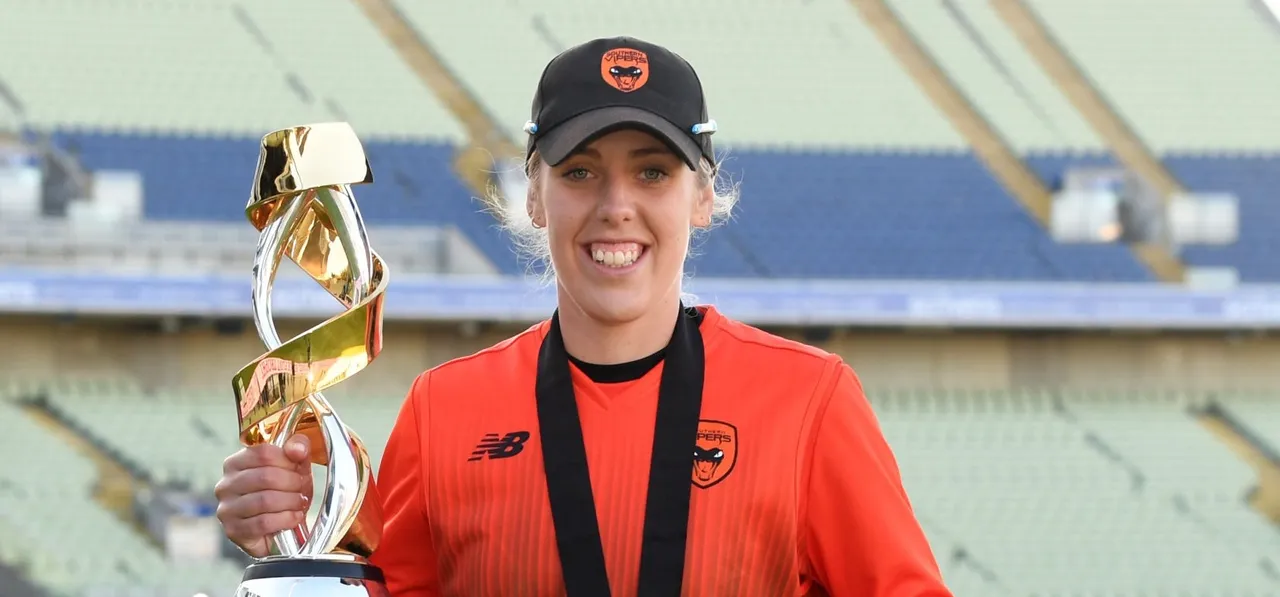 Southern Vipers captain Georgia Adams was named the Rachael Heyhoe Flint Trophy Player of the Year in the PCA #NatWestCricketAwards on Saturday (October 4). Jeremy Blackmore caught up with Adams for an exclusive interview to talk about the Vipers' winning campaign, finishing as the tournament's leading run-scorer, life as a pro-cricketer and her England ambitions.

Georgia Adams is still on cloud nine a week after lifting the Rachael Heyhoe Flint Trophy at Edgbaston with the Southern Vipers.

"Yeah, still there, going strong!" she says with a broad smile.

"The season came around like a whirlwind and I still don't think it's sunk in that it's actually finished," she tells Women's CricZone. "It feels like it only just started, but I'm so, so pleased that we managed to lift the trophy."

Vipers only formed as a new, raw team in midsummer, yet staged the perfect run in the tournament. Their 38-run win over Northern Diamonds in last Sunday's final was their seventh victory in as many matches.

Adams played a key role, marshalling her troops with enthusiasm and constant encouragement. She led from the front with the bat, setting the tone not just for the Vipers, but for the tournament as well. By far the leading scorer, she hit exactly 500 runs in seven innings at 83.33. That included an imperious unbeaten 154 against Western Storm despite struggling with cramp towards the end of her innings. It was the seventh highest top-tier List-A score in English domestic cricket.

ALSO READ: From within the snakepit: recounting Southern Vipers' successful RHF Trophy campaign 

Under the guiding hand of head coach, the legendary former England captain Charlotte Edwards, the Vipers moulded a new team, some of whom were strangers to each other just a few months ago. Adams may have earned the headlines, but previously unheralded players like teenage opener Ella McCaughan, mystery spinner Charlotte Taylor and left-arm pace bowler Tara Norris put in key performances at key times, when the side needed them most.

Preparing for the final

Vipers went into the final aware of the strength of Diamonds' bowling attack and the experience in their ranks such as skipper Lauren Winfield-Hill and the evergreen Jenny Gunn. Vipers' priority therefore was preparing their younger, more inexperienced players for the big occasion. That, and a continued focus on doing the basics well which had got them this far already.

"A lot of our conversations were just about how can we get the girls going into the game as confident as possible and as clear as possible, so that those nerves don't start clouding judgement and decision making," explains Adams.

The early start on a sunny autumnal day meant the ball was likely to zip about early on. Then, there was the prospect of facing Beth Langston with the new ball. However, the Vipers were still keen to bat first, having always set the tone when they did so throughout the tournament.

Century opening partnerships

Ultimately, there was some swing early on, but little movement off the seam on a flat track and Adams and teenage opening partner McCaughan duly posted Vipers' fourth century opening stand of the tournament.

https://open.spotify.com/episode/2pOivnjSLiz8sKoj1L0IIH?si=Nysrb-2aRFmE3MNf1wh5OQ

It was Edwards' ethos – get runs on the board upfront before pressing the accelerator later. Indeed, the opening pair (Adams and Danielle Wyatt for the first two matches, Adams and McCaughan for the remaining five) averaged 88 throughout the tournament. It was a key contributor to their success.

"One thing that Lottie keeps saying to me, is just be really patient, 50-over cricket is so much longer than you think," says Adams. "Batting previous to this tournament, I always got a bit greedy and a bit worried if I'm chewing up a few dot balls and feel like I have to do something expansive or change it up."

"Throughout the competition, Lottie has kept me very calm and just said you have to be really, really patient because we can catch it up later down the line – especially playing on these wickets, because they're such nice decks that if you're still in with the last 10 overs to go, you can be a bit more expansive and you can play your shots and you can ramp and scoop. That's been really key for both me and Ella, just staying patient."

The Diamonds bowling attack posed a tough, new challenge in the final. Bowlers in the South group had mainly served up deliveries in the mid-sixties (mph). Playing against a much pacier attack on one of the quickest wickets of the tournament, Adams was surprised at how many of her shots were cuts through point.

ALSO READ: Northern Diamonds caught in Charlotte's web

"It was actually quite nice to have some pace on, but looking at my wagon-wheel, if you'd shown me that and it hadn't had my name to it, I never would have said that would be mine because I'm normally quite strong down the ground."

"I was over the moon to have another 100 partnership. It was one of our big goals that we wanted to keep ticking off, so to achieve that so many times throughout the competition is brilliant for us as a team. It really sets the tone as well."

Batting collapse

However, from the solid base of 150 fpr 1 after 31 overs, Vipers had a mini batting collapse. Four wickets fell for 15 runs in just three overs. It set nerves jangling in the dressing room and no little frustration after such a strong start. Adams herself fell to a catch in the deep for 80, a dismissal she describes as poor and a reflection of being starved of the strike because of wickets falling at the other end.

"That one lapse in concentration and you pay the price for it in cricket," she says.

"Certainly, when I got out, I was like, oh, I can't watch. But actually, we still maintained confidence in our in our batting line-up. Even Lauren Bell coming in at 11, we had to get Lauren out of the nets the other day because she was whacking our bowlers everywhere. We were like, this is not good for their confidence!"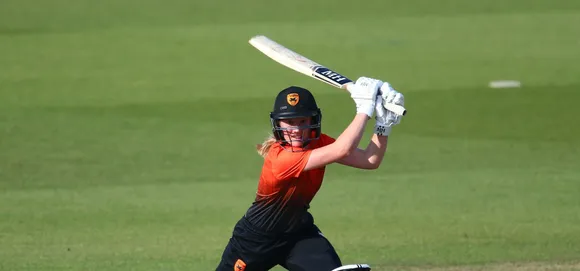 Emily Windsor scored some valuable runs in the lower order for Southern Vipers. © Getty Images
"So, we knew that we were never in any doubt that we would get 200 on the board and when you see 200, it relaxes you a little bit. Emily Windsor coming in and playing the way she did, she's quite experienced and also very good at holding her nerve. She'll be brilliant talking to people batting out there with her as well. So, we were very confident that we were going to scrape to 220 at least, which is definitely defendable."
If Vipers did not quite reach the 250 they had aimed for, Windsor's 37 in the closing overs allowed them to set Diamonds a challenging 232.
Bowling plans
The Vipers' plans were clear and simple: bowl straight.
"We want to be the team that hits the stumps the most and looking at all the stats in the women's game, the teams that hit the stumps the most, generally get the most reward. So, it was quite a simple method that we maintained throughout and I think it really worked."
The day before the final,
Winfield-Hill was released
from the England bubble at Derby so she could play at Edgbaston. Adams says they focused on a plan to bowl her out and restrict her scoring options rather than worrying about what she was capable of. That plan was to stem Winfield-Hill's off-side dominance, by bringing the ball back in to her and aiming for middle and off-stump, thereby preventing her from carving through cover. Ultimately, she the was the first wicket to fall for just 20.
ALSO READ: England dream alive, Evelyn Jones hopes to build on momentum
"I'm just so pleased for our bowling attack to get rewarded for doing the basics really, really well," says Adams.
"For us, being a young team, that was all we really prioritised and focused on, let's just be the team that does the basics best and we get rewarded. I think, when we got the wicket of Lauren, it was a little bit of a relief, because she can be quite devastating when she gets in. At the same time, we knew that they were going to keep coming at us. So, it's about not getting complacent even when wickets are falling relatively regularly."
Indeed, they knew how devastating Jenny Gunn could be at number six and had already stressed during pre-match preparation that they should not underestimate Beth Langston with the bat. Despite that early wicket, Diamonds were still in a promising position at 74 for 1.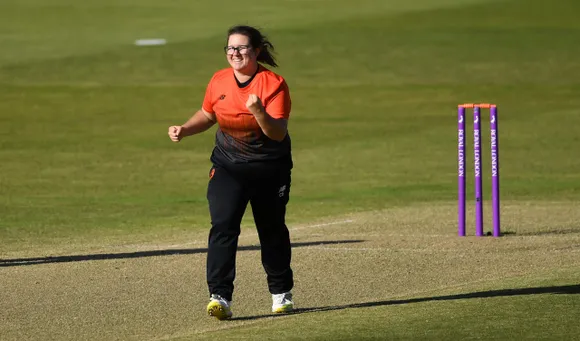 Charlotte Taylor was the wrecker-in-chief in the final, grabbing six wickets through the middle-order. © Getty Images
Hero Taylor
Finals often throw up a hero. Step forward Charlotte Taylor whose mystery off-breaks sparked a batting collapse that saw Diamonds slump to 110-7. Only a 49-run seventh wicket partnership from Sterre Kalis and Langston briefly threatened before Taylor removed both in successive overs, finishing with remarkable figures of 6 for 34.
Adams had never met Taylor before the tournament but was not surprised at her performance. Ahead of her first fixture, noting that Taylor bowled 'accidental doosras' and took the ball away from the bat, Adams asked if she wanted two points or someone at short fine leg.
"She looked at me and said, 'right, this is my plan, this
what I'm going to do, I'm having two points and then later in the innings, I'm going to bowl it straight and I'm going to dart into the legs, and then I'll have a short fine'."

"I'm thinking, wow, this girl! To come in on your debut, be that clear, be that confident. She set the tone from the start. She's got a brilliant attitude, she trains so, so hard. She just really gets her head down and gets on with the business."

Adams has no doubt that Taylor will continue to grow as a player and was one of the finds of the tournament. Despite only playing the final five games of the Vipers' campaign she finished as the tournament's leading wicket taker.

ALSO READ: Opening bowler, top-order batter, captain extraordinaire - the many hats of Kathryn Bryce

"From a player that wasn't originally picked up to come in and almost not get affected by the nerves. But to be so clear and confident in delivering her skill. It was an absolutely phenomenal performance, a match-winning spell."

"She's so humble, doesn't want the limelight, didn't expect any of it. So, I'm just so pleased for her to have seen the success she's had because she really does deserve it. Everything about the way she goes about everything it's just very impressive as a person and lovely to have in the side as well. So, I'm hoping that she has a really good long career ahead of her now."

Even in the commentary box, the experts had little idea about what Taylor was bowling. The bowler herself offered Adams a unique description.

"Speaking to Tays, she just says she just bowls little sort of flying saucers! So, I was like, this is nice and technical, isn't it!" laughs Adams.

"Sometimes it clips the seam and goes away from the bat. And then sometimes because it's not clipping the seam, and it's hitting the side of the ball, it just angles on and skids on. So, I was thinking, if you're not quite sure which one's going to take the seam and go away, well the batters aren't going to have a clue, so, don't complain, just keep doing what you're doing."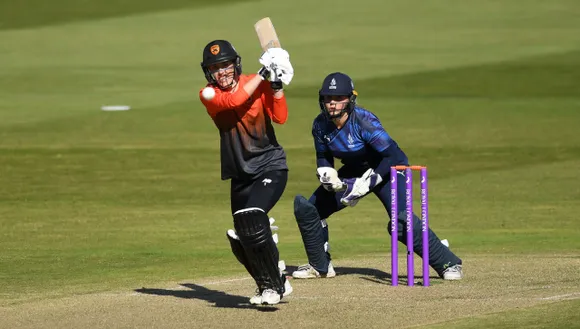 Georgia Adams topped the run-charts in the RHF Trophy. © Getty Images

Run-scoring

Adams is pleased with her own runs, particularly given such a whirlwind tournament when she was not feeling in top form.

"I've never felt like I've been consistent enough with the bat . I've never had a season where I've consistently contributed or made an impact. So, it's been really nice, especially with the preparation going into it being so limited, and being all up in the air to have actually got some cricket this summer and to have had a really good season as well."

Despite her personal success, she has identified areas for improvement and hopes this year will be a springboard for future development.

"I felt like my footwork was quite lazy, so, I was having to graft away whilst I was out there. But I think that's just a reflection on playing on good wickets."

ALSO READ: Georgia Adams all praise for Southern Vipers on their incredible RHF Trophy campaign

"I've always said that my hands have always got me out of trouble. Because my feet have always been a bit lazy. I think now we're on better tracks, it's made such a difference for me as a player with the way I go about playing and the way I like to get bat on ball and strike the ball."

"Being ultra-critical, though, having as many starts as I did, it would have been nice to go on a bit more, but I think it's really set the platform for me to push myself on and keep working hard to keep improving. But yeah, I really couldn't have asked for a better tournament and to have helped contribute and get the team over the line and lift the trophy is the best feeling in the world for me."



England ambitions

Adams still harbours ambitions to play for England. Head coach Lisa Keightley is clearly watching her, having texted a message of congratulations after her 154.

While she is realistic about how difficult it will be to break into a very strong England side, Adams says, the addition of this professional regional tournament has offered many players a new layer of top tier cricket to aspire to. She believes this has been reflected in some of her performances this year.

"I can honestly say this has been the first year – and probably COVID has had an impact on that as well – but this has been the first year where I've walked out to play in a tournament or a game of cricket, where I've not even given England a second thought. It's always been my goal and it's always been something that would be a dream come true to represent my country. But I can honestly say going out there this summer was the first time where I just threw myself into the Southern Vipers."

ALSO READ: Fran Wilson: I'm a lot clearer about my game, less concerned about failure

"Obviously it was a new team, I was really honoured to have been thrown the captaincy and I wanted to make sure that I was prepared as possible as a captain to go out on the big stage, because if there was a lot more exposure."

"So, everything about this summer was just focused around the Southern Vipers and then obviously England kept creeping up ."

"I just think now we're in this brilliant situation with the women's game, if England doesn't happen, I can reflect and look back on my career and go, well actually, I lifted the Rachael Heyhoe-Flint Trophy with the Southern Vipers. What an amazing highlight and what an amazing achievement for me as a person and us as a team."

"It's brilliant that we've gone professional and I think it's pretty exciting as to what may happen in the next five years as well looking long-term."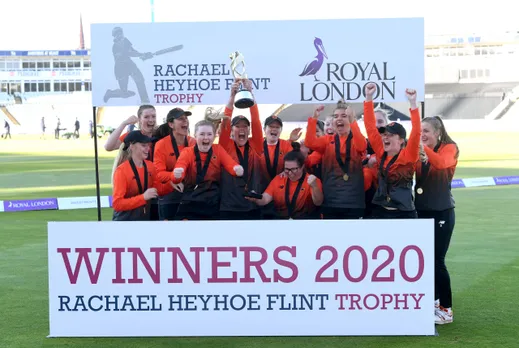 Southern Vipers remained unbeaten through the tournament. © Getty Images

Future for the Vipers

Fiercely competitive, Adams and Edwards went into the competition focused on lifting the trophy. Adams admits though, that she had no expectations because it was so hard to gauge how such a new group of players would click. For example, who would stand up if Wyatt had a couple of bad games at the start, how would a then 17-year-old McCaughan fare, filling Wyatt's shoes when she left on England duty.

Ultimately, the skipper was very encouraged by her team's response.

"To see the determination and the grit of all the girls is hugely exciting," she says.

ALSO READ: Time away from the game reignites Tammy Beaumont's fire

"Obviously, we trained really hard. There was never any slacking off from anybody. And if somebody was having a particularly bad session, or wasn't quite in the right frame of mind, and then someone stepped up and called them up on it. For a young group of people to be doing that already, is very exciting. The journey is just really beginning. As long as we don't get complacent and winning doesn't get to everyone's heads, hopefully, we'll be lifting more trophies in the future."

The players will resume training after a month off in October.

"We'll work really hard, keep going on what we've managed to achieve this summer and put the hard yards in to get better and better. Hopefully next year in the competition, we'll see more of the England players making the competition even stronger and even more challenging. It's going to be an exciting few years for the Southern Vipers."